The Wind in the Willows
Directed and choreographed by Will Tuckett
Royal Opera House
Duchess Theatre
–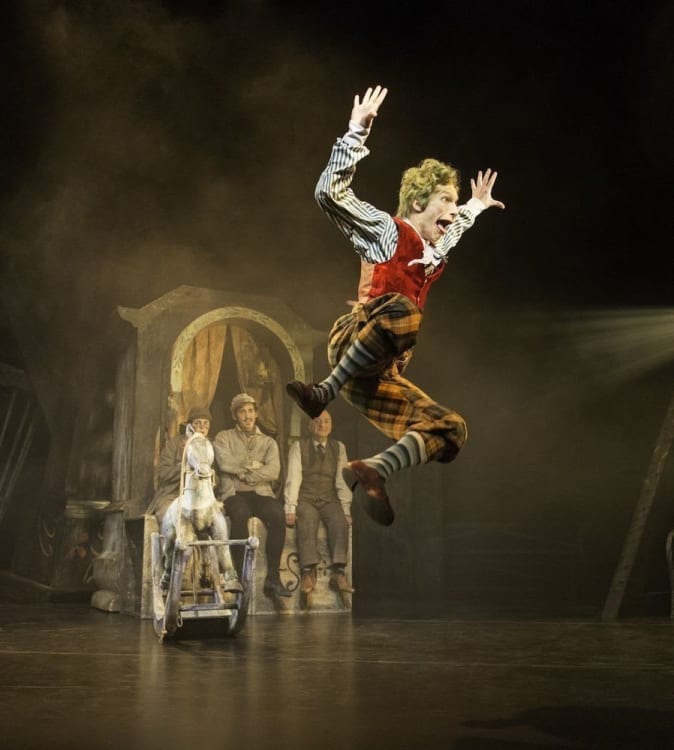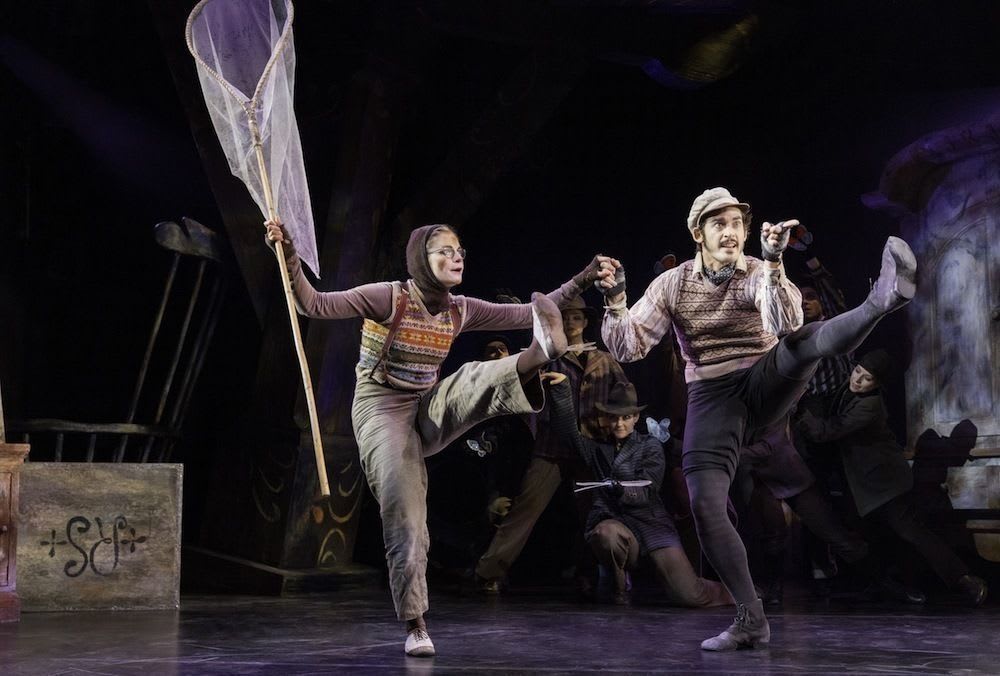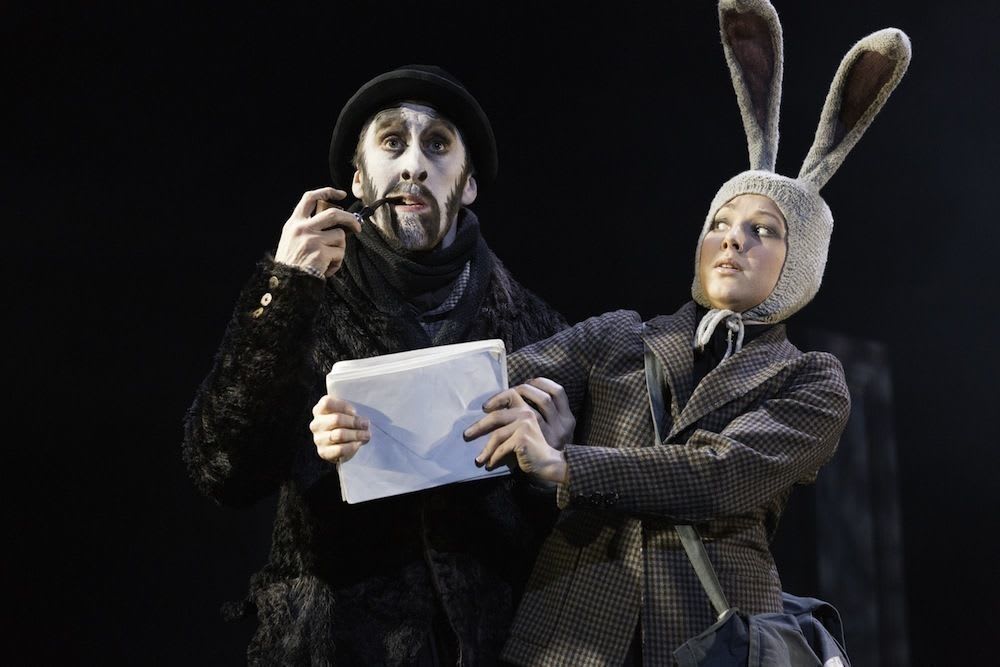 Ten years ago The Wind in the Willows, Will Tuckett's little ninety-minute show at the Linbury Studio in the Royal Opera House, was scheduled for only nine performances. What were they thinking?
This year it is scheduled for eight weeks down the road at the not much bigger Duchess Theatre, and the move has given it a new charge. My nine-year-old guest and I agreed that it is much funnier than last year, too.
A perfect Christmas show—nostalgia that's not cloying, snow falling inside and outside the theatre, Toad being chased by two policemen through the foyer and out into the street, and an unobtrusive narrator integrated into his own story.
Snug in a cosy little attic study, pen in hand, Sir Tony Robinson (in his first stage role in sixteen years) as Kenneth Grahame works his magic and brings his creatures awake from slumber. Takes the dust sheets off and let's the sunlight in on Mole, Ratty, sleepy Otter and the riverbank in all its seasons.
Picnic and sunshine, bucolic scenes of butterfly chases, hopping Rabbits, and singing Ducks in tweeds, plus fours and knitted hats. The characterization is perfect: Mole's timorousness, Ratty's ebullience, and Toad's impetuosity, which breaks up Mole and Ratty's blissful duet.
Toad's gypsy caravan (made of rocking horse, armoire and packing cases) gives way to a motorcar—parp, parp—'a way of smashing England in the heart', 'the goggled Toad behind the wheel'. 'Toad and his motor catastrophe must be stopped.'
Wise old Badger (Christopher Akrill) will know what to do, but first timid but brave Mole (Clemmie Sveaas) must find his/her way through the dark autumnal Wild Wood where the Weasels lurk to Badger's sett. Look behind you, Mole, behind you! But debonair Ratty (Will Kemp) in belted raincoat and pistol saves the day.
Sombre pipe-smoking Badger, 'a solitary beast', regales his poor visitors with his hunting successes and gives them a tour of his labyrinthine safe abode in a spooky torch dance.
Autumn gives way to winter, carol singers, Christmas lights and snow. The incorrigible Toad is brought to justice and sentenced to twenty years ('no mitigating circumstances') in gaol by a vast, towering, singing judge who needs several puppeteers to handle him.
Imprisoned (hmm) behind an upturned kitchen chair, Toad leaps in and out of its slats, and has an amusing duet with the Gaoler's Daughter, a panto dame in all but name, Ewan Wardrop in Harry Enfield-ish face, fantastic voice, jolly folk dance and spirit. He had my companion in stitches.
Robinson spouts the headline news, the drama of Toad's escape by train, the rhythm of the express. But while Toad has been 'banged up in the slammer', the 'cool new order' Weasels have taken over Toad Hall.
Toad dances 'the ballet of his woes' 'from pointe to pointe', but what is to be done? Badger has a plan—'we have a plan, you'd like to know, but we won't say'—and a 'Sekret Tunel'.
Rubber capon and fish, for bopping on the head and as smelling salts, come into play in the ensuing fight, swords are brought out. It's a pretty dirty below the belt sort of fight. Oooo…
A jaunty foot-tapping 'Toad came home' song signals victory, and brings back memories of friendship, the legacy of the tale 'the ties that bind'. We have 'shared a dream'.
They will be back if we care to take that river walk again. "I know you'll come. We'll be expecting you.' And the audience sighs as one, aahhh. What more could we want. Pure enchantment for all ages, 5+ is recommended, a five star show, I'll be back for sure.
A timeless classic rejuvenated through entrancing dance, song, music and puppetry, production values are of the highest order.
There's music inspired by Edwardian composer George Butterworth from Martin Ward, a fabulous set, lit by Warren Letton, from the Quay Brothers, costumes by Nicky Gillibrand, and additional puppet design by Toby Olié.
Tuckett's brushed-up choreography, former Poet Laureate Sir Andrew Motion's re-polished poetic text, and superlative performances all round from the leads, and from Paul James Rooney, Kayleigh Gore, Connor Dowling, Kirsty Mather, Anna Martine, Jo Meredith and Aron Wild in multiple company roles. Lovely.
Reviewer: Vera Liber