The Winter's Tale
William Shakespeare
Royal Shakespeare Company / BBC Four and iPlayer
–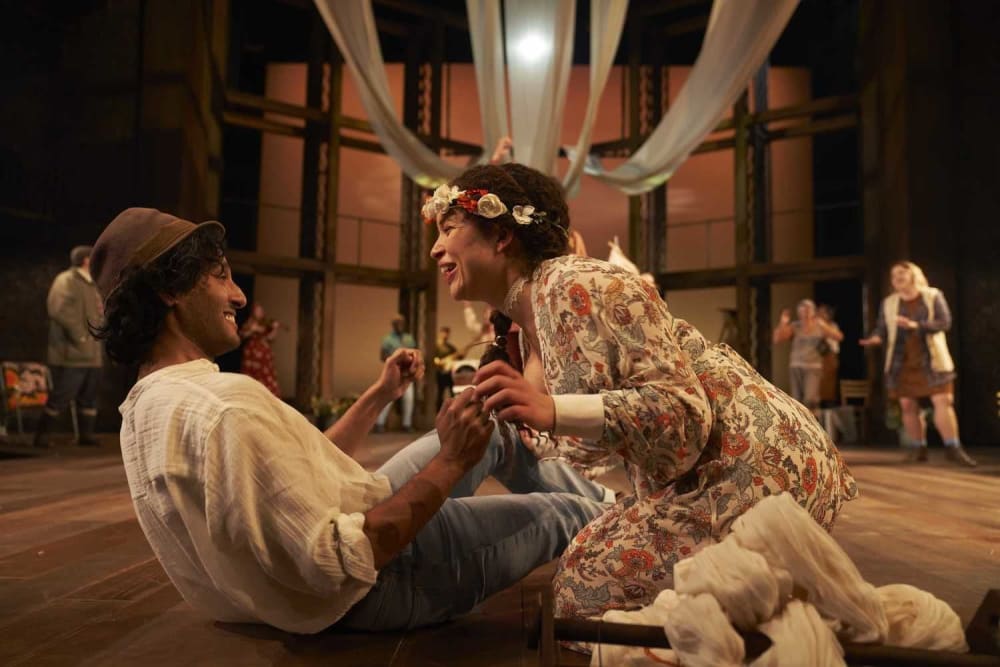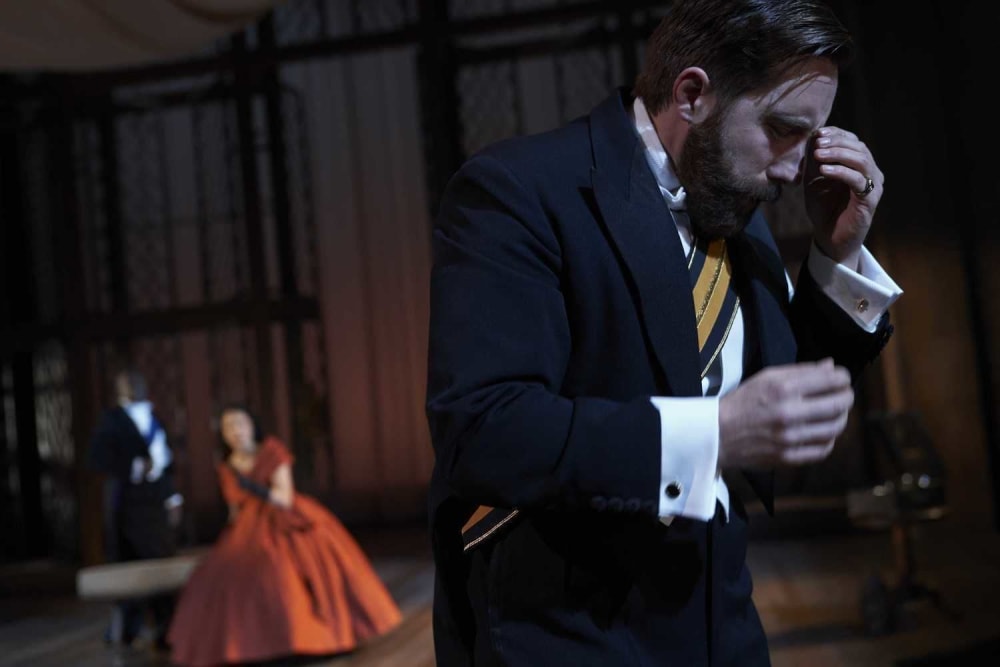 You would think that it was impossible to come up with a fresh reading of any play in the Shakespearean canon after 400 years of performance.
However, the RSC's Deputy Artistic Director Erica Whyman might just have attained this unlikely achievement in a diversely cast production that should have opened at the Royal Shakespeare Theatre last year but now forms part of the BBC Lights Up season.
Her new version of The Winter's Tale, played out on stage in an empty auditorium, is initially stylishly set in the post-war era, which guarantees that every cast member speaks (some sign) his or her lines with the kind of clarity for which this company is renowned.
The novelty comes in the form of Joseph Kloska's King Leontes of Sicilia. As anyone who has seen the play knows, in the opening minutes the King irrationally decides that his pregnant wife, the strong, noble Hermione, played on this occasion by Kemi-Bo Jacobs, has been carrying on a lengthy affair with Andrew French's Polixenes, King of Bohemia and Leontes's oldest friend, and is instantly driven to madness.
The difference here is that, rather than merely becoming mad as a result of his obsessive jealousy, this Leontes appears to have been harbouring some serious psychological problems that are merely exacerbated by his delusions.
Indeed, his is the kind of frightening eccentricity that borders on madness and was embodied by John Cleese when he created Basil Fawlty. The manic behaviour is made even more unsettling by a series of tirades direct to camera. The remainder of a 2¾ hour performance builds on this premise, making even those very familiar with the play look at it afresh.
Following a series of dramas, enhanced by emotionally convincing and deeply moving acting from Joseph Kloska and Kemi-Bo Jacobs, the action moves on into pastoral Bohemia for song, dance and expressions of illicit love in the company of Bohemian hippies, mostly with Geordie accents.
Led by the central trio, every member of the cast seems perfectly drilled and comfortable in roles that seem psychologically deep. Amanda Hadingue as imperturbable but humane Paulina, Ben Caplan playing loyal, nervous Camillo and, as the young lovers Perdita and Florizel, respectively Georgia Landers and Assad Zaman make particular strong impressions.
On a comic level, enlivening the harvest celebrations in Bohemia is Anne Odeke, who has turned that snapper-up of unconsidered trifles, Autolycus, into a Vespa-riding, Cockney wide-person.
Designer Tom Piper has created an austere set frequently embellished with clever but subtle touches, for example when the oracles are projected into the early age of television, while some lavish costumes designed by Madeleine Girling add to the visual impact. This simplicity allows the play to do the work, rather than being overwhelmed by a design concept.
At a time when so many new Shakespearean productions are irrationally turned into TV melodramas or sitcoms, with the poetry downplayed and large swathes cut from of the text, it is refreshing to see the RSC bucking that trend.
Instead, they treat the writing with due respect and produce the kind of evening that will undoubtedly prove attractive to theatregoers when the company is finally able to open its doors again and revive this memorable performance on stage for a live, responsive audience.
Until then, viewers will at least have an opportunity to enjoy this recording on BBC4 and iPlayer.
Reviewer: Philip Fisher