The Winter's Tale
William Shakespeare
Octagon Theatre Bolton
Octagon Theatre
–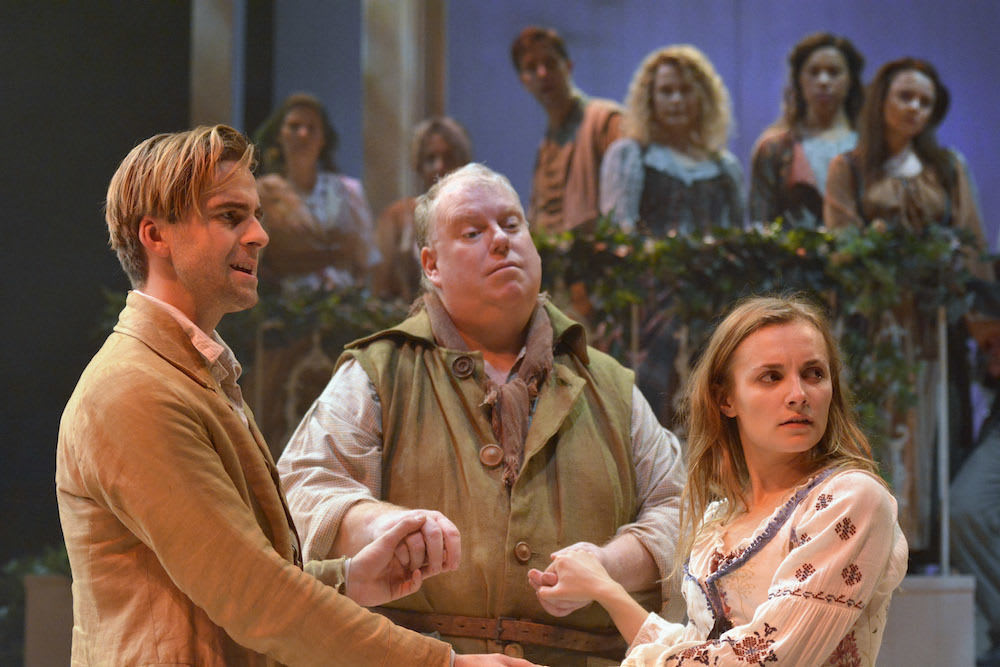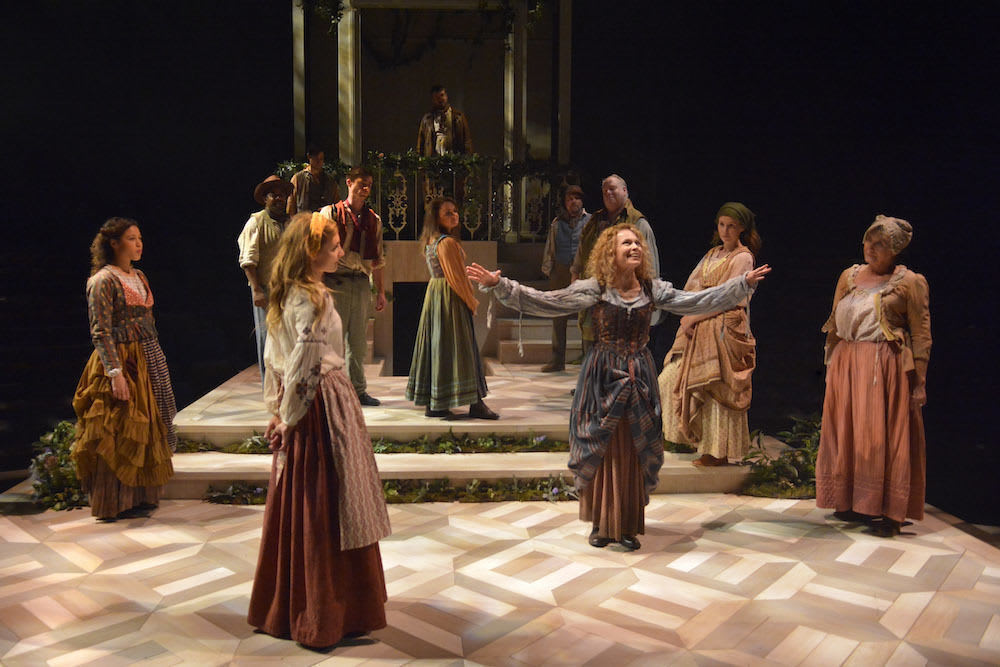 As autumn progresses, the Octagon projects its audiences into a winter of discontent in Sicilia with one of Shakespeare's later and uncategoriseable plays, largely utilising the cast of the previous production of To Kill A Mockingbird.
Rob Edwards is jealous King Leontes, who sees in his wife Hermione's (Amy Nuttall) friendliness towards his close friend Polixenes (Christopher Wright), King of Bohemia, an adulterous affair and a plot to overthrow him. He will not be persuaded out of this notion, even when the Oracle rules that Hermione is innocent and her daughter, born prematurely in prison, is his.
He only comes to his senses when it is too late, as he has had his baby daughter taken away—and, just to make sure he can't get her back, his servant Antigonus (Eric Potts), who took her without telling anyone where he was going, is killed by a bear in Shakespeare's most famous stage direction—and his son and wife are apparently dead.
Although this seems like only the set-up, it takes three of the five acts and so constitutes a short tragic play in itself. This section contains a lot of talk and argument and so can seem rather static, which is not helped by the rather flat pace and muted emotions of David Thacker's production.
The opening party, before Leontes turns on his wife and friend, isn't particularly jolly to start with, and so when Leontes' extreme actions are delivered more in sarcasm than in anger there is, other than the occasional short-lived outburst, very little variety up to the interval, which makes it seem long.
Things liven up on the audience's return as we enter the countryside of coastal Bohemia in Shakespeare's most famous geographical anomaly (although he could have done it on purpose to see whether we notice). There is a rousing song in full harmony with music played by the cast to welcome us back and prepare us for the longer second half. Colin Connor's clownish rogue Autolycus helps to liven the atmosphere as well.
The banished baby Perdita (Leila Mimmack as the teenage princess) was discovered and brought up by a shepherd (Eric Potts) and his son (Christian Edwards). In one of many coincidences, she has fallen in love with Florizel (Harry Long), son of Polixenes, who dresses down to conceal his royal roots when visiting his love. This leads eventually to a more fairytale ending, which has to return to the Sicilian court, where penitant Leontes is still in mourning, for its happy finale.
There appears to have been a great emphasis on enunciated the words, and so the verse is beautifully and clearly spoken by all. The music from composer Adrian Johnston injects the right amount of liveliness into the middle section, although soloists were a bit drowned out by the band on press night, despite the handheld mic.
James Cotterill's set takes the stark, imposing architecture of the opening act, roughly similar in layout to an Elizabethan outdoor thrust stage, and decorates it with lots of foliage and flowers for the Bohemian scenes—I'm sure the problems with the sticking curtain rails will be cured before long.
The superb cast carry the play along and produce some fine moments, but it is a long night at the theatre (over three hours) and at times it feels like it, especially in the slightly shorter first half.
Reviewer: David Chadderton