The Winter's Tale
William Shakespeare
Taking Flight Theatre
Thompson's Park, Cardiff
–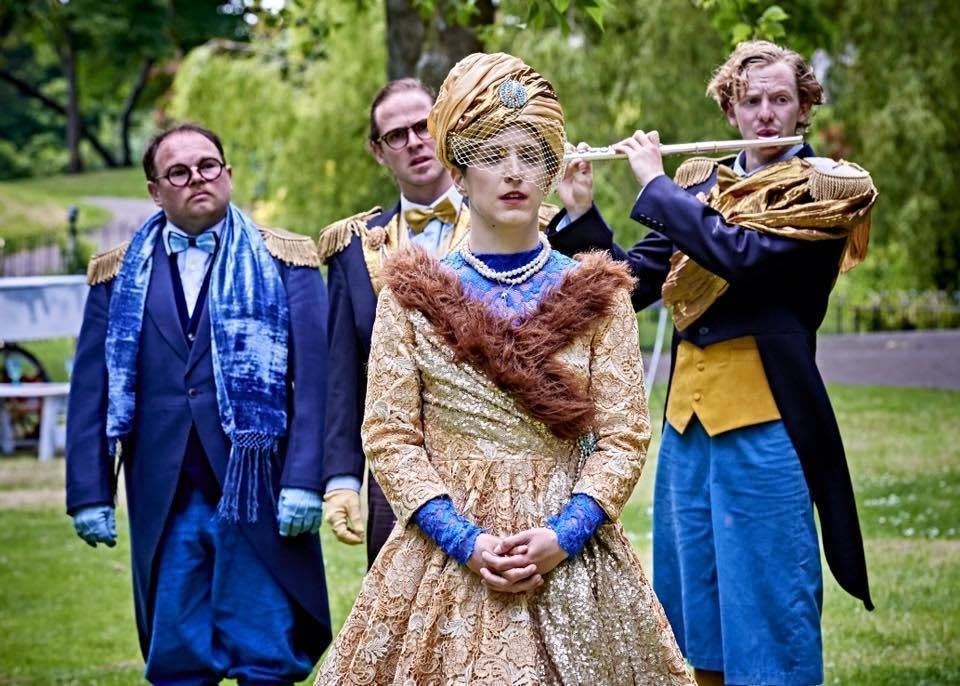 My extensive research suggests that The Winter's Tale is described as one of Shakespeare's "problem" plays, due to factors such as its shifts in tone from the traumatic to the broadly comic, a sixteen-year gap in the middle and the famous "exit pursued by a bear" moment. Director Elise Davison has chosen to embrace the play's inherent irrationality.
Leontes, King of Sicilia, accuses his friend Polixenes, ruler of Bohemia, of romancing his pregnant wife, Hermione, and throws them out of his kingdom. Years later, Leontes' daughter Perdita and Polixenes' son, Florizel, meet and fall in love. Does a happy ending beckon?
Taking Flight's summer tours of Shakespeare, to outdoors locations across Wales and beyond, have become something of a tradition. Review of press night weather in Cardiff's Thompson's Park: unseasonably chilly with intermittent drizzle.
We are welcomed to a party, with hats and (non-alcoholic) drinks. Bohemia is styled, by designer Becky Kemp-Davies as a jazz club; the costumes (by Angharad Gamble) suggest fairy-tale Middle Europe.
The text has, inevitably, been cut—Leontes' tragic son has been entirely excised. In the first half, though, a little more editing might have worked—we quickly get the idea that the King is being unreasonable, perhaps due to alcohol problems. Sam Bees is highly effective as the tormented Leontes, haunting the backgrounds of scenes in which he isn't meant to be present.
Jon Kidd gets the first prize for vocal projection, the bemused anger of his Polixenes effortlessly cutting through as the breeze whistles through the trees. Chloe Clarke is affecting as the wronged Hermione, and William Fawcett shines in a number of comic roles.
Taking Flight is a company which embraces inclusivity, employing both actors with and without disabilities and, where appropriate, incorporating such differences into the narrative. Thus the diminutive Ben Goffe, as Antigonus, is humorously manhandled by Leontes; and the fact that Stephen Collins's Camillo chooses to sign more than he speaks is used to highlight Polixenes' frustration with his explanation of his fellow king's unreasonable behaviour.
The fourth wall is frequently broken, with cast-members referring to their disabilities, BSL translator Sami Thorpe integral to the action, and narrator Alastair Sill commenting on his narration. There is also a good deal of audience interaction (not all of it planned, inevitably, given the informality of the performance space), Nicola Miles-Wilden humorously coralling the spectators from her wheelchair.
The tone of the piece lightens as the action moves to the rurally themed Bohemia; although there is that unpleasant incident involving the bear which is, perversely, the comic highlight of the evening—wittily conveyed, and accompanied by composer Dan Lawrence's most amusing song.
The music is impressive throughout; many cast-members also proving themselves to be talented multi-instrumentalists. Amelia Cavallo (Perdita), in particular displays a fine musical theatre voice, and Lawrence toys with Shakespeare's words to memorably melodic effect. All elements are integrated most successfully, perhaps, in the production number which indicates the passage of time.
As the play reaches its denouement, Davison makes a joke of having Kiera Sikora's Dorcas rush us through the unlikely series of events which leads to the surprisingly moving final scenes, involving an uncannily life-like statue and a number of reunions.
This production is great fun, irreverently entertaining throughout, and cleverly making a virtue of the play's absurd elements.
Reviewer: Othniel Smith