The Wolves
Sarah DeLappe
Lincoln Center Theater
Mitzi E Newhouse Theatre, Lincoln Center Theater
–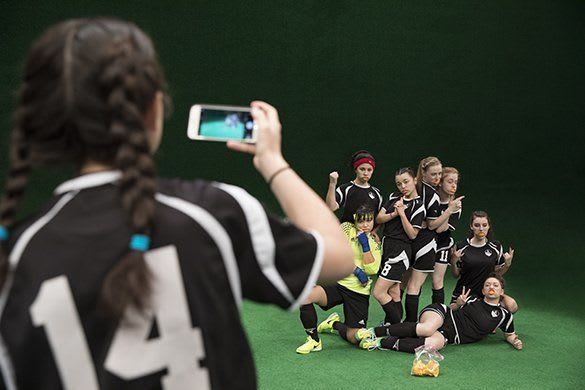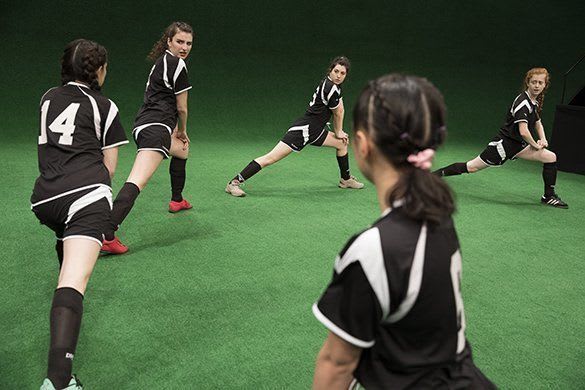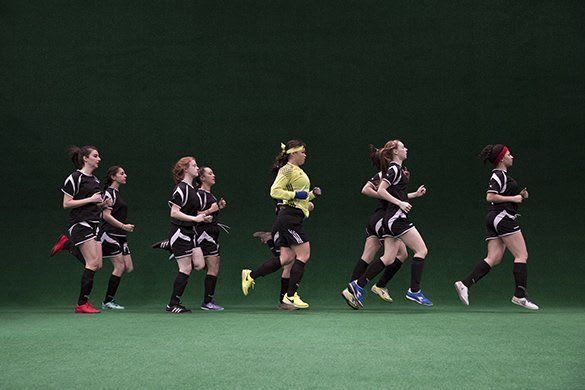 Some readers might have seen The Wolves at Theatre Royal Stratford East in 2018, but this filmed version of the original 2017 production at Lincoln Center is, if anything, stronger proof that Sarah DeLappe can not only get into the minds of her young characters but also the hearts of viewers.
On the surface, this play appears to be no more than a breezy look at a girls' soccer team across a season in an indoor league. However, beyond the football content, it delves deep into the lives of the nine players and is ultimately deeply moving.
The opening scenes are typical of any movie or play about sporting jocks, with the mild difference that the nine-strong squad is female. They puff and blow, laugh and swear, insult each other and tell tasteless jokes for which they are duly embarrassed.
Part of the fun lies in their teenage traits, best exemplified by deep knowledge of some subjects but an total ignorance of others, meaning that political conversation can be heated or nonsensical.
Their relationships veer between friendly and explosively temperamental, whether connected to favouritism on the football field, that favourite coming-of-age topic sex or the minutiae of daily life as you look beyond school days to the big wide world of university. That, in itself, is a tricky subject since each of the players would love to get a sports scholarship to a major university, while most very obviously do not have what it takes.
The introduction of an outsider Tedra Millan as #46 (identities are numerical rather than verbal) initially provokes unkind, cliquey laughter but soon leads to dissension when it turns out that she knows how to kick a ball and then some.
Subtly, the playwright introduces more serious topics including inter alia abortion, mental health issues, sex, homosexuality, life, death, injury and even war without ever making one feel that her efforts are gratuitous and out of keeping with the natures of her players.
In addition, although in a 90-minute play it is inevitable that many of the players will be little more than caricatures, she creates well-defined individuals who are credible and build strong, differentiated personalities at speed.
Director Lila Neugebauer does a lovely job of working with her ensemble, every member of which plays her role to perfection.
While it is invidious to pick out individuals in teams of this type, high praise must be offered to #8, Midori Francis, yearning to go to Miami as a trio of sisters did Moscow. She has the kind of stage presence and acting talent that could undermine weaker support but in this company complements it.
The Wolves is the final play in a welcome lockdown season entitled "Private Reels", which LCT has made available without charge via Broadway on Demand.
To do so, it uses film that was never intended for broadcast but is of a perfectly acceptable quality and continues to provide great entertainment for those of us yearning for high quality theatre and unable to see it in real life.
Reviewer: Philip Fisher