The Woman in Black
Stephen Mallatratt, based on the novel by Susan Hill
PW Productions
Grand Opera House, York
–

Listing details and ticket info...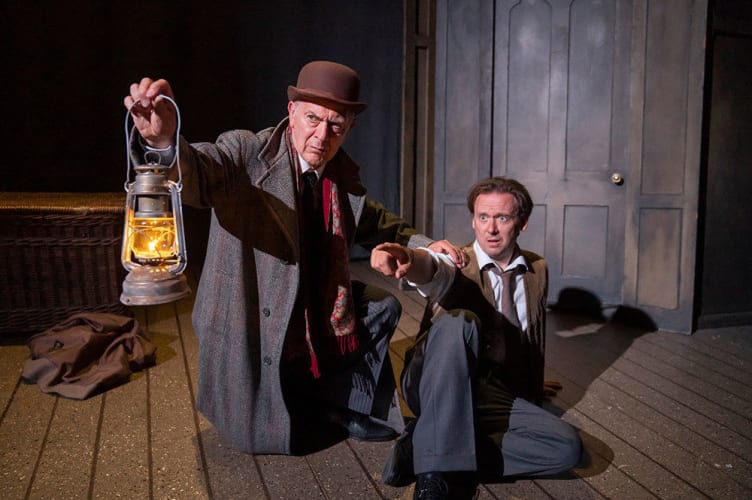 After 18 months of unhappy quiet, the Grand Opera House re-opened its doors to the public last night with a touring production of The Woman in Black. Based on the classic ghost story by Susan Hill, Stephen Mallatratt's nimble stage version has been delighting audiences for 34 years, and is second only to The Mousetrap in terms of longevity. This is a remarkable achievement, particularly when one considers that the show was originally created as a festive stocking filler for the Stephen Joseph Theatre in Scarborough.
The play opens in an old theatre in the 1950s, with an elderly solicitor, Arthur Kipps (Robert Goodale), rehearsing his oration of an encounter he once had with a malevolent ghost: the Woman in Black. He is soon joined by a nameless actor (Antony Eden), whom Kipps has hired to help him dramatise his trauma for the benefit of his loved ones. However, given Kipps's lack of theatrical chops, the two men agree that the actor will play a younger version of Kipps and present-day Kipps will play all the other characters.
Following the death of the reclusive widow Mrs Drawblow, Young Kipps is sent to the isolated seaside town of Crythin Gifford to deal with her estate. While attending the deceased woman's funeral, he spies the Woman in Black for the first time, and from that point onwards he finds himself spiralling into a waking nightmare of supernatural terror.
This was my fourth time watching The Woman in Black, and my third time reviewing it for British Theatre Guide. I've also read the novel, watched the TV adaptation (by Nigel Kneale—brilliant) and seen the film (by Jane Goldman—well worth a watch). It's fair to say that I'm a big fan of Susan Hill's ghost story in all its many forms.
Despite watching The Woman in Black for the umpteenth time, I still found myself swept away by its old-fashioned yet vivid storytelling. As with the last time I saw the show, I became rather frustrated with its pacing at the very beginning where we see the elderly Kipps trying and failing to deliver his account in a suitably engaging way. I would happily see this section trimmed, with the unnamed actor taking charge of the play-within-a-play much quicker. However, once the two characters have taken control of their agreed parts, I found myself thoroughly engaged.
Antony Eden excels as the unnamed actor who takes on the role of Young Kipps. Like his predecessors Matthew Spencer and Daniel Easton, he does a splendid job of conveying the character's mounting sense of fear and dread in the face of paranormal evil. Eden is matched by the versatile Robert Goodale, who brings a Dickensian level of grotesqueness to a gallery of supporting characters, not least the monosyllabic pony and cart driver who takes Young Kipps to Eel Marsh House every day.
I continue to be enchanted by the way in which the show makes a virtue out of its limited resources, with a wicker basket serving as a solicitor's desk, a railway carriage and a bed. The fleeting glimpses we get of Eel Marsh House, glimpsed through a gauze curtain, made me think of Jane Eyre and a host of other gothic tales.
Kevin Sleep's lighting makes effective use of shadow to achieve Expressionist effects (at one point, Young Kipps's shadow resembles that of the vampire in Nosferatu), and Sebastian Frost's sound design helps to evoke a sense of time and place.
Despite facing stiff competition from Jeremy Dyson and Andy Nyman's Ghost Stories, The Woman in Black remains the last word in theatrical spookiness.
Reviewer: James Ballands