The Woman in Black
Novel by Susan Hill adapted by Stephen Mallatratt
PW Productions Ltd
King's Theatre, Edinburgh
–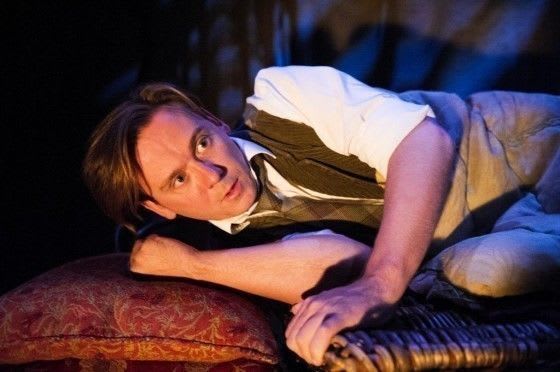 With a title as ominous as The Woman in Black, you certainly don't sign up for a happy clappy three hours of fun and frolics in the theatre. This classic story's stop-over at the Kings Theatre in Edinburgh certainly lives up to all expectation with screams and scares galore.
Adapted for stage by Stephen Mallatratt, Susan Hill's eerie novel of supernatural goings-on in the house of an old recluse is brought to life by two stunning performances: Julian Forsyth as Arthur Kipps and Antony Eden as the actor. Forsyth's multiple role-playing is pulled off seamlessly and Eden's depiction of both an actor destined for bigger things and a young man determined not to be beaten down by forces he doesn't understand has the audience gripped on every word.
However, the only other cast member in the piece, seen only four or five times throughout the production, lets the side down where the acting is concerned. The woman in black actress, who (luckily for her) remains unnamed, appears at moments of great tension and surprise within the show. She seems to rush every little gesture she has to make. Walking down the aisle past screaming audience members, it seems as if she is more scared of them than they are of her. Yet, when backed by the brilliantly incorporated smoke and lighting the flesh-ripped, skeletal face of the character certainly brings chills to the back of your neck.
The minimal set and inspired use of props really makes the audience use their imaginations to great effect. The creation of the large number of different rooms and environments is so simply done and instantly transports the spectator from location to location with ease. The minimalism doesn't stop at the small scale set either, as the lack of a dog doesn't faze the cast or crew. Great mime played out by the male performers allows the audience to place a large amount of compassion onto an animal that doesn't even exist. The idea of an empty space being sucked into a marshy bog becomes a true tearjerker—all credit to the production team and cast.
The only thing that really stands in your way with believing in a show like this is the audience around you. Every little movement or sound that is made by the others in the auditorium becomes heightened to a level of intense scrutiny and can really distract you from all that is happening on stage. If you're one of those people who never turns their phone off or you're thinking of taking twenty loud kids on a school trip to the theatre, this might not be the show for you.
Nevertheless this production is still as magnificently frightening as it was when it opened in 1987, and the image of The Woman in Black really will haunt you long after the final curtain has come down.
Reviewer: Liam Blain