The Woman in Black
Adapted by Stephen Mallatratt from the novel by Susan Hill
PW Productions
The Wyvern, Swindon
–

Listing details and ticket info...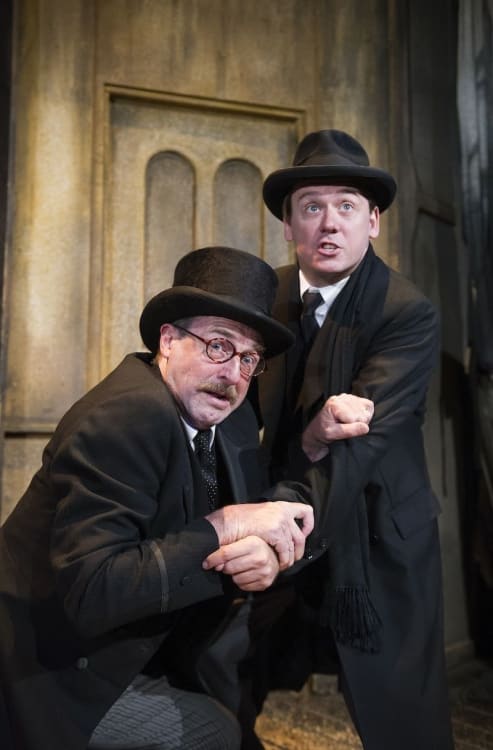 Stephen Mallatratt's adaption of Susan King's novel Woman in Black is celebrating 25 years as a stage play and has been seen by over seven million people—a remarkable achievement—and the recent film adaption starring Daniel Radcliffe has rekindled an interest in this archetypical horror story.
The matinée audience of mostly school children at The Wyvern Theatre in Swindon were buzzing with excitement at seeing this mind-jangling horror story and they were not disappointed with some screaming out loud and jumping out of their seats in fright in this excellent touring production.
There are only two actors on stage who play all the characters. Julian Forsyth as Mr Kipps and Antony Eden as the Actor gave us a masterclass in storytelling and are totally convincing in their roles.
The set, designed by Michael Holt, consists of a handful of chairs and a costume basket and is magically transformed into a pony and trap, a desk or a train carriage.
Projected images create the haunted Eeel Marsh house and the simple but clever use of gauzes reveals the creepy interior and the gloomy graveyard.
The atmospheric lighting designed by Kevin Sleep and the effective sound effects designed by Rod Mead combine to create this ghost story. It is a wonder of theatrical creativity that relies on the audience's imagination to conjure up the settings and it works to perfection.
Arthur Kipps has a dark secret that he needs to exorcise and he hires a young actor to help him retell his terrifying story.
As a young solicitor, he is sent to wind up the affairs of the recently deceased elderly widow, Alice Drablow. He glimpses a dark figure of a woman with a wasted face at the funeral and the drama vividly unfolds.
He makes the lonely journey across Nine Lives Causeway, which is covered by tidal water for most of the day, to the deceased's home to complete his work on some papers with horrific outcomes.
His only companion is the dog, Spider, to keep him company since the locals wont help him, as they believe that the house is cursed. What happens next is a psychological roller coaster ride that manipulates the audience's nerves with such effect that you will Kipps to leave the house and escape to safety.
The sinister mood created and clever use of effects has a terrifying, almost cinematic, film noir, nightmare quality—the tension is palpable. The terrifying twist at the end leaves you stunned.
Director Robin Herford's skilfully-paced production has the audience on the edge of their seats throughout this Gothic thriller. A must-see show.
Touring until June.
Reviewer: Robin Strapp