The Woman in Black
Stephen Mallatratt, based on the novel by Susan Hill
PW Productions
York Theatre Royal
–

Listing details and ticket info...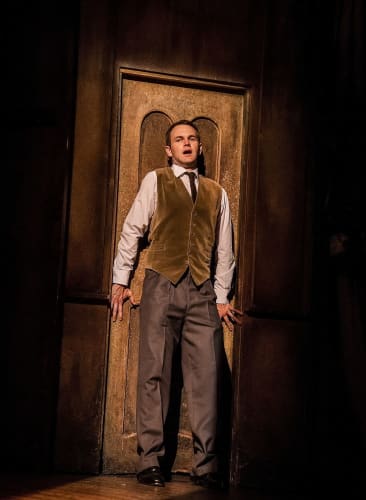 In 1987, artistic director Robin Herford commissioned Stephen Mallatratt to write a show for the Stephen Joseph Theatre's Christmas season. The play he brought back—a minimalist adaptation of Susan Hill's now classic ghost story The Woman in Black (1983)—has become a much-loved staple of the theatrical landscape. How could Herford have guessed that the show he has described affectionately as a "cut-price stocking-filler from Scarborough" would endure for over thirty years?
Over the decades, The Woman in Black has gained the reputation of being the scariest spine-chiller ever put on stage. While I look forward to watching Andy Nyman and Jeremy Dyson's Ghost Stories next year and seeing whether it poses a threat to Mallatratt's beloved adaptation, I'm happy to stick with my long-held view that The Woman in Black is the most chilling supernatural tale one can find in the theatre.
Elderly solicitor Arthur Kipps (Robert Goodale) is haunted by an encounter he had with the Woman in Black several decades ago. In an attempt to come to terms with the past, he hires an unnamed actor (Daniel Easton) to help him dramatise his tale. However, due to Kipps's dramatic inexperience, it is quickly agreed that the actor will play Kipps as a young man and Kipps will play all the other characters.
Following the death of the reclusive widow Mrs Drawblow, Young Kipps travels to the isolated seaside town of Crythin Gifford to deal with her estate. While attending the deceased woman's funeral, he spies the Woman in Black for the first time, and from that point onwards he finds himself inextricably drawn into a tale of supernatural revenge.
This was my third time watching The Woman in Black and I enjoyed it just as much as the other two occasions. Daniel Easton is terrific as the young actor who ushers Kipps into the world of theatre. As Young Kipps, he does a splendid job of capturing the character's increasing sense of panic and unease.
I was less convinced by Robert Goodale's "bad acting" as the elderly Kipps than I have been on previous occasions. However, once he begins to play a gallery of supporting characters—including a fearful estate agent and a taciturn pony-and-trap driver—I found him every bit as good as his co-star.
Like The 39 Steps, another cut-price corker that makes a virtue out of having a shoestring budget, The Woman in Black relies heavily on the audience's imaginative participation. That being said, Michael Holt's minimalist yet intelligent set design gives the audience a lot of material to work with. The glimpses of Eel Marsh House we catch from behind the gauze partition are highly evocative and chilling.
Sebastian Frost's superb sound design also adds another dimension to the production, as does Kevin Sleep's impeccably judged lighting.
Combining shock scares with a mounting sense of dread and unease, The Woman in Black remains a theatrical delight.
Reviewer: James Ballands