The Worst Witch
Jill Murphy adapted by Emma Reeves
Royal and Derngate, Kenny Wax Family Entertainment, Novel Theatre and Nica Burns
The Lowry, Salford
–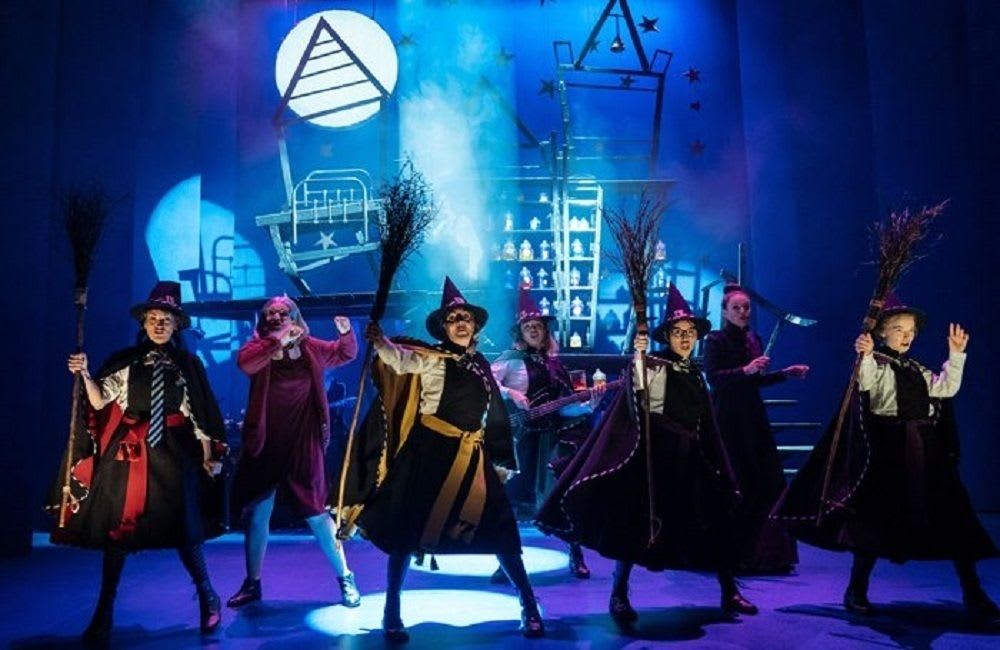 At heart (and this is a show with plenty of heart), Jill Murphy's The Worst Witch is the story of an underdog who defies the odds—and her own ineptitude—to come out on top. The stage adaptation, by Emma Reeves, shares this quality proving a rough 'n' ready touring production can be of a standard suitable for the West End.
Mildred (Danielle Bird) is mistakenly enrolled in Miss Cackle's Academy for Witches where her clumsy antics and inability to learn the basics of The Craft is a source of irritation for the school bully Ethel (Rosie Abraham) who is baffled by Mildred's popularity. As a senior student, Mildred writes a play detailing her misadventures to be staged at the Academy not realising this creates the opportunity for her old foes to unite against both her and the headmistress.
In an era when theatre audiences have become blasé about sophisticated puppetry and expensive special effects, director Theresa Heskins stages a production that is, pardon the pun, old-school. The witches' cats are simple sock puppets and a witch taking flight is achieved by an actor awkwardly mounting a bicycle with a broomstick between her legs. There is an element of a magician's sleight of hand at play—actual illusions, including actors squeezing into impossibly small suitcases, are performed with a casual nonchalance. The do-it-yourself attitude is, however, very much in accordance with the point of the play—that if Mildred can triumph over her considerable limitations then so can we all.
Heskins sets a mood that is cheeky but not cynical. The stage is set as if for parents' night with promotional posters offering decidedly tongue-in-cheek testimonials boasting the Academy has an ample supply of spiders and mice and has never once been taken over by the forces of evil. Emma Reeves's script has a number of in-jokes poking fun at that other series set in a magical school; when Mildred asks which of the school houses is for evil pupils she gets the reply: "That would be stupid''.
The level of unforced audience involvement is exceptional. The children are clearly eager to take part and love being described by the villain as 'Salford plebs'. Reeves subtly tweaks the stories to bring them up to date with references to 'Snowflakes' and the students constantly taking selfies.
Jill Murphy's stories do not aspire towards the nuance and angst of Rowling and Pullman. The characters are broadly sketched allowing for fast-paced, breathless tales. Jill Murphy's concept of a 'play within a play' serves as a 'greatest hits' of Mildred's calamities but also has an ambitious story arc with a villain hidden in the background.
Danielle Bird completely inhabits Mildred's clumsy personality and seems determined to crash into every prop on stage. While the other cast members dance smoothly, making perfect 'jazz hands', a squinting Bird flaps her arms around and even contrives to take a pratfall during the curtain call. Rosie Abraham comes close to stealing the show as the snobbish Ethel looking down her nose at the audience and behaving as entitled as a member of the Bullingdon Club.
Many in the audience are so young that The Worst Witch is likely to be their first experience of live theatre and the play is of such a high quality it guarantees they will be back for more.
Reviewer: David Cunningham