The Year of the Hare
Esa Leskinen, Sami Keski Vähälä and Kristian Smeds Freely based on the novel by Arto Paasilinna, Adapted by Catherine Grosvenor from the English translation by Nely Keinänen
Ryhmäteatteri
Pleasance Dome
–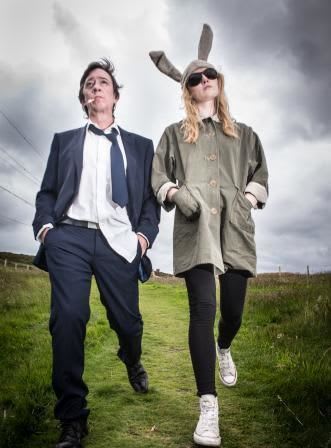 If you can picture a sweet Finnish fable that wickedly satirises globalisation and ecological destruction, you will get some feel for the nature of this witty comedy with songs.
The style created by this company is like no other, linking some Brechtian elements with a Scottish aesthetic that combines the raucous with the thoughtful.
As always, the hero is a little man who somehow escapes the rat race. In this case, Vatanen played by David McKay, is an overworked executive whose career progression rests on how well he can turn forests into paper, using cheap labour from the third world.
This hen-pecked, bullied nobody undergoes a life change when he runs over Kim Allan's sexy Hare in the land of the midnight sun.
They then set off on a picaresque journey escaping real life for fantasy with thrills and spills vying with love and affection, not to mentions some great music.
By the end, reality has impinged again, but not too seriously.
Director Aleksis Meaney and his cast (completed by Martin Docherty and Sarah McCardie, each playing numerous roles) must have a whale of a time and so does the audience.
Reviewer: Philip Fisher