The Yeomen of the Guard or The Merryman and His Maid
Gilbert and Sullivan
English National Opera
London Coliseum
–

Listing details and ticket info...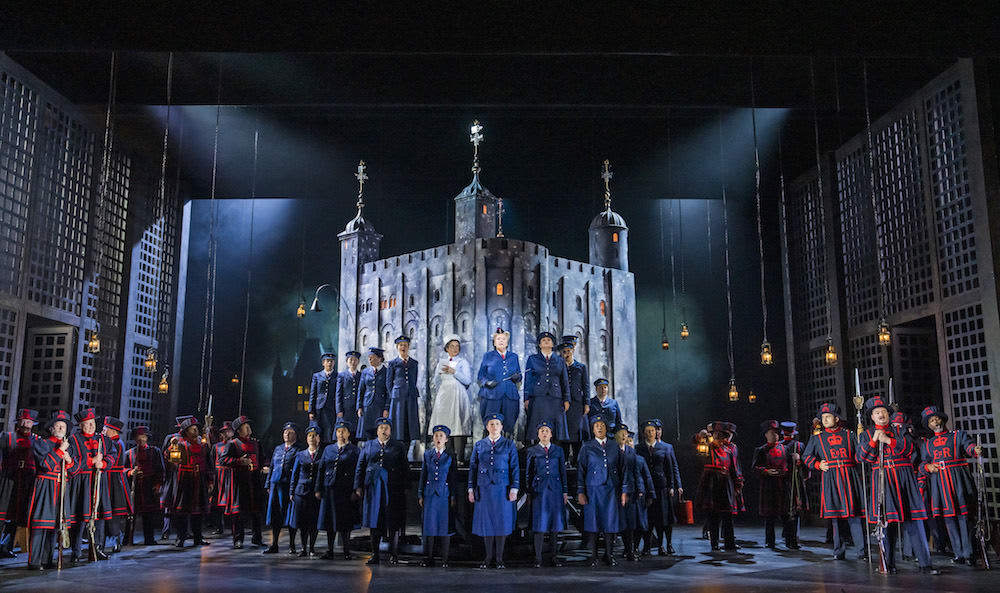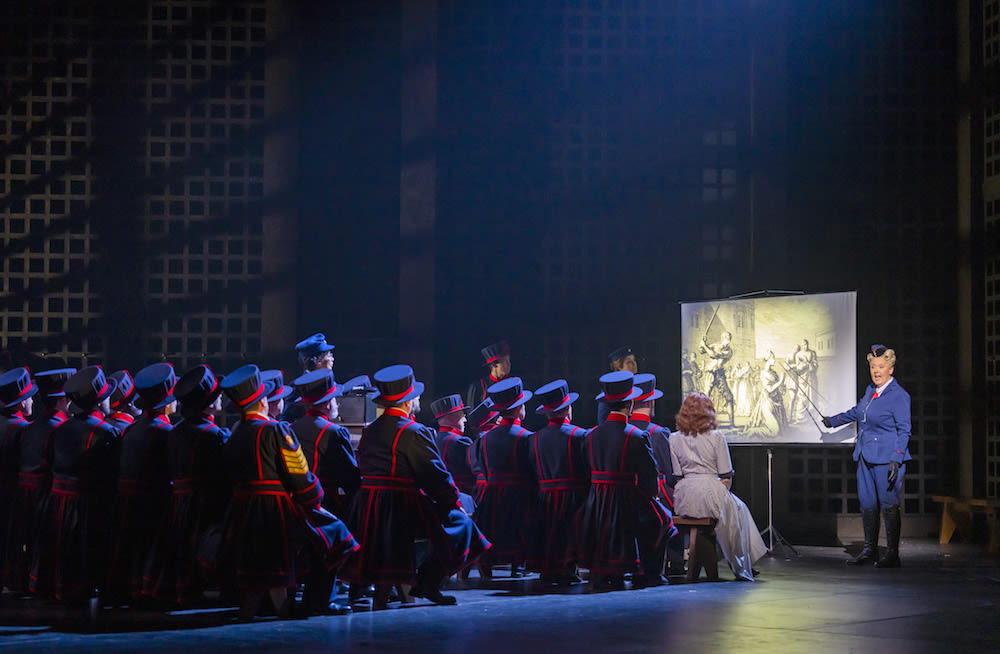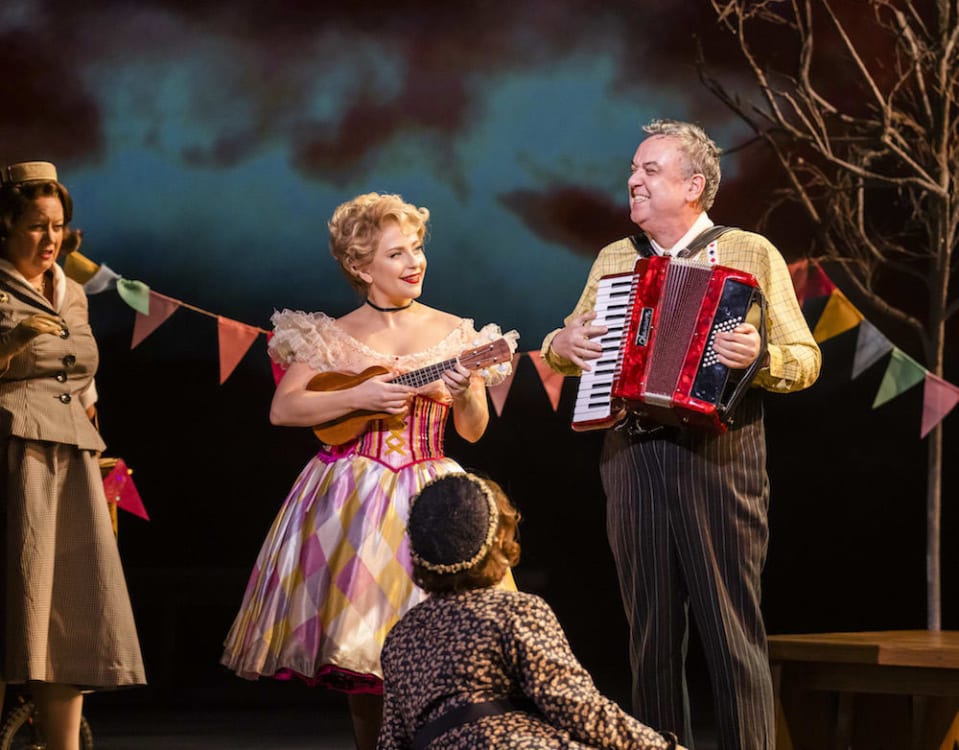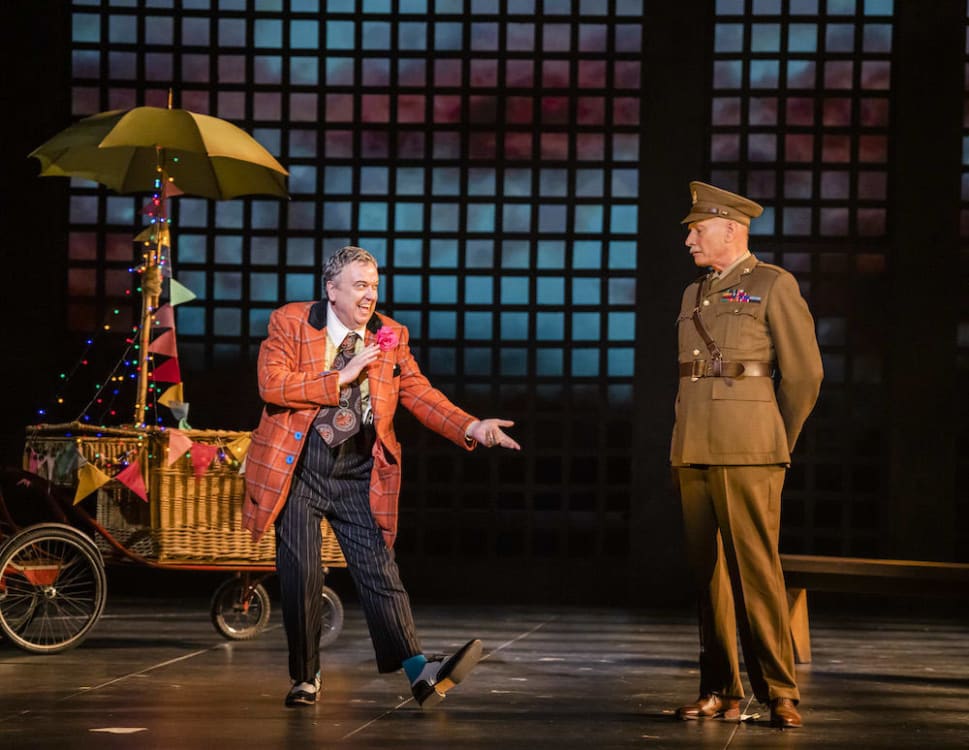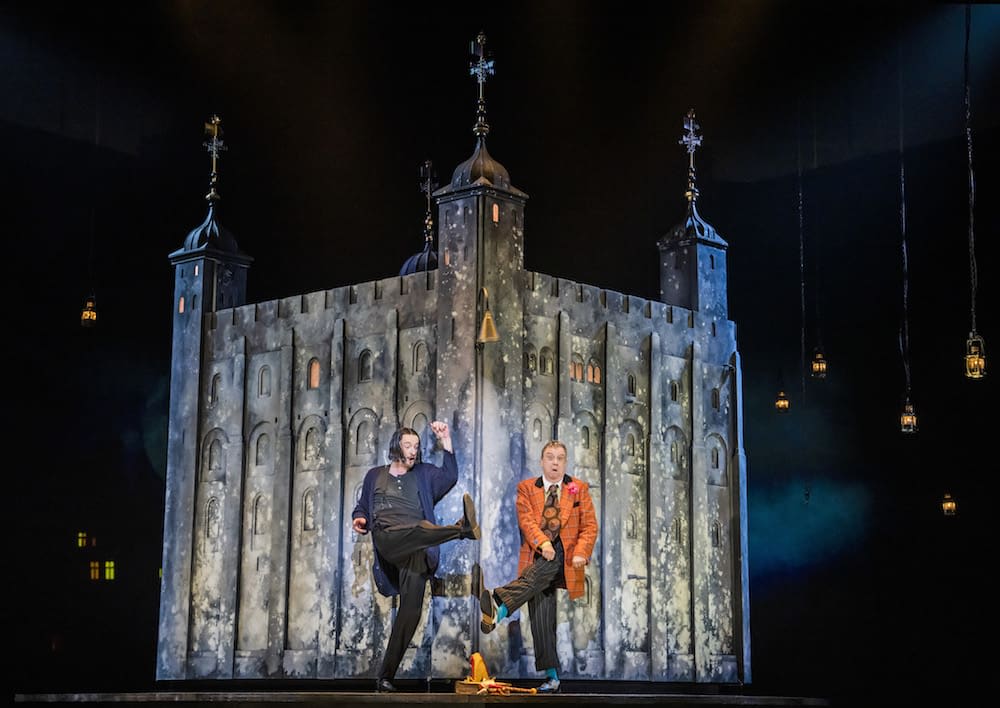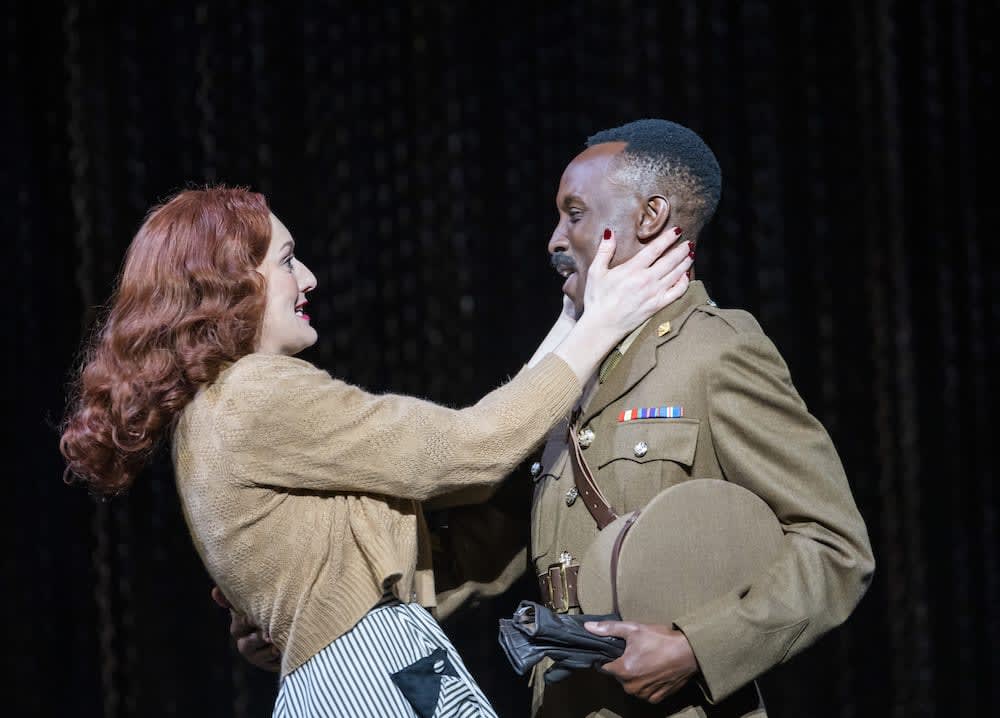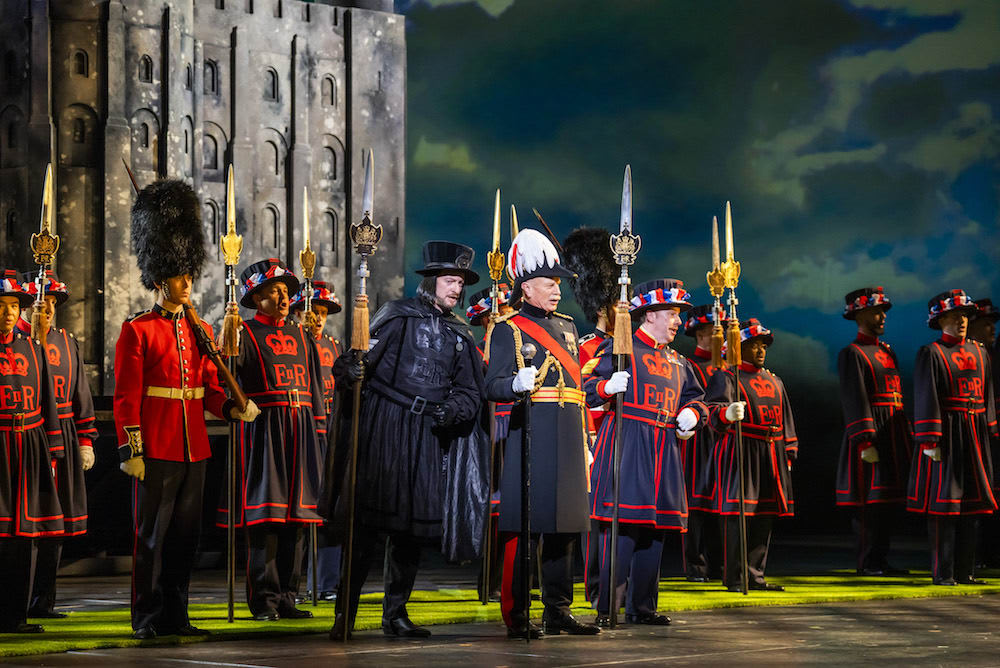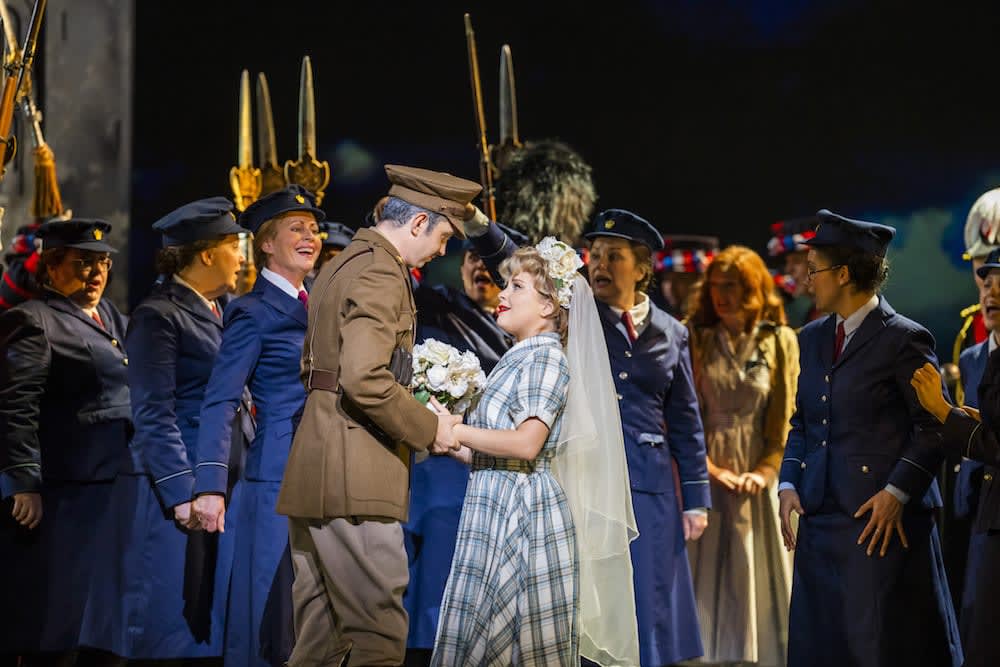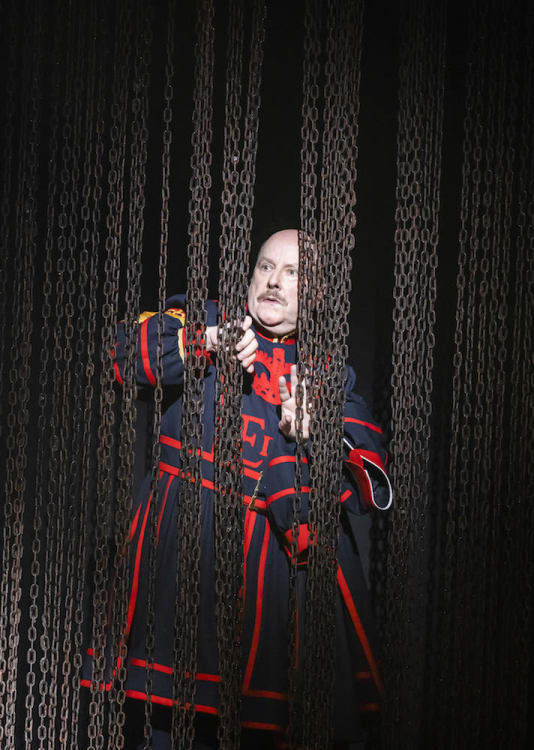 Theatre director Jo Davies wasn't sure about directing The Yeomen of the Guard, reading the text four times to unravel the plot. She'd only directed one Gilbert and Sullivan piece, Ruddigore, which must explain why she's inserted a reference to that opera in her modern adaptation of Gilbert's text. I hear mutterings from the Gilbert and Sullivan fan club about that.
Not a particular fan of their oeuvre, she had to be persuaded by ENO's artistic director to take it on, a fresh eye, so to speak, for their first production of the work. Fresh eye it is, and "revised lyrics". The Shakespearean sixteenth century has been transposed to England in the austere post-war 1950s, the year of the new Queen Elizabeth's ascension to the throne, a different Elizabethan era. Davies says she found lots of similarities between the fifties and now—will we be back to food rationing soon?
There is an abundance of clever ideas, many anachronistic (a Brexit joke goes down well). BBC black and white TV newsreel reporting STRIKE sets the new context. A newspaper headline asks if imprisoned Colonel Fairfax is a spy. In the original, he is in for sorcery—he is still to be beheaded in the text, though the gallows on Tower Green dangle a noose.
Phoebe, Sergeant Meryll's daughter, lovesick for Fairfax, is not alone on stage singing sitting at a spinning wheel but helping the men to put out a fire in Beauchamp tower as they toss red buckets and crown jewels about. Dame Carruthers is not housekeeper but a uniformed Deputy Governor of the Tower, very much in intimidating command. Gaoler Wilfred, in love with Phoebe, with his shiny lank black long wig and black uniform has the look of Laurence Olivier's Richard III.
Travelling player Jack Point, not a very happy 'Feste' jester, in love with his street entertainer partner, Elsie, could be a model for Walter Sickert's Brighton Pierrots painting. His costume looks very like, and his prancing, tricks and conundrums are straight out of Music Hall. RSC associate artist, actor Richard McCabe, hams him up to the hilt, facial and physical language stronger than his voice. His expressive face is so perfect for poor Jack, the only one who doesn't get the girl. His double act with John Molloy's Wilfred is a joy. Molloy matches him for physical performance, with an Irish jig no less.
A convoluted plot to spring Fairfax out of prison follows. Phoebe distracts Wilfred as her father steals his keys to Fairfax's cell, another bit of stage comedy with a ladder. But before that, Fairfax has the idea to marry, anybody, before execution, so that the relative who falsely put him in prison won't inherit his property. Sir Richard Cholmondeley, Lieutenant of the Tower, is dispatched to find a girl to do it for money. He makes a deal with Elsie and Jack. She marries blindfold.
Deception and mixed identities ensue. Phoebe's brother Leonard is drawn into the deception, and both Sergeant Merryll and Phoebe end up sacrificing themselves to people they find repulsive, Carruthers and Wilfred, to keep their mouths shut when they are found out. But Fairfax and Elsie find true love. Poor Jack ends alone on the stage.
The ensemble is in fulsome voice and the tap dancing (choreography Kay Shepherd) three Guardsmen are a delight. Anthony Ward's designs—chainmail curtain, Tower battlements and its Green, Yeomen changing room—are excellent, as is Andrzej Goulding's video design (I love the Tower history slide show Carruthers gives to the assembled Yeomen).
Soprano Alexandra Oomens, an ENO Harewood artist, is in fine voice and strong performance, but she does sound better from front stage. Soft tenor Anthony Gregory makes a gentle Fairfax, and mezzo Heather Lowe plays Phoebe with great spunk. Irish bass Molloy as Wilfred gets better and better as the evening progresses—I do hope Phoebe manages to transform the man.
Mezzo Susan Bickley's Carruthers I wouldn't like to cross—she looks formidable in her military jodhpurs, and I fear for bass-baritone Neal Davies's sweet Sergeant Meryll—such a sacrifice to save a man who had once saved his life.
Tenor Innocent Masuka, another ENO Harewood artist, as is soprano Isabelle Peters, respectively brother Leonard and Kate, Carruther's niece (here a nurse who discovers Elsie's secret) are fine in their supporting roles. And baritone Steven Page's Cholmondeley, straight out of a fifties patriotic British war film, has great presence.
Sullivan had ambition to write proper opera—his sonata form overture (conductor Chris Hopkins) impressive—and this is considered their most serious if still with their usual formula, Gilbert's clever rhyming couplets and internal rhymes, wit and pathos. About two dozen songs bounce the story on: "When a Wooer goes a-Wooing" sung beautifully in quartet tonight by Phoebe, Elsie, Fairfax and Jack.
Press night's audience cheer and applaud with gusto. I less so... It feels underpowered. Voices are sometimes lost in the vast cavern of the stage, acoustics better when the model of the Tower takes centre stage. This new production of The Yeomen of the Guard needs bedding in. And I think I prefer its subsidiary title, which Jack sings as "he sighs for the love of a ladye".
Reviewer: Vera Liber