The York Realist
Peter Gill
Donmar Warehouse and Sheffield Crucible
Donmar Warehouse
–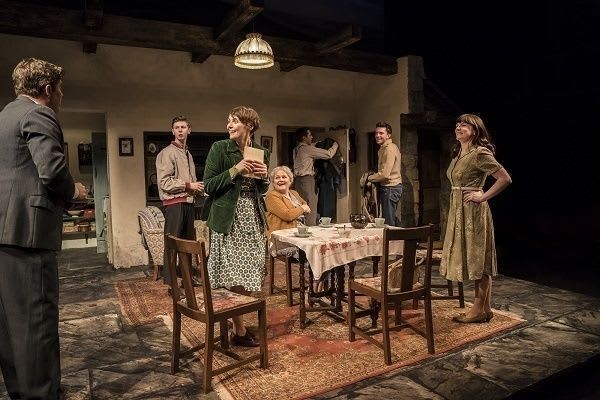 The York Realist represents, to say the very least, one of the finest moments in the long and distinguished career of playwright, director and in earlier times actor, Peter Gill.
16 years after its Royal Court debut directed by Gill himself, the heavily autobiographical piece still remains strongly in the memory, thanks to the writer's deft skill in creating rounded characters and credible relationships.
In Robert Hastie's revival, Peter McKintosh has lovingly recreated a farmhouse that may perhaps be a tiny bit too lavish for its inhabitants but looks gorgeous, backed by a dreamy scene of the lonely North Yorkshire moors.
Although the events depicted took place almost exactly 50 years ago, so isolated were these farming folk, before the days when television democratised and homogenised the world, that many of their activities could as easily have happened long before.
The cottage is home to Ben Batt's George and his slightly dotty, rather unhealthy but much loved Mother, played with charm and good humour by Lesley Nicol.
While George labours in the fields, building the kind of muscles that these days would come from a gym, the old lady uncomplainingly carries out the kind of chores that she would never expect a man to undertake.
Their lives might seemed irremediably barren, were it not for George's sister's family, who live nearby enjoying slightly more civilised facilities (i.e. running water in the bath and a lavatory on the premises). They are all characters in different ways: Lucy Black plays Barbara, fussy and cynical in equal measure, Matthew Wilson is husband Arthur, quiet but always keen to pop out for a pint, while their son Jack, played extremely capably by rangy stage debutant Brian Fletcher, is one of those youngsters who strongly suggest that still waters run deep.
While their interactions with the home team are amusing, those of the lovely, selfless Doreen played by Katie West can be seen as little short of tragic. She clearly loves George with a vengeance but is afraid to offend him by saying so. Instead, she devotes herself to providing small services and pies, adopting and coddling Mother into the bargain.
This is the setting into which posh John, an aspiring theatre director portrayed by Jonathan Bailey, makes an unexpected entrance. His connection to the family would be tenuous, had Doreen not persuaded George to audition for and get cast in the latest iteration of the York Mystery Plays, for which John has travelled up from London as associate director.
The two men quietly find common interests, the most significant of which happened to be illegal at the time, since they very swiftly become lovers, relying for much of their fun on George's certainty that Mother is a heavy sleeper.
What had originally seemed to John like a quirky holiday romance or, perhaps more appropriately, the kind of passion enjoyed by actors on the road and forgotten as soon as the set is struck for the last time, affected his lover very differently.
Despite his bluff manner and musculature, George, played with immense feeling and restraint by Batt, is the kind of sensitive soul who is badly affected by love and loss, which becomes the central subject of this tender, evocative memoir.
On this occasion, the real strength of Peter Gill's writing lies in what remains unsaid. So often, the characters are silent or murmur inanities when what they are feeling bubbles up volubly from between the lines.
The York Realist deserves to be yet another in a long line of Donmar Warehouse hits for Josie Rourke. After it plays its final London performance, the co-production transfers to the Sheffield Crucible for a run from 27 March to 7 April.
Reviewer: Philip Fisher