The Zulu
Mbongeni Ngema
Committed Artists Foundation
Assembly Hall
–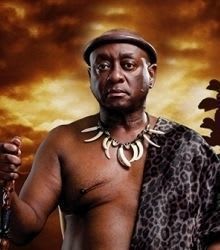 In simple language, The Zulu is a highly animated history lesson.
In it, a very proud Mbongeni Ngema repeats stories that he learned from his blind great-grandmother the best part of half a century ago.
The nineteenth century was a war-filled period for the Zulu people, every decade seemingly tainted with yet more blood.
In the folklore stories that comprise this 90-minute performance, we hear of generations of noble warriors, starting with the legendary father of his tribe, Shaka Zulu, and running through to the great triumph (defeat in history lessons in this country) over the British Empire's finest at Isandlwana.
The tales are told with wit and passion, as one might expect from a Zulu who has won awards for his performance and singing and co-wrote Woza Albert!.
Mbongeni Ngema imbues his tales with drama and gets excellent support from an uncredited colleague who plays guitar, sings, dances and agrees, as required.
The Zulu is a tour-de-force that will teach British viewers a history lesson that they may not feel that comfortable in hearing, since it relates to bravery by an enemy who eventually challenged and defeated the representatives of Empire.
Reviewer: Philip Fisher