Theatre in Scotland - A Field of Dreams
Joyce McMillan
Nick Hern Books
Released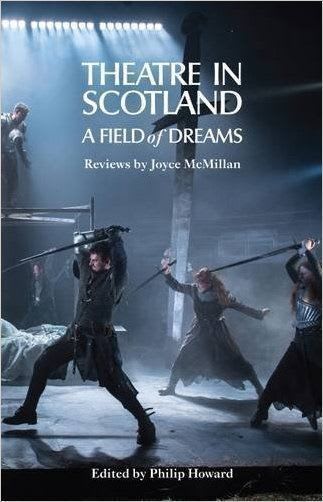 For those that rarely read theatre reviews from Scotland, it will be helpful to identify Joyce McMillan as the leading theatre critic north of the border, a status that she has held for decades.
During the Edinburgh Festival and Fringe, she becomes the most important person in town, her reviews in The Scotsman capable of making or breaking a show, while she also administers and presents the coveted Fringe First awards.
With a foreword and afterword by former Traverse director Philip Howard, who also edits, this book which is subtitled "A Field of Dreams" features reviews across a period of almost 35 years.
Together, they present a good cross-section of work carried out up and down the country during this long period, as well as allowing readers to derive a deep understanding of Joyce McMillan's mentality and prejudices.
From the earliest days, she had the confidence to know her own mind and stated her thoughts very clearly, which at times must have depressed those on the end of a sharp tongue or pen.
However, she could be equally supportive, often favouring the little man and those in far-flung regions, even barely populated islands some way from the mainland.
At the same time, this book presents a fine opportunity to recognise a period of tremendous strength in Scottish theatre, characterised by plays from the likes of David Greig, David Harrower, Gregory Burke and almost at the end of the volume, Rona Munro's remarkable history cycle, The James Plays.
However, there are also much smaller scale and lower key events including revivals of iconic plays, occasional forays north of the border by touring companies and some canny Scots adaptations of classics.
In particular, this period covers the inception and success of the National Theatre of Scotland, which managed to generate much of the strongest work selected for inclusion.
There is also a fair sprinkling of touring productions, not all of them originating in Scotland.
In addition to the reviews, some of the strongest pieces in this volume take on theatre in general rather than specific plays, while the various sections are linked by new essays from Ms McMmillan.
As with all of the best theatre reviews, by the time that the reader has finished the book or merely dipped in and out at random, they will be itching to see some of the plays and those behind them, not to mention others who have been influenced by such a strong body of work across a long period, as soon as possible. Roll on Edinburgh Festival and Fringe 2016.
Whether you want to get an idea of what has been happening to Theatre in Scotland since the early 1980s, remind yourself of happy days in theatres during that period or merely wish to read some exceptionally good theatre criticism, this is a worthy and most enjoyable collection.
Reviewer: Philip Fisher