The Line
Timberlake Wertenbaker
Arcola Theatre, Dalston
(2009)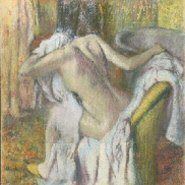 The Line could be seen as a Gallic equivalent to Alan Bennett's new play The Habit of Art, currently playing at the National Theatre. This double portrait features the tempestuous relationship between Impressionists Edgar Degas and Suzanne Valadon, "the best woman painter of the century".
In her long awaited return to new writing, Timberlake Wertenbaker has been lucky enough to attract a high-powered team.
Ace designer William Dudley eschews computer graphics for something simple but really special. The play is directed by Matthew Lloyd in the round and behind the audience are gauzy sheets portraying a gorgeous selection from Degas' Greatest Hits.
The costumes, especially for the leading lady in the final scenes, are something else too, immediately evoking the era immortalised by these artists.
The drama combines a fascinating, impressionistic view of a man who gave up all for his art and a woman who was anointed with a genius that she neither nurtured nor understood.
Their first meeting, under the disdainful eyes of Degas' faithful helpmeet, Selina Cadell's Zoe, does much to explain the natures of both. While the vain old master, played with great feeling by Henry Goodman, is uninterested by yet another very beautiful wannabe, he is entranced by her work.
However, this means little to a feisty woman who was crippled at 15 while a circus acrobat, modelled for Renoir (and the well-cast Sarah Smart looks as if she has walked straight out of one of his finest) and slept with battalions of men, including Toulouse Lautrec and Erik Satie.
There may be no meeting of minds, as a bombast tries to school the unteachable and inconstant well of talent, but slowly an intimacy develops that is entirely based on a fellow feeling for art and never becomes physical.
Along the way, issues of the time such as Zola's J'Accuse and the emergence of both Wagner and the camera are raised, if not fully debated. However, art is more important than anything and keeps bringing the pair together even after absences that sometimes last for several years, for example when former starving street girl Suzanne married a rich banker to try out the good life.
For 2½ hours, Timberlake Wertenbaker attempts to show us what it means to be an artist. In the case of Degas, this meant a life characterised by sacrifices to the great muse of art.
For the determinedly amoral Suzanne, it is an acceptance of her gift, revived whenever yet another lover moved on or her much-loved but unstable son was committed to an asylum. That son, a drunkard at 10, recovered his wits well enough to achieve fame as the artist Maurice Utrillo.
The Line may not quite have the linguistic fireworks of The Habit of Art, but thanks to some great acting and contrasting central characters, it brings to life a lost world that is still so popular a century on in the paintings of this pair and their peers.
Reviewer: Philip Fisher