The Mill
Ockham's Razor
The Corn Exchange, Newbury, and touring
(2010)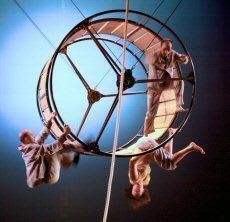 Ockham's Razor's The Mill at the Newbury Corn Exchange certainly had the wow factor. As you entered the auditorium there was haze and lighting focused on the audience with the background noises of a factory. Suspended from a high rig was a gigantic human size hamster wheel with ropes and pulleys that needed the co-operation of the five highly skilled performers to keep in motion.
Orders were broadcast through a loudspeaker to "walk, rest, rotate, resume work." There were echoes of Fritz Lang's 1927 film Metropolis as the actors toiled to keep the wheel turning.
The repetitive work ethic seemed endless, as the factory workers became increasingly bored with their daily drudgery. Soon anarchy began to reign with employees trying to steal a break with one lying down on a rope whilst his colleagues had to move him with hilarious results.
The cast's acrobatic and circus skills are simply outstanding.
But things gradually go wrong when one of the wooden cable drums collapses and compromises need to be made to keep the wheel turning and eventually the whole system comes to a grinding halt with the voice on the loudspeaker encouraging them to "establish a new system."
Why they should have to work so hard, and indeed you could literally see the sweat on their brows, is not made explicit. Was it as a result of global warming or perhaps a collapse of civilisation as we know it?
There were some lovely comic touches such as the sexist rivalry in trying to connect one of the large white ropes to the wheel, and the company found many ingenious ways to keep the wheel turning, including using the ropes as swings as they fly into the audience, but to no avail.
They do find a solution but the wheel spins out of control and a fight ensues as their frustrations come to the boil and eventually the workers revolt and go on strike. The system fault needs to fixed and normal operation restored but not on the original terms.
In a magical ending the employees find a fun creative way to keep the wheel rotating without the hard grind and are once again reunited. Alex Harvey, Tina Koch, Charlotte Mooney, Stefano Di Renzo and Paul Evans were consummate performers with amazing agility and skill.
Derek Nisbet's haunting musical composition perfectly complimented the action and Phil Supple's atmospheric lighting added a dynamic, subtle dimension to the piece.
Director Toby Sedgwick (who choreographed War Horse at the National Theatre) has created an inventive physical gem that received a thunderous ovation from an appreciative audience. Bravo!
Touring to December
Reviewer: Robin Strapp