War Horse
Based on the novel by Michael Morpurgo, adapted by Nick Stafford
RNT Olivier
(2007)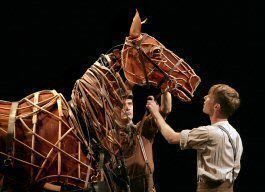 The National under Nicholas Hytner is developing a tradition in lovingly-created Christmas adaptations of teen novels. War Horse follows Philip Pullman's His Dark Materials and Jamila Gavin's Coram Boy and should have great appeal despite some shortcomings.
The talented team of Marianne Elliott and Tom Morris have created a memorable evening out of former children's laureate Michael Morpurgo's take on The Great War through equine eyes.
The imagination that they have shown, together with the amazing puppets that are a source of constant fascination to viewers, cover over a pedestrian plot that begins to get going when loyal Joey is joined in wartime France in 1915 by his human pal, Luke Treadaway's Albert, and only really takes off in the stirring later stages.
Handspring Puppet Company have constructed horses, a comic goose and even people using a fascinating methodology. The operators of these puppets are visible. Indeed, at one point when he gallops, Joey forsakes the panto cow tradition of men fore and aft for a team of six.
Like their cousins in Equus, the animals are skeletal, covered in only the thinnest translucent skin but thanks to remarkably lifelike articulation; and audible exhalations, come across as more real than if they were constructed from bone and horsehair or almost even flesh and blood.
The co-directors place these horses into a world that is impressionistic. Designer Rae Smith cleverly draws the audience in by backing the stage action with simple, animated drawings that do a good job in establishing location and are seen through a symbolic tear in the backdrop .
The first half hour drags, as the foal Joey is bought for Albert by his vicious dad (Toby Sedgwick) in a comic auction battle with his hated brother-in-law that prefigures what is about happen to Europe.
In August 1914, the old man has no qualms in selling his son's pet to the cavalry for £100 as an officer's horse for what is promised to be a brief war with the Kaiser. Soon enough, Albert is in pursuit, having joined the decimated Devon Yeomanry while still under age.
Once there, Joey becomes a symbol for the simple Tommy, losing two riders on the battlefield, changing sides to become an enslaved POW and, with his friend from home, Topthorn, being press-ganged into cart-work with an ambulance and then a gun.
As armistice approaches, horse and original rider, both miraculously intact, enjoy an uplifting reunion that could have more than a few eyes pricking with tears, as they trot proudly back to Devon and into the final curtain.
The son et lumière is great, with Rae Smith supported by an impressive and sometimes terrifying soundscape from Christopher Shutt; and Adrian Sutton's score that drifts between classical requiem, stirring rhythms and up and at 'em marching bands. This is complemented by John Tams' characteristic folksongs frequently led off by singer/accordionist, Tim van Eyken.
The vivid battle scenes are loud and effective with at one point six horses and as many men turning this way and that in effectively lit (by Paule Constable) slow motion.
By the end, you can forgive the excessive sentimentality and lack of depth because War Horse is such a magnificent spectacle, featuring truly outstanding puppetry that will help to bring The Great War to life for a youthful audience, who these days may not even have been aware of its existence.
Kevin Quarmby reviewed the West End transfer to the New London Theatre
Reviewer: Philip Fisher