The Moon The Moon
Clare Duffy, Jon Spooner and Chris Thorpe
Unlimited Theatre
Southwark Playhouse
(2009)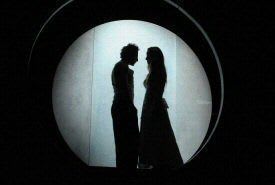 Unlimited have taught us to expect the unexpected. In this case, the style is somewhere close to Howard Barker as they explore loss - of loved ones and sanity.
Co-writer and director Jon Spooner expertly portrays the kind of man whom one avoids in the street. Paul is the long-haired shouter fuelled by alcohol, drugs or merely his own ghosts who embarrasses passers-by.
He is first seen edging towards the sea and an appointment with death, together with the peace that it will bring. A kind stranger, The Older Man played by Tim Chipping, saves the potential suicide and, even better, invites him home for a few drinks and a bite to eat en famille.
So far so good, but soon enough Paul is shackled to a wall and undergoing strange psychological warfare. To be fair, most of his problems could be going on in his own head, generated by a flame-haired beauty in white, Australian actress Helen Cassidy.
She is both his lost wife Daisy and the Moon, the pair distinguished by the former's Scottish accent. She does also enhance the fun with a series of haunting songs, penned by David Edwards.
The writers have taken considerable trouble to obfuscate their story in an attempt to help us understand what those lost souls on the street are going through. There is also an added element, since Suzanne Ahmet as The Younger Woman is a rescued emigrant from genocide, which gives Paul's story a sense of perspective.
The Moon The Moon is not an easy play and can be harrowing as it portrays a decent man sent wild and then going cold turkey. However, the themes are dealt with sensitively and, as a result, The Moon The Moon enables viewers to delve into a side of life that is normally hidden away by society.
Peter Lathan reviewed this production at Northern Stage, Newcastle
Reviewer: Philip Fisher