These Halcyon Days
Deirdre Kinahan
Assembly Hall
–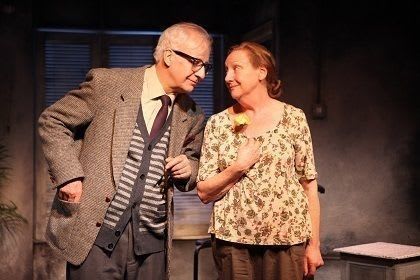 The Edinburgh Fringe is always almost exclusively colonised by the young. It therefore comes as a surprise to see a play like this, in which oldies have their say.
These Halcyon Days is ostensibly a gentle comedy but with greater depth than such a description suggests and has the feel of a high quality Radio 4 offering.
In this case, Patricia and Sean meet in a Dublin care home from which nobody escapes other than in a coffin.
The lady is a retired schoolteacher, while the much older, wheelchair-bound man used to be an actor well enough known to excite her.
The friendship that builds between the lonely pair seems genuine and overcomes the kind of impediments that would normally lead to permanent breakdown.
Director David Horan for Tall Tales Theatre Company and Solstice Arts Centre has been blessed with two actors of rare skill in Anita Reeves and Stephen Brennan, who seem to get on well together, which is necessary for a two-hander.
Deirdre Kinahan has written a play that feels lived or at the very least perfectly researched, making These Halcyon Days a valuable addition to the Edinburgh programme.
Reviewer: Philip Fisher