Things of Dry Hours
Naomi Wallace
Gate, Notting Hill
(2007)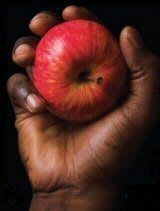 Things of Dry Hours is set in Ku Klux Klan country - Birmingham, Alabama - in the recession of 1932. The action takes place in the home of Tice Hogan and his widowed daughter, Cali.
Hogan, played by Colin McFarlane, is a proud, noble man whose life can be summed up by the two books that are his prize possessions, the Holy Bible and the Communist Manifesto.
Life is precarious for Negroes in these parts and doubly so for those "Reds" who embrace Communism. Almost every time that Tice utters a name, he follows it with the story of a beating or more likely a death. Chillingly, the worst enormities are not committed by the Klan but the police.
This natural spokesman, with the delivery and language of a preacher, lives a charmed life. He is bolstered by and deeply loves his loyal daughter, given great charm by Lorna Brown.
Cali puts the bread on his table by washing for the rich whites of the neighbourhood, and collects odd shoes to tell stories with. Her life is hard but she is her father's daughter and endures indignities with remarkably little bitterness.
Their lives change irrevocably with the arrival of Gideon Turner, playing the handsome, white Corbin. He is on the run after murdering a man and billets himself on the Hogans at great risk to their lives.
Soon, father is lecturing and teaching the illiterate renegade and by extension the audience, who get lessons in Black American history, Communism and sociology. At the same time, Cali is falling in love while desperately trying not to. This leads to a hilarious scene where, having finally got under each other's skins, Corbin tries seduction using the principles of dialectical materialism. Surely even Karl Marx himself didn't try that one?
The ending of this 2½ hour drama is inevitable, though there is a twist, and adds perspective to what has gone before, showing the tremendous courage of a pair who stand up for their rights where sense suggests that silence is the only realistic choice.
Things of Dry Hours tells a timeless tale about the evils of bigotry through the mouths of a trio of strong-willed and memorable characters.
Director Raz Shaw is blessed with strong performances from all three actors who make what can be an overly wordy, if often poetic and thought-provoking, script both digestible and moving.
Reviewer: Philip Fisher