The Things Good Men Do
Dan Muirden
Old Red Lion
(2007)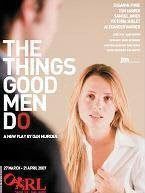 I have spent more comfortable evenings in the theatre than the one I passed at the Old Red Lion - and that's not a deserved reference to the seating but a comment on an accomplished piece of writing that goes to some uneasy places.
The story follows a year or so in the life of Nick, a have-everything twentysomething ready to commit to Lucy - forsaking all others - and have the children of which he has dreamed. It is the "forsaking" bit that he has the trouble with, and when he cannot resist one last episode of kinky sex with some-time lover Adriana, he is launched on the downward spiral from 'nice Nick' to 'nasty Nick'.
The catalyst to this tragedy is the news of his impending fatherhood, the unwelcome consequence of his tryst with Adriana, and Nick's decision to try and hide the situation from Lucy and best friend Joe. Into the pot comes the revelation that Lucy may not be able to have Nick's longed-for children, but Nick hears this third hand from Joe thus demonstrating that the whiter-than-white Lucy was hiding her own secrets.
Nick is used to being in control and if only he can convince the Catholic Adriana to have an abortion his worst nightmare will be over; Adriana proves not to be so compliant, even in the face of Nick's consistently selfish approach and unutterably vile behaviour towards her.
That Nick will end up losing everything important to him is a given from fairly early on but what keeps up our interest are motivational shifts and the occasional googly. When it is suggested that Adriana, deeply in love with him, deliberately wants to trap Nick with the pregnancy we are forced to re-address just who we think is the victim and who the manipulator.
Dan Muirden is skilled at keeping the emotional roller-coaster going, though the first part of the play has a tendency to drag a little because progress is haltered by frequent scenery change blackouts. This play would benefit from losing twenty minutes and it would also be interesting to see it run without an interval, despite the cliff-hanger ending to the first act.
It is a weakness of the piece that the character of Rich is such a stereotype and that the action turns on not one but two coincidences, but there is no question that Dan Muirden is a talented writer. He is very good at shifting the balance especially as to whether unreasonable behaviour is justified by reasonable intentions.
Under the hand of director Jamie Harper the comic moments are played to the full and we squirm in all the right places. The young cast all acquit themselves well: Tom Harper's Nick is convincing in his transition from Jekyl to Hyde and on to a confused penitent, and whilst Victoria Shalet played to Lucy's soppiness she made a very good partner to Nick.
Alexander Warner had the least well-defined role of Rich but carried it off and Susanna Fiore was very persuasive as the abused Adriana. The most engaging performance came from Samuel James who took the role of loyal friend Joe. His initial shag anything immaturity was un-likable but he was convincing and funny; when faced with Nick's betrayal he was sincere and touching.
Take yourself out of your comfort zone and head for the Old Red Lion.
Tuesday to Saturday at 8pm until 21st April 2007
"The Things Good Men Do" had its first airing in a workshop production in 2005 (reviewed by Philip Fisher at the Lyric Studio, Hammersmith)
Reviewer: Sandra Giorgetti