This May Hurt a Bit
Stella Feehily
Out of Joint
St James Theatre
–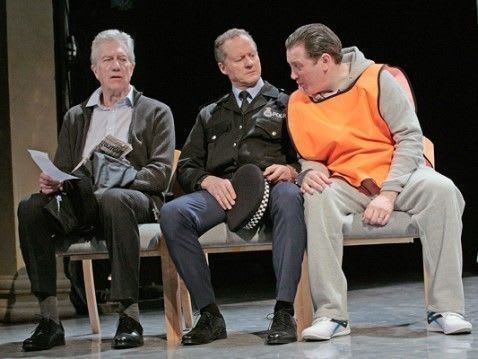 If Secretary of State for Health, Jeremy Hunt fancies a pleasant night out at the theatre, he would do well to steer clear of St James's main house for the next month.
Stella Feehily's new play for Out of Joint spends much of its two hours attacking politicians but especially those in power in 1987 and then 2011.
Her very clear view is that between them, the Thatcher and Cameron administrations have brought the Grim Reaper (William Hope) in to have some fun at the expense of the dear, confused old NHS, embodied by Jane Wymark.
The opening speech delivered by Hywel Morgan's Nye Bevan in 1948 makes an impassioned case for the introduction of an egalitarian health service that will bring healing to all.
The remainder of the first half powerfully demonstrates how succeeding politicians of every hue, starting with Sir Winston Churchill (Tristram Wymark), have put more and more nails into its idealistic coffin. The terrible suggestion is that the post-war British principle of free health care for all will be replaced by the American alternative in which only those that can pay liberally will be cured.
There is, though, no sense of balance as the audience is unremittingly bombarded with information, bringing back memories of agit-prop plays that saw their heyday when the NHS was still pretty healthy.
This can get wearing, regardless of viewers' political affiliations, since the message comes over loud and clear long before the much-needed interval.
Afterwards, the tone changes into politically charged sitcom. This starts when left-leaning nonagenarian Iris, delightfully brought to the stage by Stephanie Cole, has a fall followed by a regression forty years back to the days when Ted Heath ruled the roost.
She is rushed to the under resourced local A & E, which anyway is unlikely to last any longer than the old lady since cuts are in vogue, as demonstrated most amusingly by a TV weather lady who forsakes climactic depressions for those suffered over the stormy health service.
The Geriatric Ward is a madhouse that is reminiscent of What the Butler Saw or The Hothouse. Here, the worthy old lady is joined by a seriously loopy woman with delusional tendencies and a randy vicar recovering from a stroke.
Her own family, usually divided by the Atlantic but also a much wider political gulf (Brian Prothero and Jane Wymark), are not much better, merrily bickering over ailing mum.
This is good fun, fuelled by dedicated Natalie Klamar's Nurse Gina, who keeps her head while all around are losing theirs and rarely loses her sense of humour even when dealing with a corpse.
This May Hurt a Bit wears its heart firmly on its sleeve, lambasting all of those it deems responsible for killing the NHS. Despite the direction of Max Stafford-Clark, it lacks the even-handedness that has been the making of so many of his compelling verbatim dramas such as The Permanent Way which did for the railways what this play attempts for the health service.
The sad conclusion to which we are led is that the NHS is an ailing old lady who will die unless she can get herself a course of treatment in a private hospital in the very near future.
Whether the eulogies are premature remains to be seen. In the meantime, those who fear the worst might enjoy having their prejudices played out on stage by this hard-working company.
Reviewer: Philip Fisher