This Must be the Place
Brad Birch and Kenneth Emson
Poleroid Theatre
The Vaults, Waterloo
–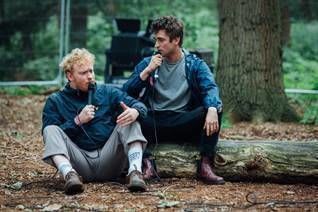 Two pairs with no obvious connection face the problems that tax the young today in this slight play presented by Poleroid Theatre that lasts little more than 45 minutes and was first seen at the Latitude Festival last summer.
The feeling that one is watching two separate playlets might well not be too far from the truth, given that one dialogue was presumably written by Brad Birch and the other by Kenneth Emson, while there are also two directors.
On stage are four young people speaking into microphones rather than fully acting their roles.
In one conversation, James Cooney's Adam largely ignores his concerned girlfriend Lily, played by the company's Artistic Director Molly Roberts. He then does a runner for reasons that are only explained towards the end of their half of the piece.
Interleaved is the tale of Tate and Matty, respectively Feliks Mathur and Hamish Rush. They are heading for London and a painting and decorating gig that will make neither rich, nor it seems especially happy.
Beyond these bare bones, there is little more to This Must be the Place than a chance to listen to the way in which youngsters from various northern locations chat and get an idea about the minor concerns that make their dull lives a touch more stressful than is ideal.
Reviewer: Philip Fisher