this isn't romance
In-Sook Chappell
Soho Theatre
(2009)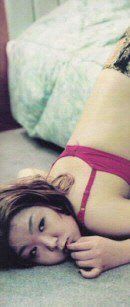 In-Sook Chappell's debut play, which one hopes isn't too close to her own story, won the Verity Bargate Award in 2007. While its subject matter sounds like an opportunity for a fresh vision of today's multi-cultural world, that is not how it turns out.
Like Miss Chappell, Miso Blake, played by American actress Jennifer Lim, was born in Korea but raised in Essex. 25 years after being adopted away from her home country as a 7-year-old orphan or "Holt Kid" (the term is not explained), she returns seeking a reunion with her younger brother.
Mo Zainal's Han, whom she deserted for the affluence and security of the West, turns out to be a handsome, sulky taxi driver/petty gangster/murderer.
The initial meeting is not a success but the second turns hatred into incipient incest in seconds. It transpires that Han's resentment is based on his long-held anger as a 4-year-old deserted by a sister who could hardly be expected to know any better.
From there, the plotting is far too close to the kind of movies that skip cinemas and go straight to DVD, relying on sex and violence where some deeper coherence would have been desirable.
Han needs money so his sister, whose debit card fails, tries to revive her career as an under-sized catwalk model but is laughed out of the agency. In a further attempt to assuage her guilt she then tries to seduce a rich Englishman, symbolically named Jack Cash, played by Matthew Marsh. This fails when bro rolls up and turns nasty.
After a dose of romantic family history about fishermen and pearl divers, there is a truly shocking and completely inexplicable conflagration that leads to an uncharacteristically hopeful ending.
this isn't romance does not work well on stage. It is the kind of show that introduces cheap thrills whenever the writer is short of an idea, which makes for an action-packed but far from satisfying 90 minutes.
Reviewer: Philip Fisher