Thomas More
Anthony Munday, William Shakespeare and others
RSC at the Swan, Stratford
(2005)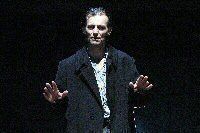 The first play in a season marking the 400th anniversary of the gunpowder plot, Thomas More is a curious affair. It's thought to have been written in about 1592 by five anonymous writers - believed to be Munday, Shakespeare, Henry Chettle, Thomas Dekker and Thomas Heywood. And there is no evidence that the play was staged in Elizabethan or Jacobean times.
There's no doubt that Sir Thomas More is worthy enough to have a play written about him. He rose from being a member of the king's council to become a knight, Privy Counsellor and eventually Lord Chancellor before he was executed by Henry VIII in 1535 for refusing to sign unspecified "articles".
The problem with Thomas More is that it appears the five writers who contributed to the play did so in isolation. This leads to a huge difference in style and language from one scene to another. Themes are introduced never to be mentioned again while some characters appear briefly and disappear off the face of the stage.
However, the play has its high spots. The scene in which More quells a May Day riot when Londoners protest that "aliens and strangers eat the bread of the fatherless children" is the only surviving manuscript in Shakespeare's hand and is beautifully written. More wins over the people with an eloquent, persuasive speech which has the Bard's unmistakeable mark all over it.
The concluding scene in which More, the eternal optimist who sticks doggedly to his principles, prepares for his death is another powerful episode which you have to admire.
Robert Delamere's modern-dress, dark production is well staged and features a sterling performance by Nigel Cooke as More. He might not seem the obvious choice because he isn't especially pious nor forceful. Yet you warm to him. After More has appeased the mutiny, the Lord Mayor pronounces, "Not steel but eloquence has brought this good." It's at this point that you know Cooke is ideal for the part.
There are also a couple of comic interludes which are skilfully done - but the play contains a few negatives.
It seems too long at two hours 40 minutes and like many productions of its time it has a play within a play. The Marriage of Wit and Wisdom is slightly humorous but it does nothing to advance the action.
Presumably RSC associate director Greg Doran who's in charge of the Gunpowder season chose Thomas More because there are parallels between London of the 16th century and today's society. The problem of immigrants' being a threat to English jobs and homes is a timeless one.
Delamere has done a good job with the material at his disposal. But there's no getting away from the view that Thomas More is a hotchpotch of ideas, topics and theories which don't always come together.
Censorship because of the insurrection scene may have been the reason why Thomas More wasn't performed in its own time. Its lack of cohesion and indeterminate style mean it probably won't be performed much today. I was grateful for the opportunity to see Thomas More - but I wouldn't rush to watch it again.
"Thomas More" runs in repertory until November 3rd
Peter Lathan reviewed this production at the People's Theatre, Newcastle
Philip Fisher reviewed this production when it transeferred to the Trafalgar Studios, London
Reviewer: Steve Orme