Thomas More
Anthony Munday, William Shakespeare and others
Royal Shakespeare Company
Trafalgar Studios 1
(2006)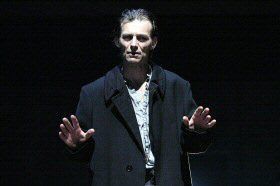 Thomas More is the second play in the RSC Gunpowder Season to arrive in London. This rarely performed piece is more usually attributed to Anon.
According to scholars, it was probably written by five Anons but inevitably one of them, William Shakespeare, makes the top billing in place of Henry Chettle who probably worked with Anthony Munday on the original script.
It is not clear that the Bard had a great part in the creation and indeed at this range, it would be easy to make a case for the proposition that he made no contribution at all.
With so many writers, one can hardly be surprised that both the writing and style are uneven. This does not mean that the play lacks merit, more that it feels episodic and the episodes do not always hang together too well.
The story of Sir Thomas, at one point that fickle King Henry VIII's right hand man, is popular at present. The first two London openings of 2006 share him as their hero. These days, A Man for All Seasons is the better known, partly because it was so successfully filmed but it has now been revived starring Martin Shaw as More.
The early scenes in Robert Delamere's modern dress production feature a country on the brink of a people's revolution, with a trial scene in which the lawyer More is able to demonstrate his Solomonic wisdom. The revolt has been stirred up by distaste at the "invasion" of wealthy Lombards (Frenchmen) who are taking over the country.
Under Lincoln (Ian Drysdale) the people are close to setting fire to the City of London. In a week that finds Ariel Sharon lying gravely ill in hospital, there are resonances of the situation between Israelis and Palestinians as a desperate people rises up against a rich, occupying force.
The diplomat who saves the day is the eponymous Shreve or Sheriff. More steps in as it seems likely that sixteenth century London will burn. His wise words calm the mob although, like so many subsequent politicians, he promises more than he is able to deliver. In any event, he receives due reward being knighted, appointed to the Privy Council and later Lord High Chancellor.
Things begin to look nasty as the King, or possibly his noblemen, decides to execute the uprising's leaders despite the safe passage that they were offered. Once again, with More's help, a reprieve is offered and the people rally to him.
However, life as an intimate of Henry VIII was never secure and More was asked to support his sovereign by signing some articles - it is not clear what these are - and, in company with the Bishop of Rochester (Keith Osborn), defied the King, even though two of their colleagues were happy to sign with alacrity.
Following a drag cabaret act (!), we are then thrown into a sentimental domestic scene as the positively jolly More tells his wife (Teresa Banham), son-in-law (Julian Stolzenberg) and daughter (Miranda Colchester) of his actions. They try to persuade him to back down but smiling (almost all of the way), he is sent to the Tower and then to the axe man.
Nigel Cooke, who impressively delivers one speech standing on his head, makes More into a light, witty comedian and it is hard to believe that such a man would not have needed to be a little more serious to achieve what he did. This may be down to the writing rather than actor or director. Certainly, his end is moving, greatly aided by Wayne Dowdeswell's poignant lighting.
Thomas More is well worth this revival, partly as it may contain sections by William Shakespeare. It also has strong political overtones, intrigue led by a man looking like a slimmer Kenneth Clarke (Tim Treloar's Shrewsbury) and an affectionate picture of a man who gave his life for his beliefs.
Steve Orme reviewed this production in Stratford
Peter Lathan reviewed this production at the People's Theatre, Newcastle
Reviewer: Philip Fisher