Three Kingdoms
Simon Stephens
Lyric Hammersmith, Germany's Munich Kammerspiele and Estonia's Teater NO9
Lyric Hammersmith
–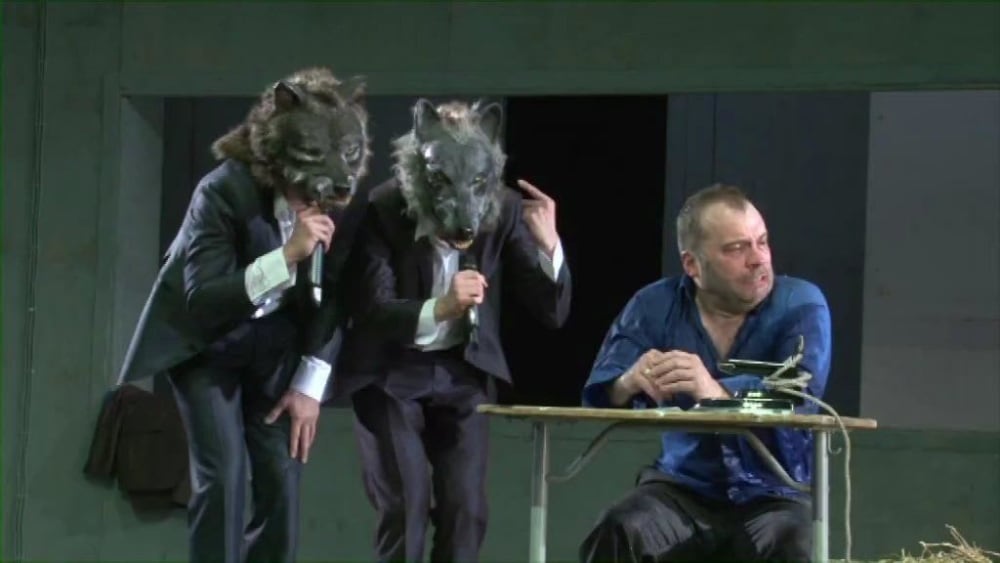 Theatre is meant to be challenging but some might feel that this tri-national collaboration pushes the boundaries way too far.
For three hours, the audience watches as a couple of Sweeney-style coppers try to track down the person who beheaded a prostitute, possibly in a snuff movie, and dumped her head in the Thames.
What could be a run of the mill police procedural becomes perverted (in every sense of the word) into a nightmare, using that term in a surprisingly literal fashion. As such, it aspires to be a play noir if there is such thing, influenced by the likes of David Lynch, the Coen Brothers and inevitably Quentin Tarantino.
The two policemen played by Nicholas Tennant and Ferdy Roberts take their sarcasm, conceivably borrowed from breakfast show radio presenters, first to Germany for a romp that could easily have been graced by the title of a far better Stephens effort, Pornography and then Estonia.
Right at the end, a message begins to emerge from the confusion as the local gangsters in Estonia try to persuade us that despite the bad press and their own behaviour, Eastern Europe is no worse than good old Blighty.
The slight difficulty for the Estonian Tourist Board is that if Three Kingdoms is in any way an accurate representation, Brits and Germans will be giving Tallinn a very wide berth.
As well as following the trail of the criminals, the play gets deeply into the sex trade and somewhere along the line, parts company from any sense of reality.
The actors, drawn from all three "Kingdoms" (though strangely none has been one for the last 60 years), show great verve and energy. They risk limb, if not life, in serving the play and will probably all end the run battered and bruised.
Quite what the intentions of the writer and his German director, Sebastian Nübling, were is likely to remain shrouded in mystery. The overall impression that one gets is that the plot has largely been sacrificed to gesture in an effort to create a performance that will entrance.
The evening smacks of excess and, like In-Yer-Face back in the nineties, apparently does so at times merely for the fun of it. On that basis, perhaps it will gain a cult following but the odds are that most Londoners today will find it a long haul.
Reviewer: Philip Fisher