The Threepenny Ring Cycle
Richard Wagner
Les Grooms
Salisbury Festival and touring
(2004)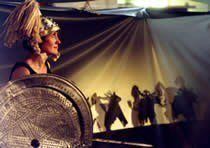 It's a measure of the achievement of the French company, Les Grooms (the Bellboys), that an audience of 300 feels a real sense of involvement in following Siegfried's funeral pyre at the conclusion of their 90 minute performance of Wagner's entire Ring in The Threepenny Ring Cycle.
Entire? In the sense that the bones of the four operas are compressed theatrically and, yes, musically, too, into the confines of time and tent - on this occasion, in the Downton Leisure Centre as part of the Salisbury Festival.
Three singers who would certainly enliven English National Opera's current, full-length performances at the Coliseum, manage to encapsulate the essences of all the main characters both in theatre and music. Jacques Auffray (baritone) sustains a formidable Wotan in between much else, Christine Oehlkern is a barnstorming Brünhilde with more passion than I have seen in the role before, while Jean François Chiama is, among other things, a stirring Siegfried.
The famous score is surprisingly well represented by, of course, various combinations of eleven brass - trombone, trumpet, tuba, flugelhorne, baritone/ tenor/alto/soprano sax plus a wide range of percussion including dijeridoo and anything else that comes to hand.
Jean-Marie Gerintes, even succeeds in looking decorous as she ensures Wagner's, often-underestimated gentle moments receive their full worth!
The secret seems to be in the players' relish of the musical signals Wagner gives his characters. No-one emerging from The Threepenny Ring will have any doubts as to whom is whom!
Broken English commentary, from around the busy company, only emphasises the wit of the whole concept - which clearly delighted a tent crowded with all-sorts from connoisseurs to newcomers.
As the strange, tented Castle of Valhalla collapsed behind us in a pool of red light, it occurred to me that anyone contemplating work on Wagner's masterpiece should seek out Les Grooms at once. After all, they took the trouble to drive to Bayreuth in a van - and never even got to see a single opera!
Reviewer: Kevin Catchpole