Thrill Me: The Leopold and Loeb Story
Book, music and lyrics by Stephen Dolginoff
Richard Williamson and CliMar Productions in association with Greenwich Theatre
C Chambers Street
–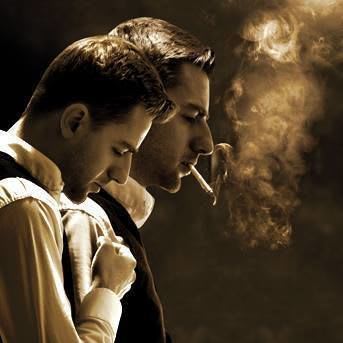 90 years ago, Chicago witnessed one of the most notorious crimes of the twentieth century.
Thrill Me seeks to recreate the circumstances and allow a fresh audience to understand the very different motivations of the perpetrators, Nathan Leopold and Richard Loeb, two highly intelligent law students.
It does so in the novel form of a musical with only two performers plus an accompanist on keyboard.
The story that the actors relate is almost unbelievable, which may partly be the fault of a sometimes far-fetched book.
In it, we observe the increasingly reckless activities of a pair of 19-year-olds who should be set up to become rich and quite possibly famous, not infamous.
Loeb was a psychopathic thrill-seeker in the days before bungee jumping for whom no crime ever gave full satisfaction until only murder remained.
By contrast, Leopold was in thrall to and love with his cruel childhood friend and would do anything for him. Ultimately, the anything was the kidnap and murder of a 12-year-old boy.
The musical follows the story through from early pranks to court and even Leopold's release in 1958 from a life plus 99 year sentence after "only" 34 years.
The edgy music and lyrics are both excellent, as are the performances of Danny Colligan playing Leopold and Jo Parsons as Loeb, under the direction of Guy Retallack in a stark, low budget setting.
Reviewer: Philip Fisher