Throats
Gerald Thomas
Pleasance Theatre, London
(2011)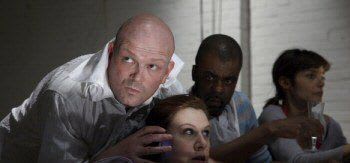 Apparently Gerald Thomas has something of a cult following in Brazil. He has also worked with some of the greats of world theatre and opera including Samuel Beckett and Philip Glass.
While there might be hints of Beckett in his work, Throats is more reminiscent of Howard Barker in one of his more impenetrable moods. Also, like Barker, Thomas directs his own work and clearly expects his carefully chosen, and in this case highly talented, actors to commit everything to his vision of perfection.
The action takes place on a revolve with the early scenes at a dinner table with, as its centrepiece, the detached head of Lucy Laing. It should perhaps be explained each of the characters takes the Christian name of the actor playing the part.
The sinister maître d' is Angus Brown, who plies not only excessive quantities of alcohol but also pints of stage blood with which he anoints not only his own shaven skull but the heads of several of the other actors.
In addition to bodiless Lucy and bloody Angus, we meet heavily pregnant Antonia Davies whose bump deflates like a balloon; Kevin Golding, a black man made up as an Orthodox Jew; singing Maria De Lima, together with two other men with less well-defined roles. Adam Napier wanders around on blue high heels, while Daniel Ben Zenou swaps between a Brazilian football shirt and a rather more fetching feminine number.
The dinner table discussion is generally incoherent but the subject matter appears to be post-apocalyptic or perhaps more accurately, post-9/11. The second setting sees various actors imitating a crucifixion, although again it is not entirely apparent why, before the play eventually moves to an abrupt ending 90 minutes from its opening.
In addition to its attractive set and startling images, there is a haunting piano solo composed by John Paul Jones, a founder member of Led Zeppelin, and a loud but emotive soundscape from Johnny Saccone.
While the production qualities are of the highest standard, Throats is one of those conceptual pieces that clearly means a great deal to its creator, without necessarily having the same impact for viewers other than at a visceral or subconscious level.
Reviewer: Philip Fisher