Thyestes
Seneca, translated by Caryl Churchill
Arcola Theatre
(2009)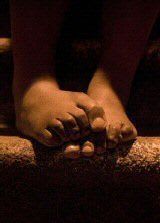 Long before Shakespeare popularised a very similar story in Titus Andronicus, Seneca brought bloody horror and paternal cannibalism to the stage. The Greek dynasties had more than their fair share of blood but even in their canon, the story of the warring grandsons of Tantalus sends a shiver down the spine.
Last year's winner of the James Menzies-Kitchin Award for young directors, Polly Findlay, announces herself as a great talent both in her modern dress concept for the presentation of Caryl Churchill's muscular and poetic translation and her work with the cast.
The actors perform in what looks like a gangster's den (designed by Hannah Clark) of the type used in The Long Good Friday. Filing cabinets spread across a grungy underground garage or disused factory with the drama played out in traverse between ranked seats.
The opening monologue seems tame enough, until the ghost of Tantalus is dragged coughing and spluttering out of a filled barrel into the world to face up to the sin of killing his own son, Pelops.
This forms a prelude to the battle for supremacy between Pelops' two sons. The sharply-dressed Atreus is suave and faintly dangerous even before he swears revenge on the brother, who has stolen his birthright.
His offer of peace draws in Thyestes, who pays for his treachery, not with his own death bit a far worse and much gorier fate.
The play takes time to warm up, as considerable exposition is required. From the moment that the two brothers come face-to-face, it reaches white heat and stays there.
Nick Fletcher gives Atreus the kind of aura common from contemporary films about the nastier side of the underworld but the undoubted star is Jamie Ballard in the title role.
Thyestes might be a villain, but his fate is unspeakable and the actor portrays disbelieving horror at his fate with rare and truly terrifying conviction.
This is not a cheerful night out but the under-lit atmosphere is compelling and the drama quite simply unforgettable.
Reviewer: Philip Fisher