Time in Motion: Seven Ballets – One Programme
30th Anniversary Gala
The National Youth Ballet of Great Britain
Sadler's Wells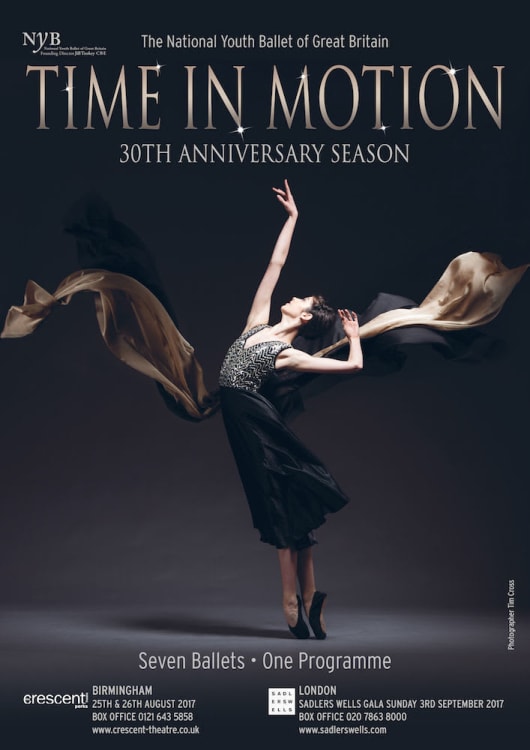 A grey Sunday in London town is lit up by high-wattage smiles provided by dedicated dancers aged eight to eighteen in front of proud families, dance students, friends and invited guests. An impressive showcase of dance and choreography to music that reflects a range of styles: who could ask for anything more… a cavalcade of dance.
Appropriately, the first of the seven promised ballets is Scottish Ballet's AD Christopher Hampson's eighteen-year-old Carnival to Camille Saint-Saëns' Carnival of the Animals, which allows some forty-four dancers of all ages to flourish, show off their range, musicality and personalities.
James Lovell stands out in his swan solo, reminding me of Matthew Bourne's Swan Lake, especially when five more male swans in blue join him. Sir Matthew is one of the dance world celebrities in the audience, paying close attention, I hope.
Blue skies, sunlight, a touch of frost, shadows, stepping stones lighting the way—Andrew Ellis's lighting design is superb—and leggy girls, whose purple and gold upturned skirts transform them into high-stepping dancing fungi—surely not, but that's what I see, and they make me think of NYB alumni Drew McOnie's "little shop of horrors" Jekyll and Hyde. The duets are lovely, andante and pizzicato, Basil James and Anya Mercer delightful.
Louise Bennett's A Frosty Fable—a gentle amalgam of Brothers Grimm and Hans Christian Andersen—featuring some thirty junior company members aged 12 years and under, is set to music from Delibes's Coppélia. A squabbling boy and girl allowed out of the cosy family home into a winter wonderland find that it is not all it promises. Visually enticing, but all those people in their fine clothes, and they the outsiders. It brings them together.
I don't know the name of the little girl, but what self-assured presence and fine foot placement. I trust Royal Ballet's director Kevin O'Hare, sitting next to former RB director Monica Mason, is making a note.
Tessa Balls's white and blue costume design, Kenneth MacLeod's projection design—fireplace with three flying ducks melting away into a land of snowflakes—magically lit by Ellis is a family Christmas treat for sure. These three must be highly commended for their binding vision and skill throughout the seven pieces, quite a feat.
Samira Saidi's (director of ENBS) 2008 Aspirations, set to Raymonda's lyrical music to fall in love to, Valse de Concert no 1, is a coming-out ball for fifteen girls in white tulle dresses and red sashes. I think of Natasha's first ball in Tolstoy's War and Peace. Pretty patterns, tableaux, and lovely arms.
Oklahoma Dream! soon puts paid to that with its musical theatre choreography from associate director for New Adventures Etta Murfitt. A new work, inspired by the Dream Ballet from Rodgers and Hammerstein's Oklahoma, this delivers what it says on the box with great panache and a letting down of hair.
Girls in gingham frocks, boys in bandanas and cowboy hats, tall tough cowgirls, saloon bar, and a fight over a girl—true love never did run smooth. Asher Rosenheim and Anya Mercer as the frustrated young lovers amongst MacLeod's projected oilfields, canyons, tumbleweed and church in the prairie, in a nostalgic rewrite to an Oklahoma medley, are Bourne ready.
After the interval, we move to another new work—Birmingham Royal Ballet's First Artist Ruth Brill's Steamboat Summer. Her music of choice par excellence is Raymond Fol's exhilarating Les Quatres Saisons "In Jazz", and the setting a cruise boat with its human cargo out to have a good time and a holiday romance.
A long piece—to fit the dramatic four seasons of Fol's mood music—it has flappers, sailors, porters, cocktail waiters, engine boy, swimmers, a cool captain, some funny business with a deckchair, a storm at sea, and a glamorous lady soloist, all very thirties. Kaleidoscope back-projections bleed into Busby Berkeley patterns on the floor.
A brief work by the winner/s of the in-house choreographic competition, which took place at the Summer School, is showcased simply under a single spot, and it is striking. In simple black costume a couple dance a contemporary barefoot duet to a solo guitar, and make quite an emotional impact. This palate cleanser between two long pieces is a welcome intrusion.
BRB soloist dancer Jonathan Payn's 2001 IKEN to Britten's Simple Symphony simply takes the breath away. It could be by Richard Alston. Eleven girls in bold and pastel colour spectrum summer frocks and five boys in country clothes breath the joys and knee-trembling longings of life into action as they gaze over the low-lying Suffolk landscape, its backcloth the exact view behind Snape Maltings Concert Hall. Folksy, buoyant, restless, yearning love, romantic and baroque, IKEN is the standout piece for me.
Closing the bill is Rambert graduate Arielle Smith's new contemporary piece, T-Symmetry set to the electro-acoustic Mothership by Mason Bates, the third and final display of the Beyond Ballet choreographic programme of new works by three emerging female choreographers. It has something of Wayne McGregor's dystopian sci-fi predilection about it.
Lighting that reminds me of Lucy Carter's early work for McGregor strafes the floor, as pulsating computer graphics mutate on the back-screen. Algorithm replicants, dancers in black suits crawl, walk and stalk to a heavy beat, Bridget Riley-ish optical illusion cogs in a machine spinning out of control, trapped inside an unforgiving universe.
Two and a half hours, showing the range of talent simmering in the NYB crucible, backed by excellent creatives and led by its new artistic director Mikah Smillie, with alumni in the audience to cheer them on, this mixed bill celebrates the ages in every sense.
Reviewer: Vera Liber