The Timekeepers
Dan Clancy
New End
(2004)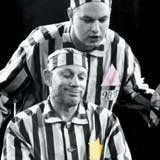 This is a really beautiful, intense piece of theatre that manages to combine humour and poignancy with remarkable skill. It feels like a very carefully written short story but works well on stage in New End's intimate space.
The Timekeepers is set in a concentration camp in 1941 and focuses on three prisoners, a Jew, a homosexual and their boorish guard who is probably from Central or Eastern Europe.
The metaphor of the title cannot be escaped. These men have been recruited to repair watches and clocks stolen from even less fortunate inmates. While they serve time, they fix it.
Initially, Benjamin, the Jewish family man and formerly the best horologist in Berlin, and Hans, a talkative gay man, seem to have little in common. In fact, what holds them together is a mutual dependency that eventually develops into trust and ultimately friendship.
Within Uri Ofir's simple but effective set, where a little lighting goes a long, long way, this play draws elements from the best of its genre. It follows on from much Holocaust literature such as Fania Fenelon's Playing for Time. It is also at times reminiscent of both The Kiss of the Spiderwoman and, in the way in which opera keeps the inmates sane, The Island.
This company has been playing in The Timekeepers together in Israel for two-and-half years and it shows in Lee Gilat's tight production. In particular, Rami Baruch and Roy Horovitz convincingly develop the friendship between the former's tight-lipped Benjamin and the latter's highly-strung Hans.
The play requires a degree of contrivance to achieve its ending after an inevitable moment of truth and decision. The hocus-pocus is justified by the way in which their final states symbolise not only the characters of the men wearing the yellow star and the pink triangle but also Kobi Livne's green-triangled Capo and thus carry The Timekeepers to a satisfying conclusion.
It is all too rare to see such a gripping and moving production in a smaller fringe theatre and all involved are to be congratulated. Sadly, the run is very short but if there is an opportunity, catch it while you can. If not, there is talk of possible productions in New York, Edinburgh and maybe even London once more.
Reviewer: Philip Fisher