Time Stands Still
Donald Margulies
Cort Theatre, New York
(2010)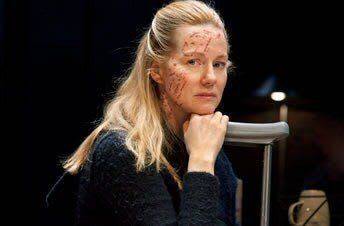 Dinner with Friends writer Donald Margulies and his director Daniel Sullivan have been blessed by their producers and Manhattan Theatre Club with the budget for a cast of actors whom one might more usually expect to see gracing Hollywood movies.
Perhaps partly as a consequence, this intense drama has received a Tony nomination, as has its leading actor, Laura Linney.
She plays Sarah Goodwin, a photo journalist who is seriously damaged after a couple of decades on the front line of the world's most terrifying war zones.
The play opens with Sarah's return home to a cramped loft apartment in Brooklyn, lovingly created by scenic designer John Lee Beatty, that looks so real you could move in tomorrow.
The return follows a lucky escape after a roadside bombing that killed her translator and left the intrepid photographer with a leg brace, sling and scars both physical and emotional.
Her long-term partner, James Dodd played by Brian D'Arcy James, is a writer who is also traumatised and in recovery from a breakdown. This is not a happy home.
The couple are visited by their editor, Richard Ehrlich, and his petite new girlfriend, Mandy Bloom.
Quite what playwright/actor Eric Bogosian's intellectually powerful character sees in this airhead, who rarely takes her foot from her mouth, is explained early on.
Christina Ricci as Mandy is young enough to be his daughter and has all of the attractions (and brainpower) of a fragile China doll - ideal for an ageing man beginning to examine the meaning of life. He is not the only one in that mode.
The recuperation period for Sarah and Jamie has given each of them time to reflect on life, love and all that jazz and they have come to separate conclusions regarding the future.
The fact that little Mandy gets swiftly pregnant changes their focus, as one gets broody, while the other wants life to go on as before. This clash is exacerbated by the age old problem of professional rivalry as one career takes off as the other goes into freefall.
The remainder of a gently witty and deeply intelligent piece of writing takes the various situations through to their sometimes uncomfortable conclusions. It also asks some pertinent ethical questions about the use of the all intrusive camera into the sphere of personal tragedy.
While all four actors play their part, including Miss Ricci who despite a distinguished film career is apparently making her stage debut, the plaudits must go to Laura Linney.
She totally inhabits Sarah, a woman at a biological and mental crossroads, who has to choose between a family life and the thrills of her chosen career. That Tony nomination is richly deserved and New Yorkers are very lucky to have the chance to see this versatile actress in the flesh.
Reviewer: Philip Fisher