Hergé's Adventures of Tintin
In a new adaptation by David Greig and Rufus Norris
A Young Vic production
Barbican
(2005)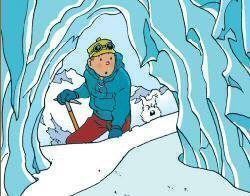 If ever a Christmas show was a sure fire winner this is it. For those who don't like pantomimes and want to take the kids to the theatre, Tintin triumphs.
The foundations of this show cannot be faulted. Most adults affectionately remember Tintin from childhood, either in comic-book or television versions. Hergé's creation is still going strong today.
This production contains two of the country's finest young actors, Russell Tovey who did so well in The History Boys and Simon Trinder who has made Shakespeare's comic turns his own at the RSC recently.
This pedigree is good but it gets better with direction from Rufus Norris of Festen fame who also co-wrote the script with David Greig. The Scottish playwright finally comes to the end of a packed year in which there have been at least seven productions of his plays and adaptations.
This is some hype but after a slightly uncertain start, the adults were lapping it up as much as the younger audience or vice versa.
The title may be something of a misnomer because, rather than covering all 24 of the comic books, this play is a reworking of just one of these entertaining adventure stories, Tintin in Tibet. This allows Greig to explore his current favourite subject, the relationship between men and mountains.
Russell Tovey, giving off the impression of a young Michael Caine, certainly looks the part with costume and hair exactly like that of the original model. His dreams take up the first part of the play, including a nicely choreographed fight scene where our hero, assisted by his ever-present dog Snowy, fights off dozens of dangerous spies almost without effort.
This is also an opportunity to introduce the audience to a large cast of familiar characters, many of whom have nothing whatever to do with the subsequent action. It is perhaps a moot point as to whether there was any need to bring in Thomson and Thomson, Nestor and Professor Calculus, however much we may love them.
After these dream sequences in which Tintin discovers that his friend Chang has been involved in a fatal plane crash and might be stuck in the Himalayas, the pace increases as the "fearless, stubborn" Tintin puts lives and limbs at risk to rescue the friend who had previously saved his own life.
It is inevitable that the boy hero should be accompanied by the schizophrenic Snowy, sometimes played by Simon Trinder and at others by a team of sweet, white fox terriers.
This pair is joined by the very loud, bad-tempered Captain Haddock, recreated by the bearded Sam Cox. Without him, there would have been no one to shout out "blistering barnacles" and "thundering typhoons" repeatedly.
Without wishing to run through the whole plot, the trio sets off for Kathmandu on a marvellously inventive human aeroplane. From there, they head to the most dangerous of the Himalayas, despite assurances from the Sherpas led by Tom Wu's Tharkey that their search is hopeless.
With much humour, especially from Trinder, an extraordinary life-threatening climb up an invisible ice mountain and a stay in a Buddhist monastery, Tintin eventually finds and saves his friend. He also makes a new one, that oxymoron - a yeti with a heart of gold - played by Miltos Yerolemou.
All of this is fun and has enough slapstick and verbal comedy to appeal to both adults and children, the latter probably from about eight years old upwards. There is even a bit of song, dance and acrobatics.
The reviewer borrowed 11 year-old Oliver for the afternoon in a packed Barbican Theatre and their collective conclusion is that this enjoyable production will appeal to all.
"Tintin" runs until 21st January, 2006
Reviewer: Philip Fisher