'Tis Pity She's a Whore
John Ford
Cheek by Jowl
Bristol Old Vic
–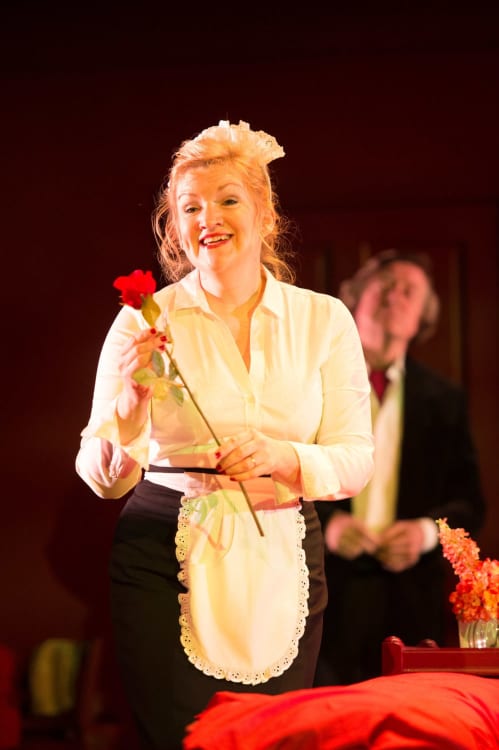 The dark and gory delights of the Jacobean revenge tragedy have been revisited in what has turned out to be a mini revival of the genre during 2012.
First up was the Young Vic production of Thomas Middleton's The Changeling, which is shortly returning, then there was the Old Vic's production of The Duchess of Malfi, by John Webster, and lastly there is Cheek by Jowl's revival of John Ford's 'Tis Pity She's a Whore, first seen in the UK earlier this year and currently making a further two stops in the UK before moving on to Europe.
It is well worth catching before it leaves the Old Vic in Bristol which has re-opened its doors after a lengthy and glorious restoration.
Fast and fluid, the production, which is directed by Declan Donnellan, is extremely well-acted and negotiates the shifts between the sacred and the profane, comedy and tragedy and youthful ardour and deepest cynicism with supreme adroitness.
By comparison, the Old Vic production of The Duchess of Malfi, while undoubtedly wonderfully staged with a terrific performance by Eve Best, seems heavy-footed and insufficiently responsive to the many shifts in register that these genre plays demand.
What I had feared might have been a handicap, the use of modern dress, props and music, turns out to have been a masterstroke, liberating the play from a sense of recondite worthiness.
At the heart of the play is the forbidden love between a brother, Giovanni, and his sister, Annabella, which is genuine enough but which is also cursed and must perforce result in tragedy.
We first see Annabella in her bedroom—which, wittily, has a poster for the series True Blood, among others—listening to her MP3 player and surfing the web.
Club music begins pumping out and she dances on her bed exultantly while the rest of the cast enter and join in a mashup-cum-Busby Berkley routine.
Indeed, most of the 12-strong ensemble remain on stage throughout, acting as either a Greek-style chorus or, more often, silent witnesses. From there we are straight into a dispute between Giovanni and a friar about his incipient lust.
It is very effective and allows one scene to flow seamlessly into another. There are a few moments of confusion early on when the ubiquitous use of suits blurs some of the distinctions of class and rank, but these soon make themselves clear.
Ford unusually allows the instigator, Giovanni, to defend his sin of incest. Like the Roman poet and philosopher Lucretius before him, he announces the primacy of pleasure in this life as the greatest good to be had.
"My world, and all of happiness, is here / And I'd not change it for the best to come / A life of pleasure is Elysium."
One could never mistake the best of the play for the worst line of Shakespeare—Ford has none of the fantastical and twisted dark poetry of Webster—but it is certainly easier going than Marlowe's 'mighty line'.
As always, when played by a genuine ensemble it seems invidious to single out individuals but, among a strong cast, Orlando James as Giovanni, Lawrence Spellman as the villainous Vasques and Nicola Sanderson as Putana, the maid to Hippolita, shine particularly brightly amid the darkness.
Reviewer: Pete Wood