T J & Dave
T J Jagodowski and David Pasquesi
Barrow Street Theatre
Soho Theatre
–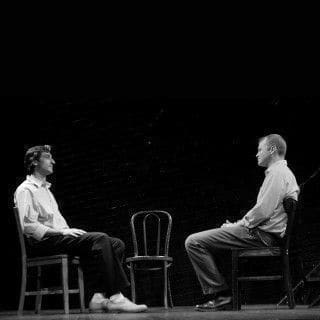 Soho Theatre has always prided itself on an ability to tap into the avant-garde, hence the invitation to this performing duo from across the Pond.
In fact, it could reasonably be argued that what Chicagoans T J & Dave have to purvey is very traditional, albeit delivered in a refreshingly new manner.
The lights come up on what appear to be a tall man and a short one, although those who inhabit the bar after the show will discover that even "tiny" T J is about 6'2" tall.
The key to the pair's appeal lies in their quiet but clearly generous personalities and dry wit. This is put to good use in the improvisations that have popularised their unique performances over the last 15 years.
The show has taken a long time to get to London, where improv is now hitting new heights of popularity. While it has long been a staple on the comedy circuit, this more serious but still funny version is likely both to capitalise on audiences already attuned to the medium and bring in fans of theatre for what is always likely to be a satisfying if unpredictable hour.
At the performance under review, the guys decided to turn the stage into a high-street coffee shop in what was likely to be a small American town or suburb with a distinctly villagey atmosphere.
Within a couple of lines of dialogue, they had created their own unique world, which was enhanced by nothing more than stage lighting and three wooden chairs.
Instantly, viewers got the opportunity to eavesdrop on a conversation between a couple of men exactly like TJ and Dave.
What they are really good at though is characterisation, bringing into the coffee shop a series of highly believable individuals, including a couple of women, one more sensitive than the other, and a varied assortment of men, all of the kind that one might expect to meet in a situation of this type.
By the end of the hour, those in the audience at any performance are likely to have enjoyed a series of belly laughs thanks to the inventive imaginations of the actors. They can also expect to witness an event that is somewhere between soap opera, sitcom and something with considerably more psychological depth.
Since every performance is different, there can be no guarantee that the performance last night or on any other occasion in the UK, US or anywhere else will be similar. What is highly likely is that anyone choosing to share an hour with T J & Dave will come away gently smiling and keen to return for a second round, if only to prove that their performances consist of something more than a mere matter of highly honed technique and repetition. More importantly, they will also expect to repeat a great experience.
Reviewer: Philip Fisher