to a simple, rock 'n' roll . . . song.
Choreography Michael Clark
Michael Clark Company
Barbican Theatre
–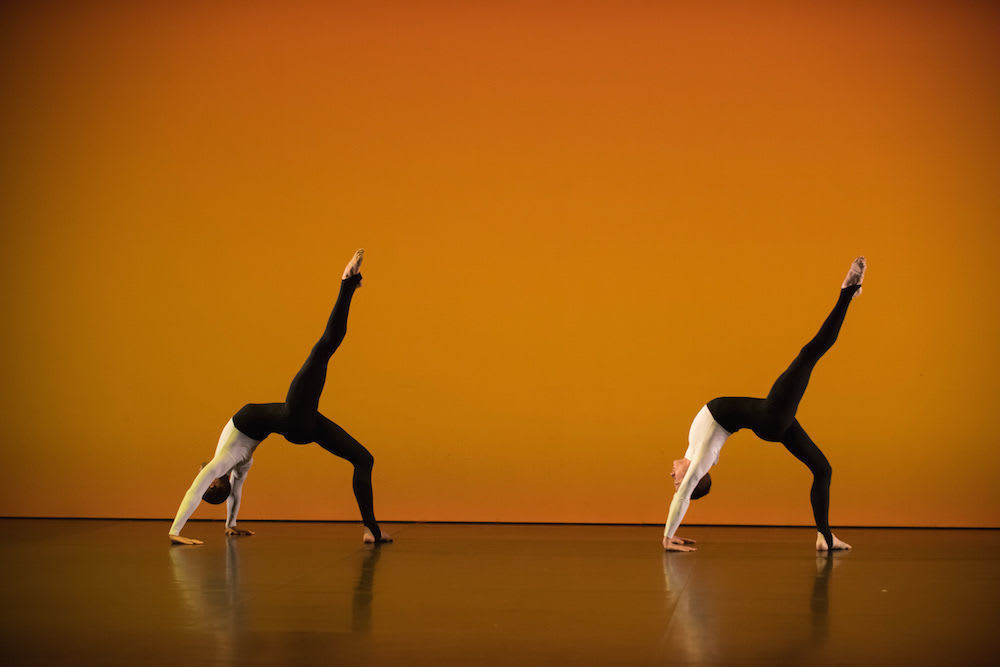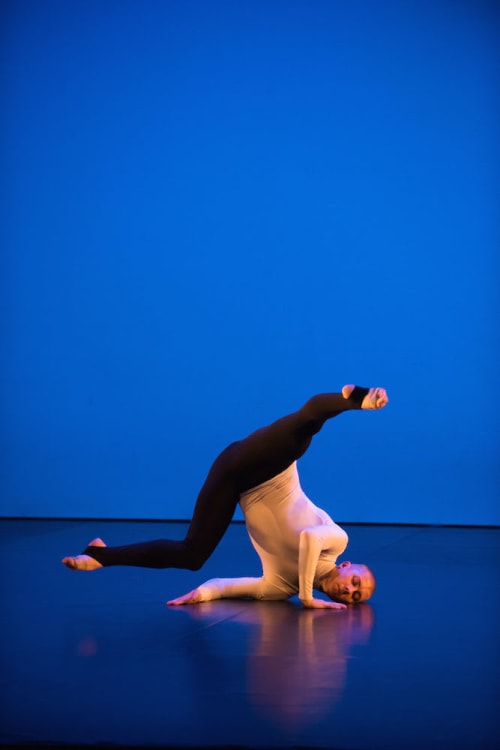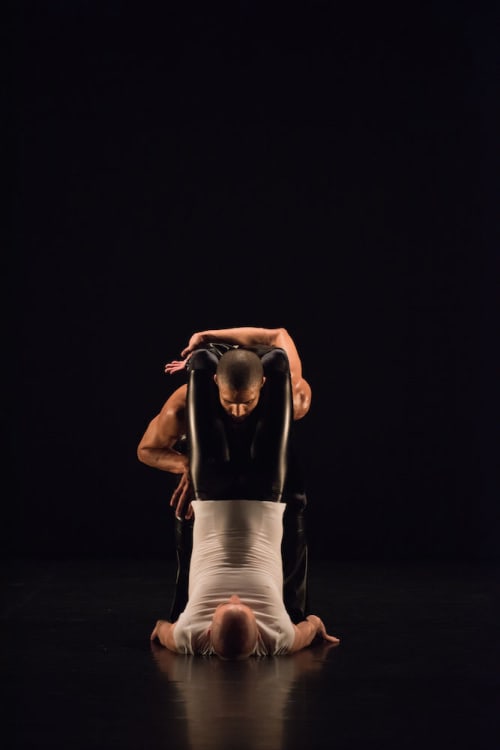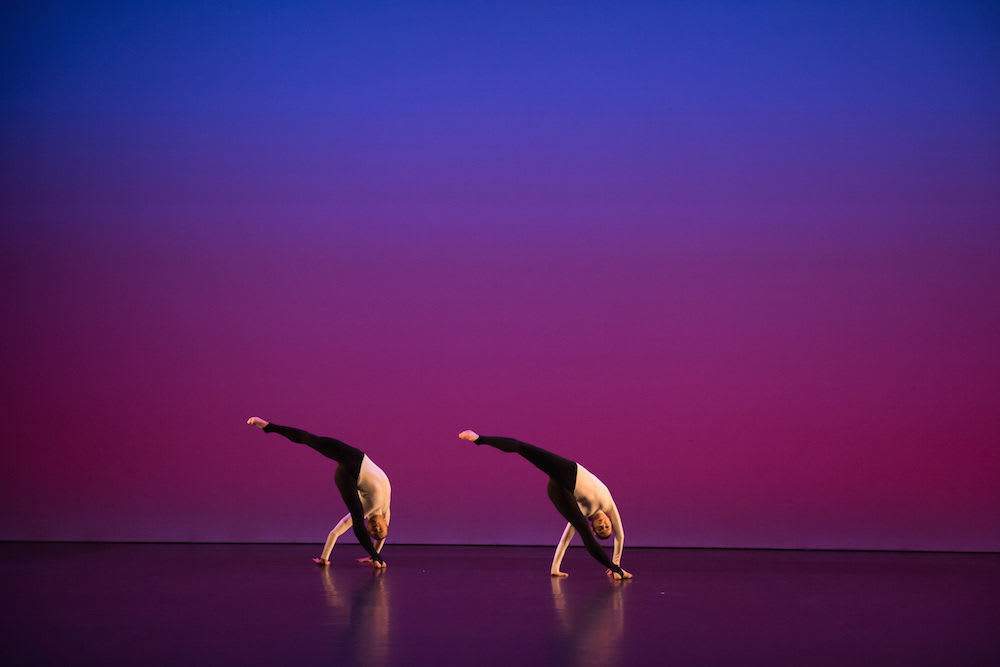 Erik Satie, Patti Smith, David Bowie and Michael Clark—a perfect fit. Eccentrics, individualists, will out. And the audience, not the usual dance audience, not for Clark, can't get enough of it. There's not much of it, about an hour of dance in total but it's echt.
Satie and his late nineteenth century Ogives, inspired by Paris's Notre Dame gothic arches, four minimalist piano pieces, their monastic purity finding resonance in Clark's asexual Ashtonian 'Monotones' choreography: meditative yoga balances, slow walks, cuneiform patterning, visually striking imagery.
Prelude—Fête donnée par des chevaliers normands en l'honneur d'une demoiselle sets the classical tone. The Barbican's ample stage an asphodel meadow, a canvas of backlit colour washes, eight dancers in unisex black and white unitards in meticulous numerical permutations evoke an impregnable mystical realm. Clark calls them Satie Studs / Ogive Composite.
Moves are robotic, repetitive, there are headstands, backward bends, and a slender woman is carried off like a handbag trophy over two tall men's arms (Benjamin Warbis and Harry Alexander—I can't take my eyes off Alexander, a commanding presence). Jordan James Bridge's solo draws attention, too, but why do I see him as Jacques Tati's Monsieur Hulot? Can't be right, but then anything is possible in Clark's impish take on life.
Chords crash, dissonance and chaos. Blue light gives way to a rosy dawn, then a red, orange and yellow spectrum, which will be replicated in the wine-gum shimmer of the dancers' unitards (recycled from previous productions, Clark is nothing if not economical, as is his signature choreography) in the last number of the evening to Bowie's music.
But before that comes Patti Smith's tremendous Land, making up the second act of the evening. Monochrome visual white noise video design (Charles Atlas's Painting by Numbers), a swirling flickering psychedelic nebulae of computer generated numbers and circles, which almost take the eye away from the dancers in black flared PVC trousers, the horses of Smith's song and a nod to her close friend, the late Robert Mapplethorpe...
And finally, Bowie's epic "Blackstar" in act three, which Clark titles my mother, my dog and CLOWNS! (sic), which fans will recognize as a line from Bowie's "Life on Mars". Homage, if homage were needed, from a lifelong enthusiast.
Otherworldly beings spin in orbit, mesmerize with fastidious moves, skim across the stage from all directions. Torsos sinuous, hips thrusting, Cunningham, as well as Ashton, inflects Clark's work, always has.
Clark interrupts with a gnomic entrance, a studied inconspicuousness that shouts look at me. (Kate Coyne also makes an uncredited appearance.) Dadaist, he haunts his work, slipping in and out of the wings, and across the stage. In baggy trousers and close-fitting jacket, is he the clown of the title? Amongst the automata running out of control around him… Hard to believe he is in his fifth decade and his second decade as a Barbican Artistic Associate.
Still Dadaist, still avant garde, still punk and romantic, still making beautiful moves, classical training visible in feet placement and arms, this final dance commits to the essence of Bowie in all his variegated incarnations, a lodestar in Clark's own life... From "Blackstar" to "Aladdin Sane" by way of "Future Legend", Bowie's experimental music the bookend to match Satie's, his gothic ogival arch spirituality. Clever of Clark to see that.
Reviewer: Vera Liber