Tom Fool
Franz Xaver Kroetz, translated by Estella Schmid and Anthony Vivis
Bush Theatre
(2007)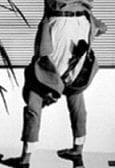 There is a tendency to forget just how grim the work of German playwright Franz Xaver Kroetz is. He portrays the underside of society with great realism and no desire to spare his audience's feelings.
Tom Fool centres on Liam Brennan as Otto Meier, a semi-skilled worker on the assembly line making upmarket BMWs. His dingy 1970s home is packed into the Bush's tiny space by designer Paul Burgess with rooms literally piled on top of each other.
He shares this sad testament to an unfulfilled life with his washed-out wife and unemployed son. In the ninety minutes before the interval, we see a failure struggling to assert authority over his family whose faith in their breadwinner gradually diminishes.
The claustrophobia of a trio living in each other's laps with few moments of happiness to enjoy eventually gets too much when young Ludwig (Richard Madden) steals 50 Marks to go to a pop concert.
Father humiliates the boy, driving him out and then explodes in an angry demolition job that persuades his wife, played by Meg Fraser, that it isn't safe to stay.
The much shorter second part shows Otto desperate for company, pestering wife and son, both of whom are happy at their release from symbolic imprisonment, implied by the sound effects of cell doors slamming.
Even a tiny bed-sit or workers' hostel is a major improvement and neither has any difficulties in turning down Otto's overtures of friendship.
Director Claire Lizzimore breaks up the very short scenes with camera shutter sounds and blackouts to make it clear that we are seeing snapshots of lives deprived of any warmth or hope. The sadness is that the gaps between snaps for people like these will be no better.
Tom Fool is deliberately repetitive and slow with one spectacularly long silence proving that eventually husband and wife having nothing left to say to each other.
All three actors are very good, but the unremitting tedium of these people's lives may not be something that any but the most hardened theatregoers would wish to spend an evening witnessing.
Reviewer: Philip Fisher