Tomorrow at Noon
Morna Young (Smite), Emma Harding (The Thing Itself) and Jenny Ayres (Glimpse)
Jermyn Street Theatre
Jermyn Street Theatre
–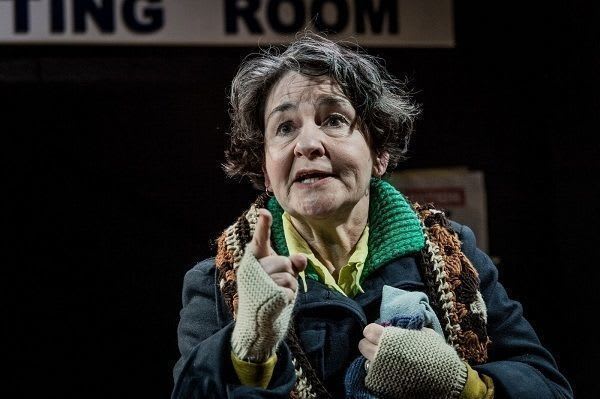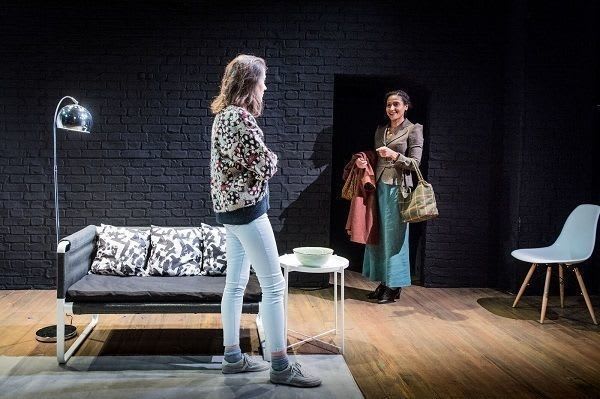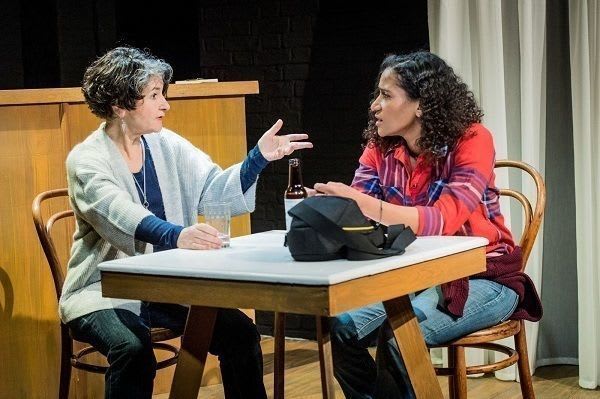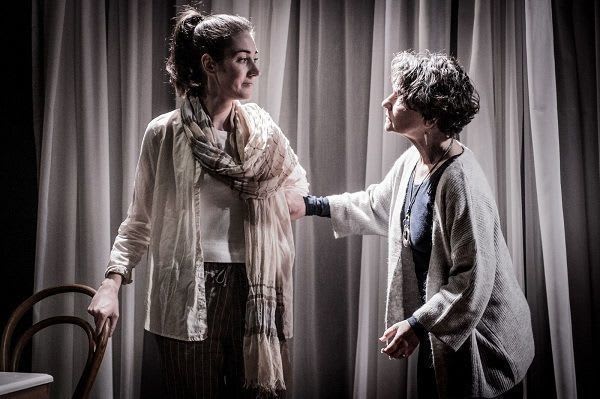 The current revival of Noël Coward's nine-play sequence Tonight at 8.30 at the Jermyn Street Theatre is being accompanied by a trilogy of new plays inspired by three of Coward's originals. Together they comprise Tomorrow at Noon, directed by Stella Powell-Jones, and present a contemporary, female response to Coward's satires and tragedies.
It's quite a challenge. First produced in Manchester in 1935 and subsequently presented at London's Phoenix Theatre in January 1936, starring Coward and Gertrude Lawrence, the situations, settings and clipped conversations of Tonight at 8.30 are enduringly 'of their time'. But, Coward's piquant blend of hope and hopelessness perhaps chimes with the spirit of our own age, as these three plays set out to demonstrate.
Coward's The Astonished Heart is a tragedy in six scenes involving a characteristic trio of debonair charmer, understanding wife and brittle lover. Christopher, an esteemed psychiatrist, falls obsessively in love with his wife's old school friend, is eaten by jealousy, loses his mind and throws himself from a building. Tom, in Morna Young's Smite, is a more elusive presence, or rather 'absence', for he too has committed an act of self-destruction which brings together his wife, Trisha, and 'not-girlfriend', Allie, in Tom's chic Thames-side apartment.
Young follows Coward in exploring both the enigmatic forces of human attraction and the perils of giving in to such compulsions. And, with Coward-ian economy, the characters don't 'do' anything, merely talk. Laila Pyne's Trisha, hand-on-hip and haughty, explains how she abandoned PR for pottery and came to be living "the country dream", while her husband lazed in luxury in London. Laura Morgan's Allie describes the ambition to be a journalist that brought her from Scotland to the capital, and the break-up, BnB and lucky break that led her to move into Tom's apartment, rent-free but not 'responsibility-free'.
The problem is that while they talk, the women don't really 'say' anything, about themselves or Tom—who remains frustratingly sketchy. Morgan conveys Allie's inner strength when she recounts the desperation that led her to accept Tom's bargain: he'd give her what she needed, if she gave him the 'discreet fun' he needed. But, Young's attempt to position the women's fragile, fractious exchanges about cups of tea and inclement Scottish summers within what she terms in her preface "the extreme and dangerous inequality that surrounds us", feels rather flimsy.
Allie's plaints about being "lost in the city… amongst the millions of faces" are weak. And, when Trisha sneering accuses her of prostitution, her rejoinder that 'sex-for-rent' was the "best available option" in a "city run by rich men" is hardly a punchy political argument. Pyne struggles to make us feel the older woman's 'hurt' and commonplace laments such as "For twenty years, I loved him. And, it was a lie", don't help reveal the emotion by the classic cool façade. There are some neat quips but the prevailing coldness is distancing.
The chill in Emma Harding's The Thing Itself, set in a small hamlet in rural Iceland, is of a more tangible kind. A volcanic eruption has swathed the vicinity in an impenetrable ash and Vic, a 56-year-old photographer and her wife Simone, a 46-year-old microbiologist, are confined to the breakfast-room-cum-bar of their guest-house.
Coward described his Shadow Play as a musical fantasy. It juxtaposes the caustic relationship of a smart couple of the brink of divorce with dream-like flashbacks to a more romantic yesteryear—song-filled reminiscences of their heady honeymoon in Venice and other past pleasures. It's a slick exercise in style and structure, at the core of which lies Coward's characteristic plea, Carpe diem! Happiness is fleeting so grab it while you can.
Pyne's forthright Simone is in agreement. After four years of marriage, her nineteen-year relationship with Vic has grown stale and, spurning quiet companionability, she longs for intimacy, passion, freedom to take her chances elsewhere. But, a strong performance by Elaine Claxton who makes the most of Harding's taut but touching one-liners, made me more inclined to side with Vic who scorns flighty, 'being-in-love' hedonism in favour of "the long haul… the real deal".
Harding professes to find something "darker and more complex" amid Coward's wit and lightness, and her surrealism is of a more sinister nature than Coward's dream-sequences. As we switch between times and places, it's unclear who or what is the 'real' narrative, and I was put in mind of Henry James—the story won't tell, the reader needs to be made to feel and think.
As volcanic ash shrouds the sunlight, so Harding's verbal allusions hint at secrets but hide meaning. Just who is 'Hanna', whom Vic refuses to discuss?—"There's nothing to say. I fucked up. I fucked up big time." When she appears before Vic, Hanna's summer attire and Morgan's gentle diction and haunting poise suggest 'elsewhere'. She accuses Vic of calling her from the shadows, "I'm a figment of your imagination", and as their conversation intimates other lives, loves and lovers, our uncertainties intensify.
Harding's structure is ambitious: repetitions and re-playings loosen the chronology, while revelations keep the ties to reality intact. The resolution feels a little too swift, but then Coward himself never was that good at endings.
Louie Whitemore's simple set serves for Tom's flat and the Icelandic hostel, with just a shifting curtain and rearranged furniture to denote the locale. But, Jenny Ayres's Glimpse takes us outdoors, to a drab platform at North Barnet railway station, where 60-year-old Mags sits staunchly on a steel bench each Sunday. Wrapped in many-coloured cardigans and stripy woollen tights, hugging her carrier bags of tissues and prawn cocktail crisps, she waits stoically for the arrival of her brother's train.
Glimpse may allude to Coward's Still Life, the source of Brief Encounter, but this suburban station has none of the elegance of the Refreshment Room in which Alec and Laura's short-lived affair ran its course as the overhead time-piece counted down the minutes.
Railway employee Clarke is well-equipped with a range of mops and buckets but cleaning up the litter and the vomit—the detritus of "Bloody Saturday-nighters" like the young woman sleeping off her hangover on the waiting room floor—is a Sisyphean endeavour. And, despite the complaints from Clarke's bosses that Mags is taking up "valuable passenger waiting space", her bags a "tripping hazard", Mags stubbornly refuses to be swept aside like a piece of rubbish: "I need to be here on a Sunday… I might miss him."
Ayres's characters are skilfully drawn, and we warm to them, as they warm to each other. Pyne's brief references to her work, home and family create a credible context for the hassled station-worker who is exasperated, patient, pragmatic and generous in equal measure. Morgan's Woman, despite her initial drunken incapacity, exudes an essential decency which inspires Mags's trust.
However, it is Claxton's Mags—resourceful, resilient, obdurate and observant—who steals the show. Ayres's script blends colloquial naturalism with clever linguistic facility, and Mags has the best of the one-liners; but, Claxton knows how to deliver them with a combination of blunt efficiency and caring honesty, and how to pace the non-sequiturs that, strangely, reveal to us the train of Mags's inner thoughts.
Ayres weaves in some pertinent topical references, thereby balancing private and public, the personal with politics. But, increasingly the spotlight illumines Mags's story. It unfolds gradually, first in snatches of memory—"my dad was a ticket collector just after the war. I used to come down and help out sometimes…"; "I told him I wanted to be a train driver"—and then in a quiet confession that divulges the childhood tragedy which haunts her present and future.
The play is punctuated by tannoy announcements, but no trains arrive. Mags seem to prefer it that way. "I don't come for the trains. I come for the waiting," she says. In the half-light, people aren't clear, and they can be whomever you wish them to be. The shadows "lend us our loved ones".
In the introduction to a published edition of Tonight at 8.30, Coward wrote: "a short play, having a great advantage over a long one in that it can sustain a mood without technical creaking or over padding, deserves a better fate, and if, by careful writing, acting and producing I can do a little towards reinstating it in its rightful pride, I shall have achieved one of my more sentimental ambitions."
With Glimpses, Ayres certainly fulfils Coward's ambition.
Reviewer: Claire Seymour