Tonight at 8.30
Noël Coward
Jermyn Street Theatre
–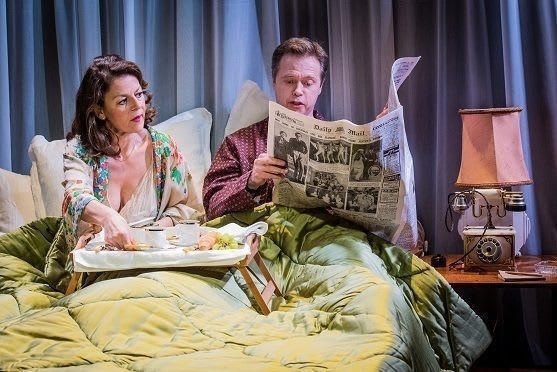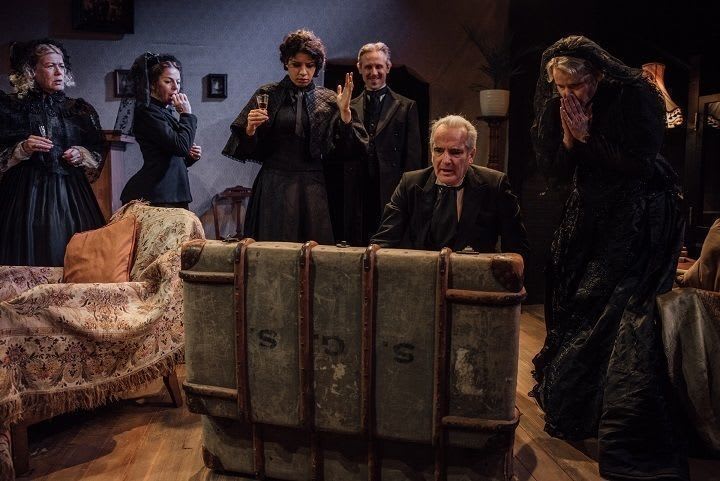 Artistic Director Tom Littler and the team at Jermyn Street Theatre are to be congratulated on embarking upon this gigantic project, which takes the audience back over 80 years to see nine short plays in a single 10½-hour day (including breaks) for those with the stamina.
The programme is divided into three series, which play at varying times on assorted days and each runs to around 2½ hours. At the opening press performance, the ordering was as shown in this review.
Fans of Coward minutiae might note that, although the cycle comprises 10 plays, typically only nine are performed. This time around, Fumed Oak misses out, to the benefit of The Astonished Heart and Star Chamber, both of which have been omitted from past programmes.
Throughout, the performances benefit from attractive sets designed by Louis Whitemore and a quite stunning array of costumes courtesy of Emily Stuart, which together conveyed us back to the 1930s to witness the playwright's comedies of manners and the odd more serious drama.
Bedroom Farces
We Were Dancing
The opening play is a fantasy about an incipient affair so overwhelming that Sara Crowe's Louise is desperate to make a new life with Ian Hallard playing Karl within minutes after "forked lightning" strikes on a dance floor in the South Seas.
While Nick Waring in the role of her husband Hubert barely moves his stiff upper lip when the tale of love at first sight is related, Rosemary Ashe as his sister is affronted in a slight piece that is gently amusing.
Ways and Means
Far wittier is Ways and Means, a kind of sitcom also featuring Waring in the role of Toby Cartwright, an inveterate, shirtless gambler, who with his wife Stella, portrayed by Miranda Foster, is at a loss to find a way out of severe embarrassment or worse.
The play and their lives drift as succeeding avenues close, before an unlikely deus ex machina trying a change of career throws them a lifeline in the nick of time.
Shadow Play
The strongest play in the Bedroom Farce programme comes at its end. Shadow Play may have been intended as an homage to Strindberg's A Dream Play. It starts as Sara Crowe playing desperate Vicky faces the ignominy of divorce from Halllard's Simon, who has fallen for Miss Foster as vampish Sibyl.
Three sleeping tablets induce a dream state in which past happiness takes centre stage, creating a varied meditation on marriage, with characteristic songs accompanied on the piano by Stefan Bednarczyk.
Nuclear Families
Family Album
The afternoon session began in funereal style as her five children plus three spouses gather to pay tribute to a long-lived and much loved matriarch.
In a style that is almost reminiscent of Monty Python, the performers work hard to keep straight faces as it slowly emerges that Mother was, in fact, less worthy than the funeral orations had given viewers to believe.
In particular, Miss Crowe's Lavinia, whose name may not be entirely coincidental, given her Uncle Vanya role, deliver some horrific tales of modern slavery 1930s style, most prominently in connection with a deathbed will.
Hands Across the Sea
This one is pure sitcom as a naval commander, played by Bednarczyk, and Miss Foster, taking the role of his congenial but forgetful wife, unfortunately nicknamed Piggie, welcome a houseful of random visitors.
In particular, Miss Crowe and Hallard play colonial types, who are overwhelmed by the hostess's personality, not to mention that of her best friend Rosemary Ashe's brusque but funny Clare, before a twist that had become obvious some 30 minutes before the final revelation.
The Astonished Heart
Bucking the trend of the day to this point, The Astonished Heart is a straight play, which starts at the end then, in J B Priestley style, returns to the inception of an affair between a psychiatrist and a pushy blonde (Waring and Miss Crowe) that threatens the calmness and sanity of all who fall within their ambit, especially the unfortunate wife.
The tone can be a little shrill and strange but the morals that Coward draws are still worth considering so many generations later. In particular, that classic message "psychiatrist heal thyself" comes over loud and clear.
Secret Parts
Star Chamber
Whether it is the direction or the writing, a play that accurately depicts a committee meeting is almost as dull as the real thing.
The spice should have been added by the characters, since this meeting is of the committee for an actress's benevolent fund doing good work to help the destitute.
However, everyone around the table seems designed to play their part as a caricature and duly does so.
Red Peppers
When programming the opening Saturday, Tom Littler very deliberately saved the best till last. Red Peppers opens with an homage to the music hall, featuring a splendidly tuneful and amusing double act, the Peppers portrayed by Miss Ashe and Jeremy Rose.
Their old routines are indubitably old but still funny, even though the duo has clearly seen better days.
Problems come with the successive appearances of the ratty bandleader and equally hot under the collar theatre manager, neither of whom shows the respect that Mr and Mrs Pepper feel is their right, leading to some of the funniest scenes of a long day.
Still Life
The crowning glory was inevitably going to be the playlet that inspired Brief Encounter. Seeing it in a relatively condensed form on stage allows viewers to appreciate the parallels between three couples, between them encompassing class and age divides.
At its centre are a doctor and a housewife, portrayed by Nick Waring and Miranda Foster, who randomly meet in a station refreshment room and fall desperately in love, causing the kind of stress and consternation that is unlikely to be quite so common in the days of Tinder and its like.
Their relationship is mirrored twice over, once between Rosemary Ashe's cafeteria manager and Stefan Bednarczyk as a lugubrious ticket inspector and then a couple in the first flush of youth played by Boadicea Ricketts and Ben Wiggins.
This is almost certainly what most visitors to Tonight at 8.30 will be waiting to enjoy and should mean that anyone seeing this series last will leave Jermyn Street weary but on a high.
Reviewer: Philip Fisher