Tomorrow Morning
Book, music and lyrics by Laurence Mark Wythe
Landor Theatre
(2010)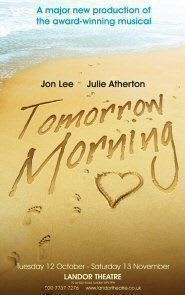 As soon as I saw the set I thought immediately of Company and, once the opening Sunday in the Park with George-borrowed bars were played and the answerphone tones were heard, we were clearly in Sondheim territory and I continued to pick up - or perhaps make up - connections for the rest of this warm and funny musical.
Whilst Company's themes hovered in the background, with this plot about two relationships, Jack and Catherine's on the edge of divorce and John and Kat's on the edge of marriage, I was also reminded of Jason Robert Brown's Last Five Years which looks at the breakdown of a relationship in reverse chronology as well as in order of the events. May be it was this that convinced me that Kat and Catherine were the same person as were Jack and John though my companion for the evening didn't share my view at all: Robert Mcwhir's light-handed direction left us divided. Which one of us is right? I wonder. If you go, and I recommend you do, answers please on the proverbial postcard (known these days as 'by email').
Creator Laurence Mark Wythe is a variant on the triple threat of Singin' In The Rain (a talent for singing, dancing and acting, for those whose memories that need a jog); he has a talent for book writing, composition and lyric writing even if his homages are worn on his sleeve. Single features didn't wow me individually, with the possible exception of how funny it was, but the whole makes for a piece that stands out amongst the crowd.
There are some clichés scattered about the words but on the whole their simplicity is inoffensive rather than prosaic and the amount of humour worked into a story that is half about the tragedy of a broken marriage is noteworthy. As Sondheim has taught us, bitterness is always easier to take with some wit.
The structures for the songs are varied and interesting, including one based on a quiz show and two funny tangos, one about secret obsessions and the other about Raoul the sexy pool guy. Especially in the lyrics Wythe makes telling observations with economy: "I remember there was a kiss I hadn't planned" says a lot about Catherine, as does her soon-to-be ex's spitting, "I stuck around through thick and thin, while you behaved liked Ho Chí Minh".
Robert Mcwhir and choreographer Matthew Gould move the cast of four around the small space fluidly and efficiently. The effective staging is enhanced by unobtrusive film clips from Mike Tutaj which are projected onto Chris de Wilde's set which is comprised of two sofas and a wall-to-wall unit of lockers, a structure that subtly echoes human nature's need to compartmentalise experiences and secrete bits away behind 'doors'.
Jon Lee and Julie Atherton are the couple on the eve of their wedding day; both are endearing with Atherton giving the precisely detailed performance we have come to expect from her, and both capture a mix of restless energy, youthful optimism and misgivings. Strong performances too from Yvette Robinson and Grant Neal. Regretful, hurt and argumentative, their characters still engender empathy.
At one point in the show I thought about-to-be wed John was singing about bowels but it was actually about vows! The impaired clarity was caused by a problem with the sound balance that meant there was more than the necessary amount of belting out, but the heart of this intimate piece was not lost.
"Tomorrow Morning" runs until 13th November
Reviewer: Sandra Giorgetti