Tony! [The Tony Blair Rock Opera]
Book by Harry Hill; music and lyrics by Steve Brown
Nicholson Green Productions and Park Theatre
Leicester Square Theatre
–

Listing details and ticket info...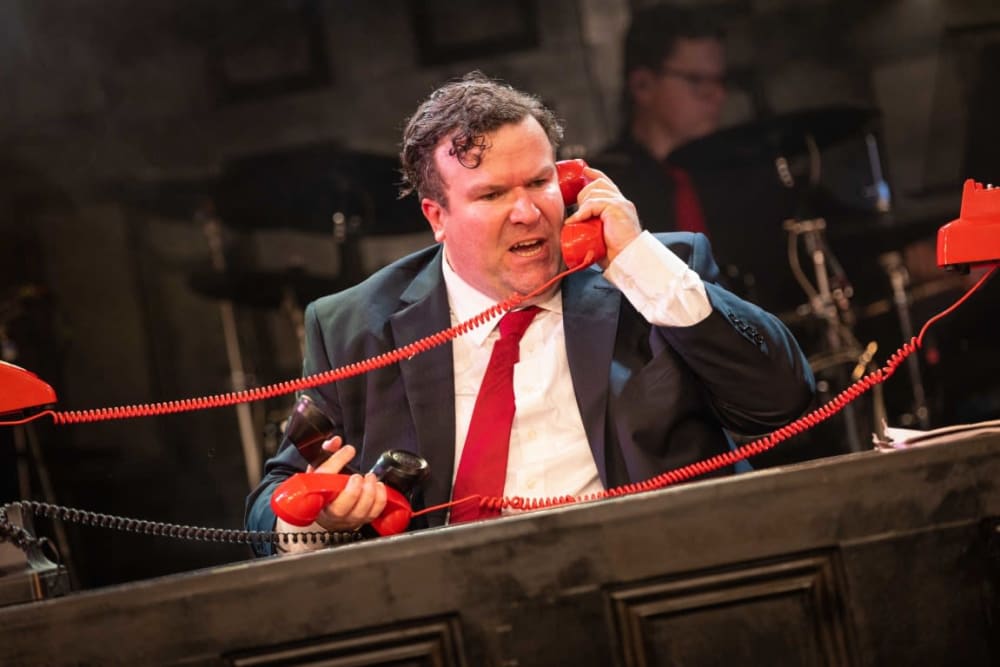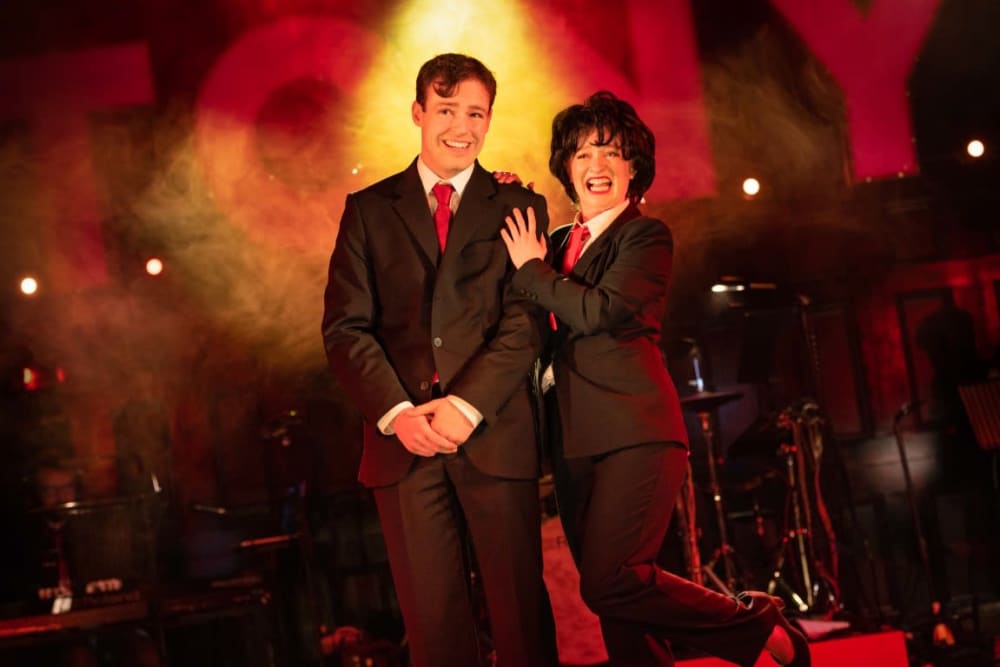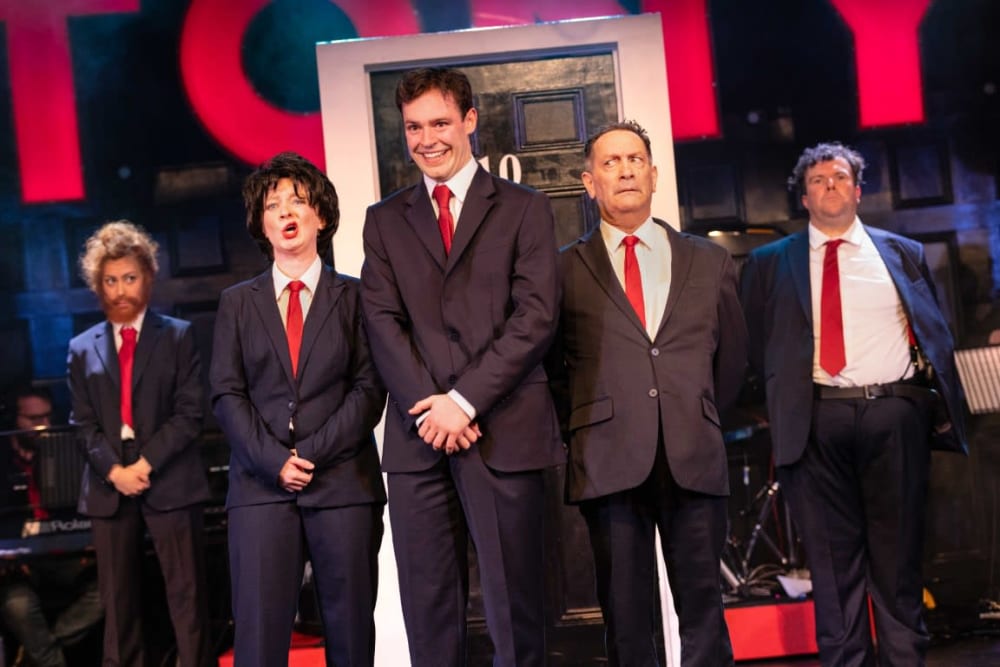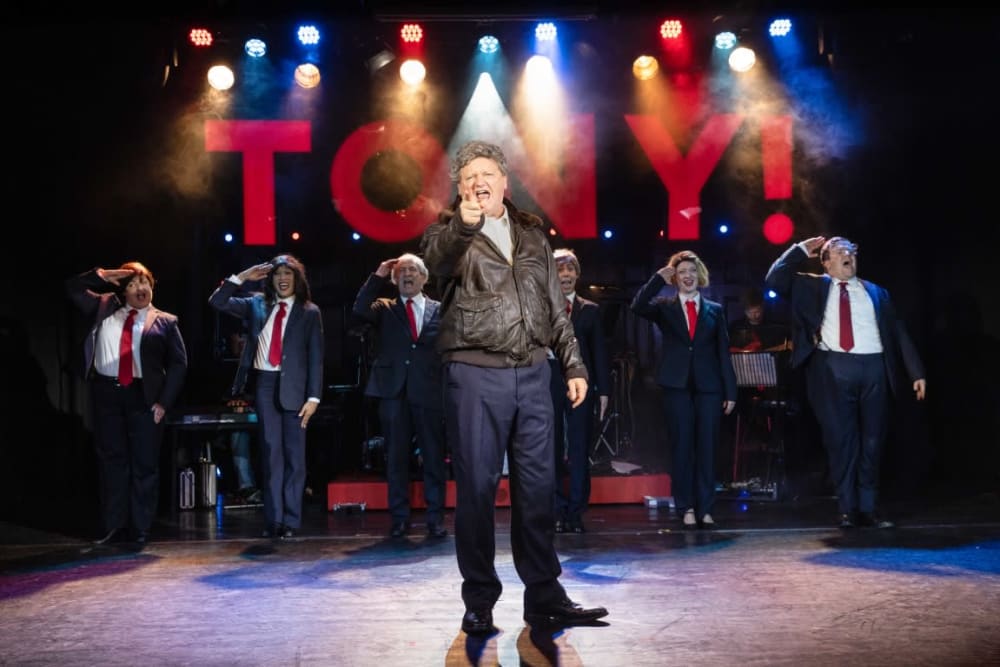 Before setting off on tour, and having enjoyed a five-star sell-out run at London's Park Theatre, new musical Tony! [The Tony Blair Rock Opera] is playing a limited season in the West End.
It is an entertainingly enjoyable evening, but a musical with its book heavily imbued with Harry Hill's signature madcap silliness is inevitably going to tickle the funny bone whilst also disappointing the grey matter; it is just a question of how much of each.
Whatever you think of Tony Blair now, and it has to be admitted that for Gen Zs onwards that might be "Tony who?", how much good the Labour Government did under his leadership depends a lot on your standpoint. Whatever that may be, the repeal of Section 28, the National Minimum Wage and the Good Friday Agreement are just three achievements to be unapologetically applauded, even if you have to look through the shadows cast by spin and war to see the broader legacy that surrounds them.
Perspective, though, is not something you should expect to get from this musical comedy. Described as a "reckless reappraisal", the life and prime ministerial tenure of Labour's most successful and longest serving PM is indeed approached haphazardly, leaving those of us who are old enough to dredge up our own context.
From Blair's birth to prime ministerial resignation, events and timescales are cheekily condensed, or omitted, in order for the second act to be dominated by the Iraq War, the Dodgy Dossier and 'special relationship' that rationalised it.
Along with lampooning Blair, all and sundry come in for some skewering, with Saddam Hussein channelling Groucho Marx whilst singing in the style of Gilbert and Sullivan being a high point. But Tony! has neither the wit of Spitting Image nor the incisiveness of The Thick of It, but perhaps these are inappropriately high bars against which to measure a show which first started life as a jukebox musical.
Whilst Tony! may demonstrate New Labour's ability to resolve the "schism of socialism and champagne", it has a discord of its own to address, being the challenge of realising a suitable conclusion.
Having, for the previous hour and a half, portrayed Tony Blair as a simple-minded puppet bossed around by Howard Samuels's enjoyable Peter Mandelson, whilst indulging itself in jokes about seamen, dropped trousers and an abundance of bad wigs, what's worth saying?
It could have ended with an all-singing finale, and "The Whole Wide World"… is run by assholes, a jolly rhyming list song of examples from across the globe (inescapably marking out Vladimir Putin as the greatest asshole of all) might have been a good place to stop. Some strong vocals, a few high kicks, lots of jazz hands, then curtain and good night.
As it is, Hill does a last-minute change of tack. Jack Whittle's energetically puerile Tony Blair uncharacteristically throws something at the audience that sounds uncomfortably like censure: you voted me back in for a third term even after the Iraq War, he accuses. Not only does he do us a disfavour with this facile oversimplification, Hill does not do himself justice.
Just as I had finally warmed to the un-demanding foolishness of Tony!, on came the air-conditioning full blast.
Reviewer: Sandra Giorgetti