Too Clever By Half
Alexander Ostrovsky, adapted by Rodney Ackland
Royal Exchange Theatre in association with Told by an Idiot
Royal Exchange Theatre, Manchester
–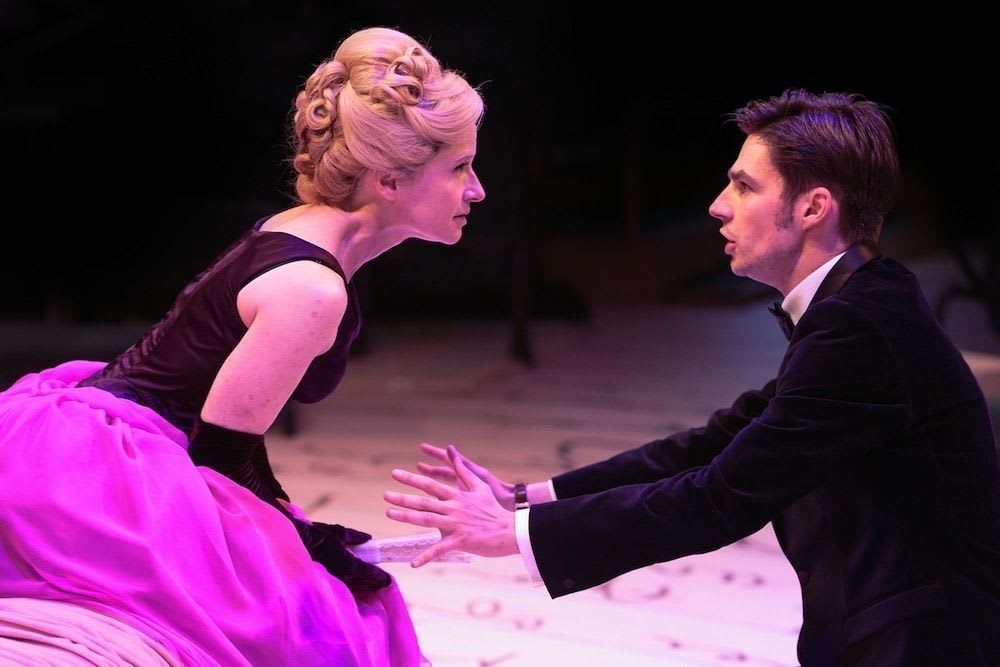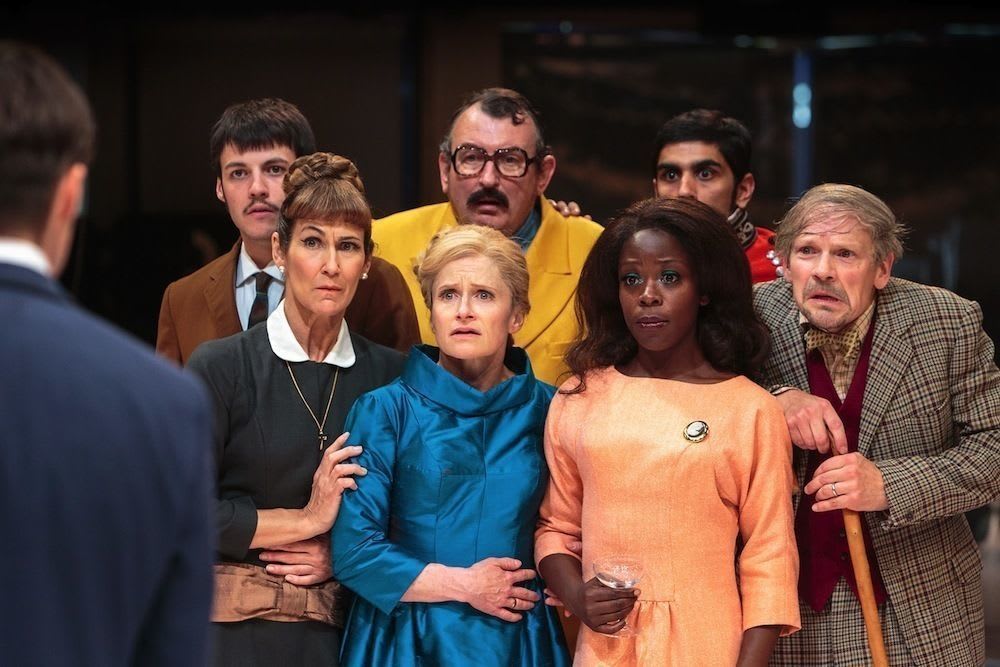 The Royal Exchange has slipped in an extra production this year after the slot that would normally be its last before summer, and also built its relationship with Told by an Idiot after their Christmas 2011 co-production of Kaufman and Hart's You Can't Take It With You.
This satire of Russian society was first performed in the 1860s but is set a hundred years later by director Paul Hunter with a pop soundtrack from the period. It tells the story of young man Yegor Dimitrich Gloumov who, together with his mother, plots his rise through society through seduction and flattery of the rich, playing them off against one another.
He keeps a complete record of his scheming in his diary together with his real opinions of the people he tricks, and... well you can probably guess what happens and the part that this secret document plays. However in the inevitable showdown, he turns everyone's criticisms of him back on them.
It isn't the strongest of scripts, but the Told by an Idiot method appears to be, from the couple of their productions I have seen, to take a rather thin script and see what can be done to it by loading it with visual gags and physical trickery. A chance for a physical gag is never passed up, even if it holds up the story or has little do with the telling of it.
As an audience member, it feels like the performance is being done to you rather than for you. There are attempts to shock or surprise the audience with unusual character entrances or with sudden changes of style or tone, which appear to have been created for their effect on the audience rather than their effect on the play.
All of this would be fine if gag built upon gag to work the audience up to hysterical hilarity, but it's all rather predictable after a while and depressingly unfunny. Admittedly some in the audience were laughing more than me (i.e. they were laughing) but much of it fell flat. If you take all the gags out that have nothing to do with the plot, you'd be left with a rather thin story, but at least it could be given some pace and a welcome dent could be made in the 2½-hour running time.
There are some decent performances within this style. Dyfan Dwyfor holds it all together adequately as Yegor, Hayley Carmichael manages to get some real feeling through as seduced and humiliated aunt Kleopatra as does Carla Mendonça as prim, religious Sofia and Calum Finlay is actually quite funny as the laid-back but not-too-bright rich kid Ivan.
It's hard to work out what the Exchange is trying to achieve by putting on this extra production. Most theatres are dark at this time because they struggle to sell tickets over the summer, and putting on something that nods towards popular comedy but which tries to be surrealist and arty too—and fails on all counts—isn't going to produce queues at the box office. The Wednesday night performance that I saw (not a press night) was mostly empty, more so after the interval—although some didn't wait until the interval to leave.
For me, this tale from Told by an Idiot signified nothing, and could raise little more than the occasional snigger.
Reviewer: David Chadderton