Topless Mum
Ron Hutchinson
Tricycle, Kilburn
(2008)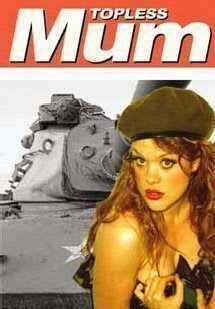 In recent years, the Tricycle has made its name by producing cutting-edge verbatim drama, often involving reconstructions of legal cases. In almost every sense, the play originally entitled Topless Mum In Dead Hero Shocker when it appeared at the Tobacco Factory in Bristol last year, is a cheap, tabloid equivalent to these serious works.
The playwright, Ron Hutchinson is a class act who has written such gems as Rat in the Skull, also about soldier types misbehaving, and much more recently Moonlight and Magnolias, a light but extremely funny comedy about the making of Gone With the Wind, which returns to this theatre through July.
The playwright's latest drama, which attempts to satirise both the Army and the lowest of the tabloids, eventually fails on both counts due to some serious failures in plotting. Almost from the start, the play is riddled with inconsistencies in both characterisation and story so that by the close of its 2¼ hours, even the remarkable coherence of a previously monosyllabic anti-hero comes as no surprise.
The central character is Barry played by Alistair Wilkinson, a squaddie invalided out of the Army, emasculated and reduced to shuffling around on crutches. It doesn't take long to see that the brains of the family belong to his mouthy wife, Louise Kempton's Tiffany.
Despite Piers Morgan's problems over invented torture photographs at the Mirror, investigative journalist Annie (Emma Lowndes) is caught hook, line and sinker by a picture on Barry's mobile, apparently taken in Afghanistan as he and three comrades tortured a naked local.
Annie's hard-nosed Scottish editor Kyle, played by Giles Fagan, not to mention what must be a massive legal team, failed to spot that the victim has Millwall tattooed on his arm, which might by some be regarded as something of a giveaway.
However, a little scrambled egg on the face turns out to be merely the start of the kind of omelette that could drown you. After being beaten back by the army, led by Sylvestra Le Touzel playing a sarcastic Major from the Legal Corps, rather than losing their jobs, the dumbest journos in the world go for Plan B.
This involves the recently discovered topless photos of the then teenaged Tiffany, taken by her paedophile uncle. It does not matter how, but the paper manages to persuade the booby booby to go for a new photo shoot, take some hush money and help them regain face.
As if all this was not enough, Jason Deer as another soldier comes out with a partial confession explaining that the faked photographs were a reconstruction of a real event. Suddenly our jokey Major stops trying to brush the story under the carpet and becomes a serious investigator in search of truth.
Eventually, it appears that the whole plot has been contrived by Ron Hutchinson to put his thoughts on modern-day journalism, warfare and British and Muslim culture into the mouth of Kyle, speaking totally out of character but making some very salient points.
Topless Mum is a kind of English version of A Few Good Men, which relies so heavily on coincidence and the ability of the audience to forget inconsistencies that it could well succeed as an extra-terrestrial television series.
Wise habitués of this likeable theatre in Kilburn would do well to stay at home in June and then enjoy the return of Hutchinson with a far superior play in July.
Playing until the 28 June
Reviewer: Philip Fisher