Torch Song Trilogy
Harvey Fierstein
Menier Chocolate Factory
–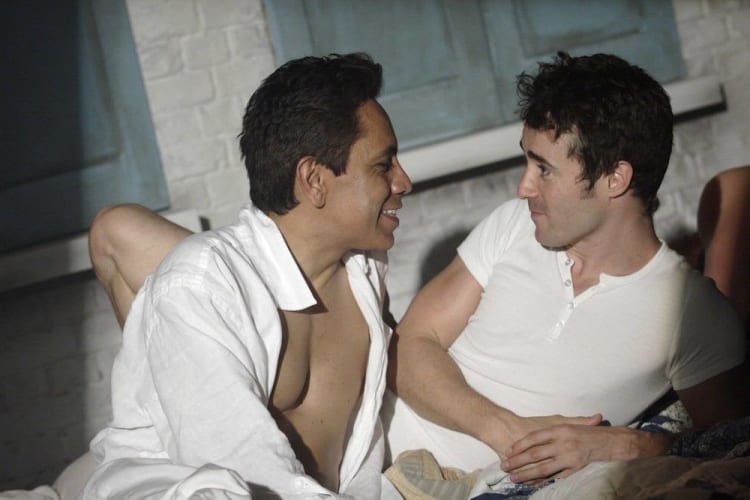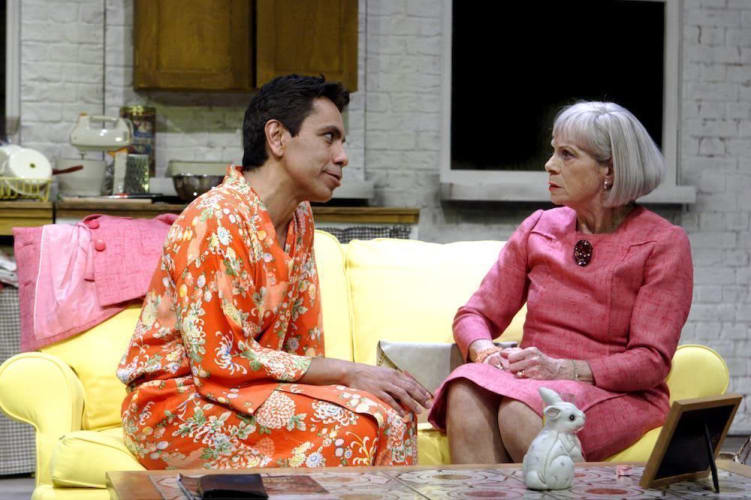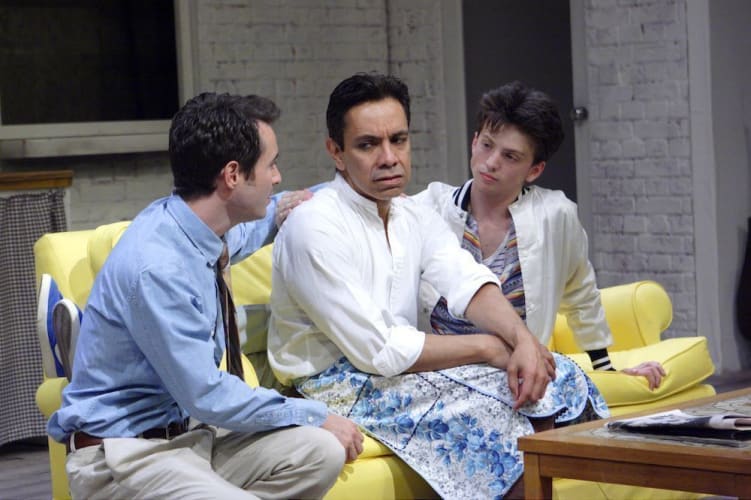 After the outstanding success of La Cage aux Folles, it is not too surprising that the Menier has once again mined a work by Harvey Fierstein in their attempts to find a hit.
The link goes further as Douglas Hodge, who starred as Albin in Terry Johnson's Menier and West End productions, is the director of this revival of a work that launched the iconic gay actor-playwright (whose subsequent career has included inter alia work on Cheers, The Simpsons, Fiddler on the Roof and his current multiple Tony-winning show Newsies) as a major force over thirty years ago.
Torch Song Trilogy is one of those evenings that requires patience. The opening part, The International Stud is rather like an additional scene from La Cage. It follows central character Arnold's attempts to find lasting love with Ed, a bisexual schoolteacher.
With his goofy smile, David Bedella, best known for his starring role in Jerry Springer-The Opera has real stage presence in the lead role, while Joe McFadden selflessly plays second fiddle as Ed.
It almost comes off for the drag queen but eventually the best that he manages are the delights to be enjoyed in the tawdry "back room" of the eponymous bar.
Fugue in a Nursery widens the canvas as Ed finds love and marriage with Laura Pyper's Laurel. Her prurience and daring lead to an invitation that she soon regrets. The arrival of Arnold and his blonde hunk of a toyboy causes all kinds of trouble for every member of the foursome, most of the fun coming as the quartet share a double king-size bed.
To this point, the evening had been fairly pedestrian but after the interval, with Widows and Children First, it soars. While Bedella and McFadden are the stars, the arrival of two additional characters in Arnold's Soutra Gilmour-designed apartment makes all the difference.
Sara Kestelman is his Jewish mother, a comic stereotype but surely lovingly drawn from Fierstein's own deeply frustrating but constantly wisecracking Mom.
She is matched by the hilarious Perry Millward playing David, Arnold's 15-year-old adopted gay son. His wisdom is extraordinary in a rare case of the son being mother to the drag-man. His wit is also razor-sharp but never gets in the way of the play's tender moments as widowed Arnold and troubled Ed struggle to sort out their own problems.
At the end of around 2¾ hours, the audience will have been moved and amused by a raucous evening with heart and there must be every chance that before too long, Torch Song Trilogy could follow La Cage into the West End.
Reviewer: Philip Fisher