Torn
Nathaniel Martello-White
Royal Court Theatre Upstairs
–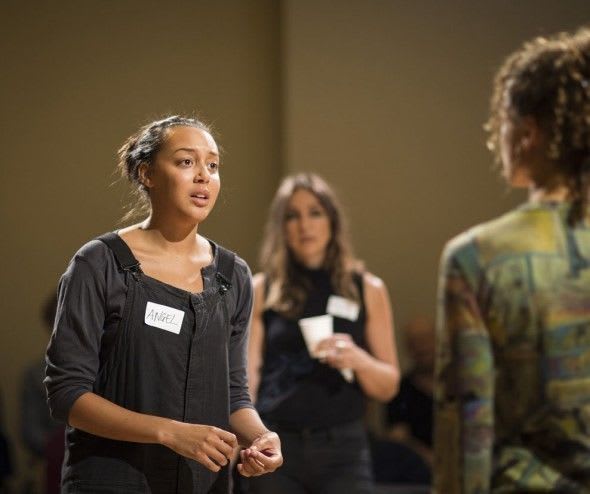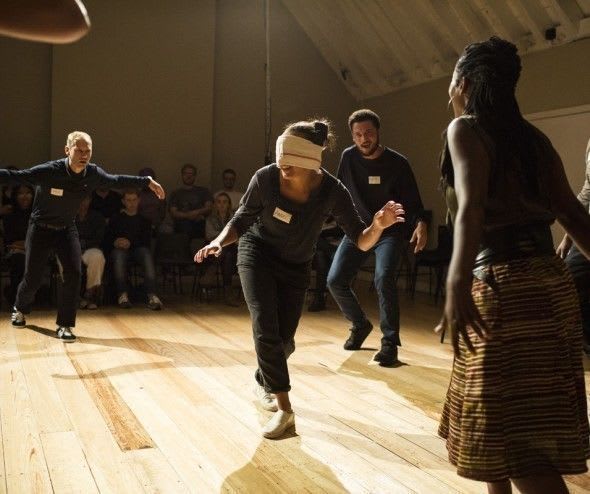 Almost every person entering the auditorium of the Royal Court Theatre Upstairs did a double take at seeing a mock-up of a community centre, designed with loving care by Ultz.
Having taken their respective plastic seats surrounding the playing area they discovered that this was part of the alienation effect created by playwright Nathaniel Martello-White, previously better known as a very talented actor, to add mystique and pathos to a sad but familiar tale.
The script has something of the qualities of a gigantic jigsaw puzzle, with the text broken up and re-ordered so that it takes a considerable time to establish who is who and how they are connected, although issues of race come to the fore at an early stage.
Gradually, one gathers that this is the extended family of Adelle Leonce's Angel. It includes everyone from her Irish grandmother (Kirsty Bushell who confusingly also plays an English Aunt) through separated parents, one of whom is a twin to Angel's own generation.
Often contradicting each other and literally losing the plot, they build a picture of a disputatious family in which the only commonality comes in a willingness to pick a fight.
After Angel, the most significant figures in the play are her mother, 1st Twin played by Indra Ové and Couzin, Osy Ikhile. From different perspectives, this pair confronts both the official history of a girl who spent more time at the home of Lorna Brown's Auntie L than her own and the underlying motivations.
The reason could easily have been Mum's infatuation with James Hillier as second husband Steve or the maternal instincts of Auntie.
However, from the early stages of the 90 minutes, it is fairly obvious that something terrible has happened and, without giving too much away, the final revelation, while shocking on a human level, is less so when viewed from the dramatic angle.
Under Richard Twyman's direction, Adelle Leonce gives her all to the cause in a play that takes on a difficult topic without saying very much that has not been the subject of numerous other dramas on page, stage and screen in the past.
Reviewer: Philip Fisher