Tosca
Giacomo Puccini
English Touring Opera
Salisbury City Hall
(2006)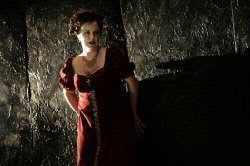 While boasting a splendid summer music festival and a fine cathedral setting, Salisbury remains very much an outpost of the operatic empire. Small wonder, then, the delight of a full house at the large City Hall as English Touring Opera arrived to stage Puccini's Tosca, a rare treat for an audience well versed in theatre, symphony concerts and sacred music - though relatively starved of grand opera.
And to be sure, Tosca came red in tooth and claw through a highly dramatic performance directed by Tim Carroll with a finely balanced company of singers backed by an excellent 30- piece orchestra under Noel Davies.
Cheshire soprano Judy Unwin is a powerful, passionate Tosca, the Roman society entertainer who proves more than a match for the evil police chief Scarpia whose duplicity is responsible for the shocking finale for which this work is famous. Uwin is understandably at her finest in the moving Prayer for strength which Puccini always knew would interrupt the drama.
Scarpia here is splendidly sung by the Bolton-born baritone Craig Smith in a chilling performance of villany. There is also a fine performance from the tenor Michael Bracegirdle as painter Cavaradossi. His account of Strange harmony of contrasts is especially well delivered.
Michael Vale's simple travelling designs are spendidly complimented by Aideen Malone's sombre lighting.
English Touring Opera have clearly benefitted hugely from their residency at the recently restored Hackney Empire where the current repertoire of Tosca and Janacek's Jenufa opened in March and where several of todays principals distinguished themselves in an adventurous production of Verd's Falstaff..
With the Salisbury performance of "Jenufa" cancelled as a result of industrial action by local authority staff, the company take the performanced to Kendall (28 & 29 April), Wolverhampton (2nd and 3rd May), and Buxton (4th, 5th & 6th May).
Reviewer: Kevin Catchpole