Tosca
Giacomo Puccini
Welsh National Opera
Matflower, Southampton
(2006)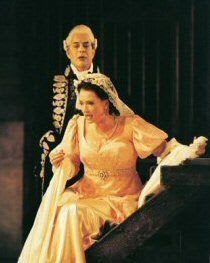 Welsh National Opera have delighted large houses at Southampton's Mayflower Theatre this week with Michael Blakemore's stirring production of Puccini's Tosca.
Before the curtain rose on Tuesday, it was announced that owing to the indisposition of Dennis O'Neill, the role of Cavaradossi would be sung by the young tenor from Rhosllanerchrugog in North Wales, Geraint Dodd – and what a fine, full-voiced performance this turned out to be.
Not, however, for one moment to outshine the comely prima donna of the Australian soprano, Deborah Riedel, now with a host of major roles under her belt.
The drama of this production builds powerfully from the early joy of "Strange harmony of contrasts" to the impact of one of the greatest of all operatic entrances, that of the ruthless police chief, Scarpia, here sung with much menace by the powerful Egyptian-born baritone Peter Sidhom, at his most formidable in the menacing "Gia mi dicon venal" ("Venal my enemies call me")
The large WNO orchestra is conducted by Julian Smitth who draws out all the menace and cruelty of the famous score while allowing for the delicate emotion of Tosca's famous "Vissi d'arte, vissi d'amore" in Act 2..
Ashley Martin-Davis' macabre settings move solidly from dark church, through the depths of the palace torture chamber to the lofty castle platform which will be the setting for the deaths of Cavaradossi and, finally, in the most horrible scene of all, Tosca herself.
For all their mega bucks and lure of international soloists, the new production at Covent Garden will have to be the best to surpass this production which has been delighting audiences around the country since 1992.
It will be staged at Plymouth Theatre Royal (Tuesday June 22), Oxford New Theatre (Tuesday 27 June), the Bristol Hippodrome (Tuesday 4 July) and at Llandudno North Wales Theatre (Tuesday 11 July).
Reviewer: Kevin Catchpole